Dear Mad in America,
In 2015, following the death of Freddie Gray, I posted a piece here on systemic racism and the hypocrisy of white supremacy including who has the power to define our words and actions. It was called "Baltimore is Burning." In the comments section, I recall receiving pushback (some of it since moderated out) on whether or not the post "belonged here," because it focused more on systemic racism than psychiatric oppression. Some felt it was out of place. A distraction.
In 2016, I co-authored a piece with Iden Campbell and Earl Miller called, "A Racist Movement Cannot Move." It was one of only two posts for which I've had to ask that the comments section be turned off. (Incidentally, the other was, "Dear Man: Sexism, Misogyny, & Our Movement," posted just the year before.) The comments had simply gotten too ugly and out of hand. They were coming faster than they could be moderated out.
It is now June of 2020, and so today, I come to you with this question: How much have we grown?
George Floyd & Our Community
George Floyd was murdered by the police in Minneapolis, Minnesota on May 25. As I sit here nearly two weeks later, I can find no mention of that on this site. At least at the time of this writing, neither is there much recent mention of the impact systemic racism and endless violence against black and brown bodies can have on one's emotional well being as a non-white person. How many black people's distress has been rooted primarily in the envelopment within so much relentless white supremacy, only to then be given a severe psychiatric diagnosis and told it's all in their head? If I search on George Floyd's name, the closest result is a 2018 comment that mentions Pink Floyd. I fear we haven't grown much… or at least not nearly enough.
On May 28, I sent out a statement on behalf of my workplace, the Western Mass Recovery Learning Community, naming not only George Floyd, but also Ahmaud Arbery, Breonna Taylor, and Rana Zoe Mungin. The last person named—Rana—did not die so directly at the hands of any other human. She died at the age of 30 years old of COVID-19, as so many black people are dying because she was ignored and discounted when seeking help. I could have just as easily also named the many black and brown people who've died during "wellness checks" or similar because they'd been pegged as "mentally ill."
I think of Dontre Hamilton, the man who died in Milwaukee, Wisconsin in 2014, also at the hands of the police, because he was sleeping outside near a Starbucks. Dontre—whose story is featured in "The Blood Is at the Doorstep"—experienced compounded oppressions because he was both black and diagnosed. For as much as so many of us have suffered at the hands of psychiatry, it's critical to remember that non-white people are statistically more likely to be subjected to even harsher levels of diagnosis, dehumanization, coercion, and force within the mental health system than the rest of us. In fact, psychiatry is often used as a tool to reinforce the subjugation of black and brown people. Talila Lewis—among others—did an excellent job of beginning to paint the picture of racialized psychiatry at the Drug Policy Alliance's Anti-coercion conference in 2019, sharing about Drapetomania and more.
Psychiatric oppression is largely unseen in this world. As I noted in another 2016 piece, "Dear Self-Proclaimed Progressive, Liberals, and Humanitarians: You've Really Messed This One Up," far too many people fighting against systemic oppression get it wrong when it comes to us. They fight for our incarceration without even understanding that they've accidentally stepped to the other side of the line. This is important. I am thankful Mad in America exists for precisely this reason.
Yet, we lose our way when we think our liberation is not bound up in one another's.
The Intertwinement Of Our Liberation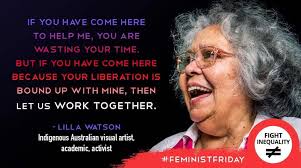 We limit our own strength when we do not reach across the bounds. This happens in multiple ways. First, as aforementioned, we fail to see how one form of oppression can compound another; how readily one can be used to reinforce the other. This is essential learning necessary to fully unpack what is happening, and develop the tools to undo it.
Second, we fail to practice what we are attempting to teach. If we intend to ask (or demand) of others that they effectively ally with (or become accomplices to) us, recognize their privilege as non-diagnosed people, and put some skin in the game to free us from violence, then we must be willing to do the same. Different forms of systemic oppression are not the same, and should not be compared. Yet, they all feature similar components including failure of those not directly in harm's way to see what's actually going on. There is no pride or benefit in being guilty of the same phenomena of which we accuse others.
Third, we become complicit in rendering invisible all those who experience both racism and psychiatric oppression and make our spaces inhospitable to them. In turn, we immeasurably shrink our own capacity to grow. I appreciate the many non-white people who have ventured into these MIA lands. Their numbers are growing. But I hear from many more (including some who have dropped in for a time) how unwelcoming it can feel.
Finally, we defeat ourselves by missing opportunities for collaboration and partnership across the lines of many movements. People fighting for the release of those being held in psychiatric facilities during these COVID times are sometimes fighting alongside those calling for the release of people from jails and prisons, too. Many from both groups are also joining with #BlackLivesMatter and other anti-police brutality protests.
Along the way to revolution (at least that's where I hope we're headed), we must continue to ask ourselves the tough questions. For example, if we know that black and brown people are disproportionately impacted by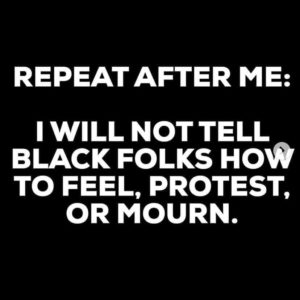 psychiatry, then why are there so few black and brown voices here? And why do so many—even those who claim to know the sometimes disastrous effects of psychiatry and psychiatric oppression—still sometimes feel they are in any position to tell black people how to think, feel, or protest against an epidemic of racism? I'm struck by the similarities between current times and when I wrote "Baltimore is Burning," particularly in our broader world where thousands of white people across the nation continue to attempt to criticize violence erupting in protest rather than focusing in on the many years of violence that led us to this point. (I write more about the protests and this phenomenon in a statement HERE.)
We are stronger when we take the time to see. But truly seeing requires actually listening to those who've been there, wherever "there" may be. And once we've taken time to listen—with humility and without layering on our own beliefs about that which we do not know first hand—we can best begin to fight together. If all people from marginalized groups took the time to understand one another's needs and fight, our numbers would grow so large that perhaps we really could change the world.
George Floyd died on May 25. Much like the rest of us, he was not a saint, and his murder was not more important or worthy of being named than Breonna Taylor's, or the ever-growing list of other black people who've been killed by the police. But the nonchalance with which he was murdered while onlookers filmed and called out that he was dying… while he called out that he was dying… made even more blatant what so many have tried hard not to see.
Dear Mad in America community, let us now see. Dear everyone in every community… Please… let us see. Because once we can see, we enable ourselves to act.
***
Mad in America hosts blogs by a diverse group of writers. These posts are designed to serve as a public forum for a discussion—broadly speaking—of psychiatry and its treatments. The opinions expressed are the writers' own.
***
Mad in America has made some changes to the commenting process. You no longer need to login or create an account on our site to comment. The only information needed is your name, email and comment text. Comments made with an account prior to this change will remain visible on the site.