Over the past two months, Ronald Pies and Allen Frances, in response to a post I had written, wrote several blogs that were meant to serve as an "evidence-based" defense of the long-term use of antipsychotics. As I read their pieces, I initially focused on that core argument they were presenting, but second time through, the aha moment arrived for me.
Their blogs, when carefully parsed, make a compelling case that their profession, in their use of antipsychotics as a treatment for multiple psychotic disorders, has done great harm, and continues to do so today. Indeed, they make an argument for prescribing protocols that would mimic the selective use of antipsychotics by practitioners of Open Dialogue in Tornio, Finland.
Now, Pies and Frances would not see their blogs in this light. But it is easy to show that their posts, in their description of who benefits from antipsychotics and who does not, lead to that conclusion. In their defense of antipsychotics, Pies and Frances have—unwittingly, for sure—sounded the bell for radical change.
My January Blog 
This "dialogue" began several months ago when, in response to a challenge from Frances, I set forth my "opinion" on what the scientific literature has to say about the long-term effects of antipsychotics. I think there is a history of science, stretching back 50 years, that tells of drugs that worsen long-term outcomes for patients diagnosed with schizophrenia and other psychotic disorders (in the aggregate.) At the end of that post, I set forth what I believe—again, based on the scientific literature—would be a "best use" protocol for prescribing antipsychotics:
Try to avoid immediate use of neuroleptics in first episode psychotic patients, as there will be a significant percentage who will recover without the medications (but aided by other forms of treatment), and this is a good outcome for those patients.
Once the medications are used, there should be an effort to minimize their long-term use, with regular support for drug-tapering protocols.
.
From a conventional medical perspective, there is nothing radical about prescribing a class of drugs in that "selective use" manner, and that is so regardless of whether one thinks that the drugs worsen long-term outcomes. With any prescribed drug, it is important to figure out for whom the drugs provide a benefit, and for how long the drug should be prescribed. All drugs are understood to have risks, and thus, if you prescribe the drugs to patients that don't receive a benefit, you are doing harm to those patients (and that is particularly true if the drug is an antipsychotic, which has so many known adverse effects.) Perhaps that means never prescribing the drug in the first place to certain patient groups, or prescribing the drug for a limited period of time. Not all patients with a given diagnosis are necessarily the same, and thus it is good medicine to try to develop prescribing protocols that incorporate "for whom" and "for how long" distinctions among patient groups.
The "radical" part of my blog is my belief that the scientific literature reveals that antipsychotics, on the whole, worsen long-term outcomes. That was the aspect that France and Pies were intent on countering, but in the course of doing so, they identified types of psychotic patients who could recover without antipsychotics. In doing so, they revealed that their profession's prescribing habits, by failing to account for that fact, do great harm.
Their Response
Frances wrote three blogs in response to mine; one on February 1, a second on Feb. 16, and a third on Feb. 22. He begins his first blog with a declaration of his beliefs:
Antipsychotics medications are used far too often in people who don't need them.
Even when necessary, doses are often too high and polypharmacy too common.
Antipsychotics are neither all good, nor all bad. Used selectively, they are necessary and helpful. They are harmful when used carelessly and excessively.
.
Frances then sets forth this principle for distinguishing patients who don't need long-term antipsychotics. "It is a truism throughout medicine," he writes, that "good prognosis patients don't need long term meds; poor prognosis [patients] do." Next, he identifies some of the types of psychotic patients that fall into this "good-prognosis" category:
"Psychotic presentations vary greatly in cause, severity, chronicity, prognosis, and appropriate treatment. Many psychotic episodes are transient. Some are stress related—e.g., a soldier in combat, a college kid or traveller who becomes delusional when away from home. Some are a transient part of mood disorder and remain quiescent if the mood disorder is successfully treated. Some are related to substance intoxication or withdrawal. Some are caused by head trauma or medical illness. And some normal people have hallucinatory experiences that cause no impairment and have no clinical significance. Transient psychotic symptoms in the above situations may require a short course of antipsychotics. Generally this can be done without much risk of return of psychosis—assuming the stressor, substance problem, mood disorder or medical problem has resolved. Bob and I would agree on short term or no antipsychotic treatment for such transient psychoses."
Antipsychotics, Frances concludes, should be used over the long-term to treat "psychotic symptoms that are severe and impairing." He writes:
"Antipsychotics have many grave disadvantages that make them a last resort. They suppress symptoms, rather than curing them. They can cause unpleasant side effects and dangerous medical complications. They contribute to shortened life expectancy. And they are subject to wide overuse even when there is no indication. We should be extremely cautious and selective in their use quite independent of Bob's tenuous claim that they worsen psychosis."
Putting aside the "tenuous claim" part of that sentence, I couldn't agree more with the main point Frances is making. Prescribers should be "extremely cautious and selective in their use."
Having set out this "best use" model in his first blog, Frances devotes his second blog to arguing that antipsychotics do not worsen psychotic symptoms over the long-term, and thus makes the case that "going off antipsychotic medication is usually a bad bet for the severe and chronically ill." This is the patient group—those who are severely and chronically ill– that benefits from the drugs, he writes, and even "among those who previously had chronic psychotic symptoms, perhaps 20-30 percent will have improved enough over time that medication is no longer necessary." He sums up his argument in this way:
"There is no 'one size fits all' in psychiatric treatment. Meds are not all good or all bad. Misapplied they are bad. Prescribed properly they are good. It is incorrect to generalize from any one person's lived experience to everyone else's lived experience. Meds that are harmful for someone who didn't need them may be essential for someone who does."
All of this—as the basis for a prescribing protocol–sounds quite reasonable. One-size doesn't fit all, and thus the obligation for psychiatry as a medical specialty—if it agrees with Frances' survey of the patient landscape—is clear. Psychiatry would need to adopt a three-step protocol:
Psychiatrists would need to inform first-episode patients that they might have a transient psychosis, and thus they would initially treat them without antipsychotics, and instead take a "watch and wait" approach to see if symptoms began to abate on their own. This delayed initial use of neuroleptics would be important because once a person is on an antipsychotic, his or her brain goes through a series of compensatory adaptations, and that can make it difficult to go off the drug.
If, after a watch-and-wait period, an antipsychotic was prescribed and the patient got better, psychiatrists would then try to taper them from the medication, since it was understood that "good prognosis" patients don't need "long-term meds."
Psychiatrists would reserve continual antipsychotic use for those patients who, after some period had elapsed, had developed severe and chronic symptoms.
.
Pies' does not make as clear a case as Frances for selective use of antipsychotics. But start with his title: "Long-term antipsychotic treatment: effective and often necessary, with caveats." Often necessary also means "often not necessary," and thus, once again, there is a need to develop a selective-use model that distinguishes between the two groups. Indeed, as Pies' mounts his defense of antipsychotics, he repeatedly emphasizes that he is writing about their effectiveness as a treatment for schizophrenia, and of the need to distinguish this group from other psychotic patients.
"It is important to understand that only a portion of people with a first psychotic episode have schizophrenia, which is usually a very chronic illness. Many have quite brief bouts of psychosis that never return, making long-term antipsychotic treatment unnecessary."
Thus, Frances and Pies make a case for selective-use protocols that would consist of prescribing the drugs over the long-term to chronic patients, or, in Pies' case, to patients with "schizophrenia." But then Pies and Frances fail to follow their argument to its obvious conclusion: Prescribing antipsychotics long-term to other types of psychotic patients who don't need them is doing great harm to them. These drugs, as everyone acknowledges, have many adverse effects.
And here is the reason for the harm done: American psychiatry long ago adopted a one-size-fits-all approach to prescribing antipsychotics for psychotic disorders. Patients diagnosed with a psychotic disorder are regularly told they need to stay on these drugs for life. Furthermore, psychiatry's "evidence base" for antipsychotics naturally leads to that prescribing practice.
The "Evidence-Based" Path to Prescribing Failure
The basis for the best use of a medicine begins with diagnosis. A diagnostic manual is supposed to provide both reliability and validity, and thus enable physicians to distinguish between different discrete diseases. Even if presenting symptoms of two diseases are similar, the underlying pathology may differ, and thus the prescription may be different for each disease.
Pies writes as though schizophrenia is a discrete illness, which can be readily diagnosed as different from other psychotic disorders. Psychiatry does often speak of schizophrenia in this way, and treat it as such in its research, but most in the field, when pressed at all, will acknowledge that this diagnosis is a catchall term. Instead, they will say there are a "group of schizophrenias," which may have many different biological causes. Thus, even within the "schizophrenia" category, there may be many different types, with differing long-term outcomes.
In addition, there are many other diagnoses for psychotic patients (other than schizophrenia). The universe of psychotic patients includes both the "group of schizophrenias," and those with psychotic disorders of milder types. The one element that is supposedly common to all these patient groups is psychosis, but psychosis is a catchall terms for a lot of different symptoms—paranoid thoughts, hearing voices, disordered thinking, and so forth. So you have disparate symptoms piled atop disparate diagnoses, and yet as psychiatry tests the efficacy of antipsychotics, both as a treatment for an acute episode of psychosis, and for reducing the risk of relapse once a patient in on the drug, it lumps all these disparate types into one group, and declares its drugs effective for treating psychotic episodes and preventing relapse.
That is deficiency number one in psychiatry's evidence base for antipsychotics. The field developed a one-size-fits-all method of using the drugs, based on studies that lump many different patients into one category. That research, which lumps different patient types together, can't possibly provide an evidence base for the selective-use model that Frances and Pies are advocating.
The second deficiency in psychiatry's evidence base is rather stunning, as it flies in the face of conventional wisdom. Although antipsychotics have been used for more than fifty years, and there have been innumerable short-term trials, there still is a lack of evidence that these drugs are effective for the short-term treatment of a first or second episode of psychosis.
In a 2011 Cochrane review of this question, John Bola found that nearly all short-term trials of antipsychotics have been in patients previously exposed to antipsychotics (or in patients first withdrawn from antipsychotics and then randomized either to placebo or to drug.) He searched the scientific literature for randomized trials of antipsychotics in patients experiencing a first or second episode of schizophrenia (or psychosis), and could only find five studies that met his inclusion criteria, with a total of 998 patients. There was no clear result that emerged from those studies, leading Bola to conclude that  "data are too limited to assess the effects of initial antipsychotic medication treatment on outcomes for individuals with an early episode of schizophrenia."
In other words, it may be that antipsychotics do not reduce psychotic symptoms better than placebo over the short term in newly diagnosed patients. This opens up the possibility of delaying initial use of the drugs, to see who can recover without them, and we can find evidence for the merits of that approach in a 1961 report by the California Department of Mental Hygiene. When the department studied discharge rates for all 1,413 first-episode schizophrenia patients hospitalized in California mental hospitals in 1956, a it found that 88 percent of those who weren't prescribed a neuroleptic were discharged within eighteen months, whereas only 74% of those treated with a neuroleptic were discharged within that time period. This is the only large-scale study from the 1950s that compared discharge rates for first-episode patients treated with and without drugs, and the investigators concluded that "drug-treated patients tend to have longer periods of hospitalization. . . . The untreated patients consistently show a somewhat lower retention rate."[1]
However, psychiatry's evidence base for short-term use does not incorporate such findings. Instead, it looks to evidence collected from randomized trials in more chronic patients, with prior (or current) exposure to an antipsychotic. These studies do show the drugs to be superior to placebo for reducing symptoms over the short term. But then they are interpreted as showing that antipsychotics are an effective treatment for all psychotic episodes, and thus they are seen as providing evidence for treating all psychotic patients, including first-episode patients, with antipsychotics.
This is deficiency number two in psychiatry's evidence base. The field has adopted a "one size fits all approach" for the acute treatment of psychotic episodes, without making a distinction between first episodes of psychosis and eruptions of psychosis in chronic patients.
Psychiatry's evidence base for long-term use of antipsychotics comes from relapse studies, both in schizophrenia patients and in patients with other psychotic disorders. The relapse rate is regularly higher in the drug-withdrawn group, and this is seen as evidence that antipsychotics reduce the risk of relapse, and hence the need for continual use of antipsychotics. But even putting aside the many design flaws in those studies, the studies still don't provide evidence that all patients should remain on antipsychotics forever. There are many in the placebo groups of those studies that don't relapse, and thus the relapse studies actually provide a rationale for figuring out which patients could do okay off the drugs long-term.
Yet, once again, the relapse studies are cited as a one-size-fits-all finding, and psychiatry then adopts a protocol that leads, in real-world practice, to the recommendation (and insistence) that all patients with a psychotic disorder remain indefinitely on antipsychotics.
In sum, psychiatry has created an evidence base for prescribing antipsychotics that militates against the selective use of the drugs. It is an evidence base that leads to treating all psychotic patients with a "one-size-fits-all approach," even though, as both Frances and Pies acknowledge, many psychotic patients have a transient disorder, or may have a "good prognosis" at outset, and thus do not need lifelong treatment with an antipsychotic. The harm that comes from this flawed one-size-fits-all evidence base is obvious: It leads to the lifelong drugging of many patients who, in the absence of such medication, could recover or at least do fairly well.
Quantifying the Harm Done
To quantify the harm done by psychiatry's one-size-fits-all prescribing practice, it would be necessary to identify the percentage of all first-episode psychotic patients that would fall into the group described by Frances and Pies as not needing antipsychotics. Psychiatry really has never sought to answer that question, not in any robust way, and so the challenge is to pick through the existing research literature to identify long-term recovery rates for first-episode patients who weren't initially treated with antipsychotics.
The first such data comes from research studies conducted between 1945 and 1955 (the decade before the arrival of antipsychotics.) As I wrote in Anatomy of an Epidemic, those studies found that 65% to 80% of all first-episode schizophrenia patients would be discharged within 12 to 18 months, and that at the end of five years, perhaps two-thirds of the initial cohort would be living in the community. This was before the federal government had established disability programs for the mentally ill, and so those discharged patients were, at the very least, living in the community without the aide of government subsidies. In a later retrospective study, Bockoven also found that roughly two-thirds of psychotics patients treated with psychosocial care in 1947 were living independently in the community five years later.
We see something like this—two-thirds doing fairly well over longer periods—in a handful of studies conducted in the 1970s by the NIMH that were designed to revisit the merits of antipsychotics. In Maurice Rappaport's study, 24 of 41 first-episode schizophrenia patients randomized to the non-drug arm recovered and never needed to go on antipsychotics during the three-year study, and this never-exposed group had by far the best outcomes among all the patients.That suggests that a watch-and-wait period could serve as an escape valve for perhaps 60% of all first-episode psychotic patients.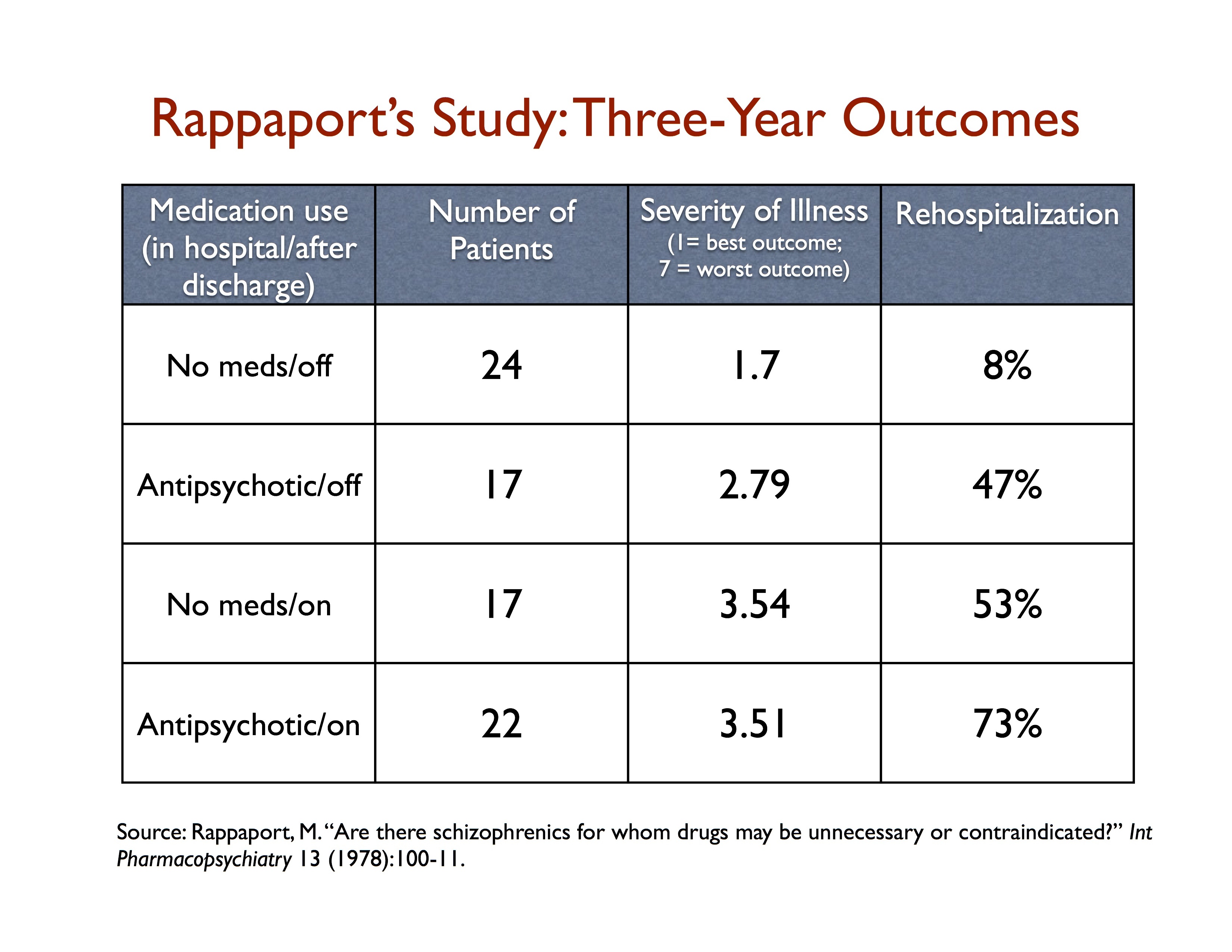 At Soteria House, 40% of the first-episode schizophrenia patients never needed to go on antipsychotics at the end of two years, and another 40% needed them for only a time. Only 20% used the drugs continuously.
The results from Open Dialogue Therapy in Tornio, Finland also suggest that, with the proper initial care, 80% of first-episode patients can do well without antipsychotics, with most of this group never needing to go on the drugs in the first place. Indeed, perhaps this is the actual brilliance of Open Dialogue therapy. It incorporates a drug-use protocol that allows patients to sort themselves out by type. It first identifies one group of psychotic patients that never need to go on the drugs (65%); a second group that may find such treatment helpful over the short term, but doesn't need the drugs long-term (15%), and finally a third group—20% of the initial cohort of first-episode patients—that may benefit from the drugs over the long-term. At outset, the Open Dialogue team doesn't know which of the first-episode patients will fall into these three different medication-use categories; it has developed a method for keeping people safe until patients reveal their varying medications needs.
In his blog, Frances stated that he supported the "Open Dialogue" approach in Finland, but without discussing its selective-use drug protocol. But Open Dialogue does not just point to a better way, it also points out the harm done by psychiatry's one-size-fits-all drug protocols. Eighty percent of first-episode patients may have the potential to do well without the drugs, but American psychiatry's "evidence-based" protocols expose that group to long-term antipsychotic use, and thus to long-term harm.
We can see the extent of this harm quite clearly in Martin Harrow's long-term study of psychotic patients. At the end of 15 years, there were 81 people in the study who, at baseline, had milder psychotic disorders. The majority of people in this milder category stopped taking antipsychotic drugs early on, and as a group were doing quite well—their collective scores fell into the recovered category. But those with milder psychotic disorders at baseline who continued taking antipsychotics were more impaired in their functioning at 15 years than those diagnosed with schizophrenia who subsequently stopped taking antipsychotics. (See graphic.) This is a result that tells of how psychiatry "evidence base" for antipsychotics can transform a person with a milder initial illness into a chronic, seriously impaired mental patient over the long term.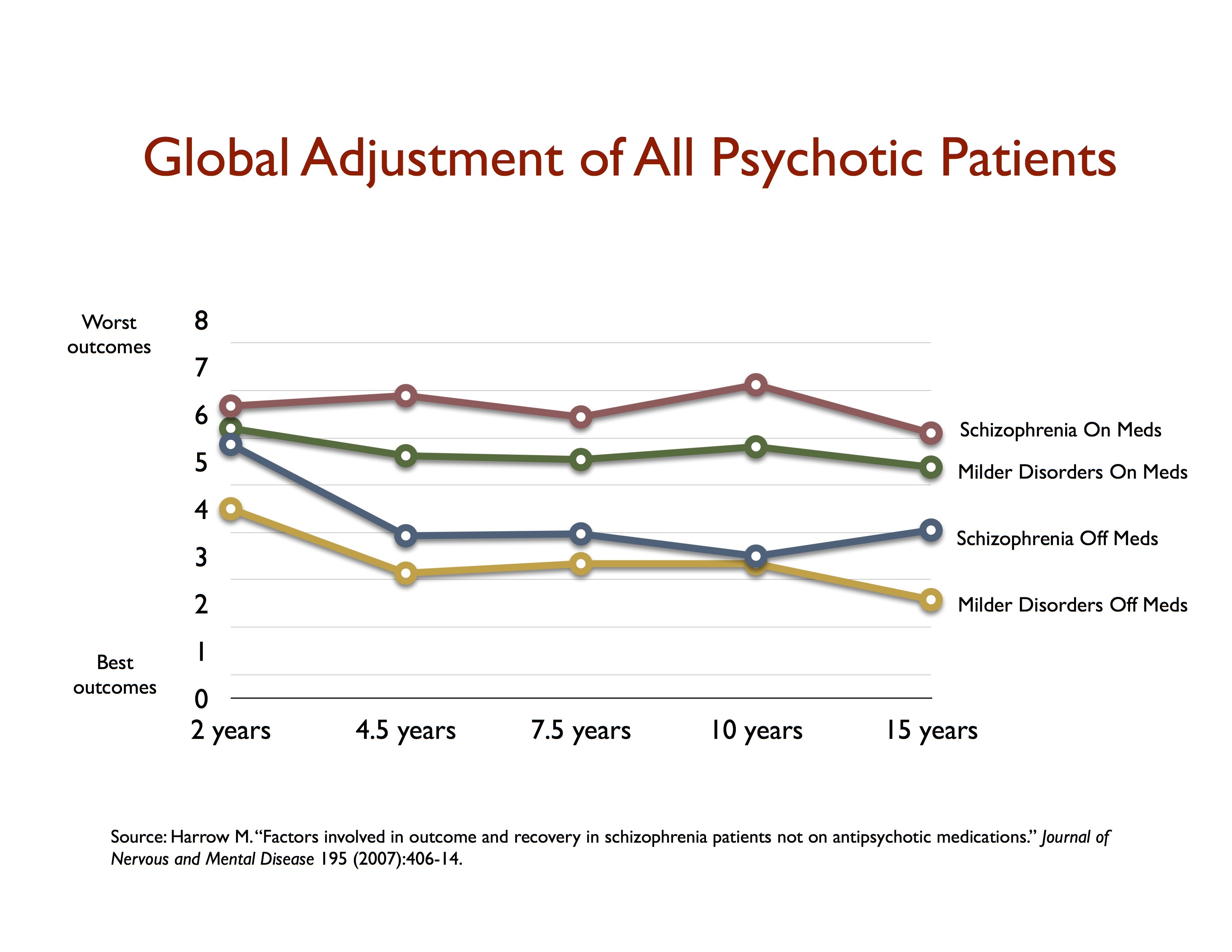 It is easy to imagine what Frances and Pies might say in response to this blog. They would likely argue that most psychiatrists are able to distinguish between those who need the drugs and those who do not, and regularly taper many of their psychotic patients from antipsychotics. Indeed, here is what Frances wrote in his third blog: "Most psychiatrists do a good job of diagnosis, prescribing meds, and providing support . . . Results overall for psychiatric treatment are good. The majority of patients improve at rates equal to, or above, those achieved by doctors treating medical illness."
But, as was seen above, psychiatry's evidence base for antipsychotics, which states that the drugs are effective over the short term for curbing psychosis and effective for reducing the risk of relapse, does not promote such selective-use prescribing, and, indeed, any survey of 100 people diagnosed with a psychotic disorder in the past 25 years would find that most had been told they needed to take the drugs for life. Frances and Pies, in their blogs, were seeking to defend psychiatry's prescribing practices and the long-term effectiveness of antipsychotics, but the caveat they expressed—that the drugs are effective for a certain subset of psychotic patients—naturally focuses attention on the drugs' effects on those who don't need them long-term, and that leads to a finding of great harm done.
And that finding, in turn, supports a demand, based on Frances and Pies own writings, for a radical rethinking of psychiatry's use of antipsychotics.
In a follow-up blog, I will respond to their review of the "evidence" for the long-term effects of antipsychotics. That provides another an opportunity to watch their minds at work as they sift through the evidence. What studies do they dismiss? What studies do they embrace? This is a review that ultimately leads to this question: Do we see, in their assessment of the scientific literature, evidence of the critical thinking that we want to see present in a medical specialty that has such a large impact on our lives? And if not, what shall we do?
[1]L. Epstein, "An approach to the effect of ataraxic drugs on hospital release rates," 
American Journal of Psychiatry 119 (1962): 246–61.