Some would say the drugs I take are "medications," by definition, and something quite different from "street drugs." In some ways this is true, mostly because I don't have to commit an act defined as a crime to obtain them. But obtaining marijuana, for instance, or even "shrooms," which is still a federal "crime," involves no more than finding a source and paying money in exchange for the desired substance. That is exactly what I do when I obtain my drugs. The only difference is that my source is first the pusher known as a prescriber, and then the pusher known as the pharmacy (whose intimate link to Big Pharma companies needs no reiteration here).
The first drug I took, after my teenaged foray into cannabis, was Elavil which was essentially forced on me (by my fear of the consequences if I refused) at Yale New Haven hospital in 1971 when I had just turned 18. This did nothing for me except make me intolerably sleepy and cotton-mouthed. For three months, in the hospital, I remained as I was when I came in: almost mute, unsociable, hearing voices, paranoid, and in extreme distress. After a consultant was called in, I was then switched to an antipsychotic drug, so-called — a phenothiazine. What I remember of this switch is that I quite suddenly began to talk, even talk too much, which scared me. They also instituted a behavioral modification program, which they told me I had to follow if I wanted to avoid being sent to a long-term hospital. After five long months on a unit where the average stay was 3-4 weeks, I was finally discharged, never having been told my "diagnosis." If you were there, they presumed you "needed" to be there, no questions asked.
Some years later, attending medical school, I found that a problem that had assailed me first in high school and then throughout college continued to plague me: sleepiness whenever I sat down to either listen to a lecture or read or study. At Brown I had dealt with this by taking many long walks each day, followed by an attempt to study, which induced my falling asleep minutes later. When I came to, invariably folded uncomfortably over my books in the carrel and unrefreshed, I would go out for another walk, in order to "wake myself up," and the cycle would start again.
This sufficed in college, but medical school was a different story, because we were required to sit through lectures for four hours each morning, with attendance at labs in the afternoon. My somnolence "started" the very first morning of classes, when I conked out within the first half hour and slept through the entire morning's worth of lectures. I acquired a reputation for being "bored" and eventually photographs of me sleeping were published in our student newsletter, captioned with such words as, "Rip Van Winkle, it's time to wake up!"
Desperate to stay awake, I saw the student health doctor, who took a history and suggested I had narcolepsy. Even though she wanted me to see a neurologist, it turned out he refused to see me, claiming I was faking sleepiness in order to get stimulants. It did not occur to me at the time that I could have simply seen another doctor and made a case for myself.
I was not happy in medical school and did not end up staying past the second year, for complicated reasons including the fact that I heard voices almost constantly, voices that instructed me to harm myself and which I obeyed. These voices had started many years before, but I had managed with them, if poorly. In fact, I was hospitalized during med school, something that seemed to initiate a proverbial revolving door of admission after admission.
Because of voices-induced episodes of self-destructive behavior, I found myself at Hartford Hospital in the late 70s. I was not given drugs at the time, as I recall, though I had variously been prescribed as an outpatient such "treatments" as Thorazine, Trilafon and Ritalin. I complained to the resident of new, visual hallucinations, such as scenes of battleships on my chest. Concerned, she had me tested. During a lengthy examination, some of which took place when I was asleep, I experienced what the diagnosing neurologist said were all four of the major symptoms of narcolepsy. He told me he recommended Ritalin, and that if any doctor subsequently refused to prescribe it, I could call upon him. And wasn't that wonderful because I could now continue my medical school career, knowing Ritalin was all that I'd ever needed in order to function?
While I was elated to learn that narcolepsy had caused my sleepiness and that there was an effective treatment, the notion that he expected me to return to medical school made my heart sink. I knew that med school had been a big mistake. I did not want to return and in fact I never did.
Fast forward many years, and many hospitalizations and drugs later. It was the early 90s and I had been on Prolixin injections for "chronic paranoid schizophrenia" for an extended period, plus low-dose Ritalin for my chronic sleepiness. The nurse-practitioner/therapist I saw at the local public clinic, which was the only choice I had on Medicaid, decided I should try the new drug that had just come out, olanzapine, brand name Zyprexa. By this time, I had been prescribed almost every drug available in that class, including Clozaril, to which I twice had a potentially fatal reaction. While I acceded to the therapist's request and started taking the new pill, I did not expect positive effects. Instead, I dreaded the dulling and deadening I had learned to expect from all the so-called antipsychotics.
A week later, I woke up one morning and opened a magazine someone had left in my apartment, The Nation as it turned out. I read and read until I finished the entire issue. Then I picked up The Atlantic Monthly and did the same. This astonished me as reading and staying awake had been a problem for decades. Despite my narcolepsy diagnosis, I always suspected that a terminal boredom caused my sleepiness. But suddenly, and mysteriously, I felt alive and enlivened, I felt in fact as if I had only just then discovered that life was worth living. I felt awake.
On Zyprexa I continued to read without difficulty for the first time since childhood. I devoured everything I could get my hands on, becoming particularly enamored of memoirs by Chinese women describing life during the Cultural Revolution. Much to my distress, however, I also ate too much because of an increased appetite that was clearly drug-induced. I gained a lot of weight in a very short amount of time. At my highest I weighed nearly 180 pounds. This was far more than I had ever weighed and much more than I was happy with. For years, however, I accepted what the docs called a "trade-off" and took Zyprexa as well as my dose of Ritalin religiously, overjoyed to be able to read and even for the first time pay attention to movies and public television.
The increased weight inevitably became a problem for me, however. When one doctor described me, someone who had always been on the thin side, as "obese," I had had enough. I stopped taking the Zyprexa not just once but innumerable times, and invariably ended up in the hospital, refusing the drug for fear of gaining more weight. It was a nearly impossible dilemma, because in fact except for my hugely increased and uncontrollable appetite, I really wanted to take it.
Then one day the psychiatrist suggested I try yet another newly developed "antipsychotic," Abilify. I felt I had little to lose, so I went home with a new prescription. I felt both better almost immediately, and I felt worse. While the new drug did help me be more alert, it also had very distressing "side" effects, making me irritable and causing nearly unbearable akathisia. Reluctant to have me stop it so quickly, the doctor added Geodon, which was supposed to be more sedating. To the surprise, I think, of both of us, this seemed to resolve the worst problems.
I had called Zyprexa the "intake drug," because while I ate a lot on it, I could also take in books and movies, gobbling down such fare just as I did food. But on Abilify and Geodon, something different happened. I found myself writing prolifically and then doing art almost as uncontrollably as I had eaten on Zyprexa. I nicknamed the new two-drug combo my "output" cocktail. Though still hearing voices, life slowly began to improve. This was not a direct or linear progression, as I was still often hospitalized. But doing art became my be-all and end-all in life, and no matter how many other drugs I tried, I always went back to the Abilify/Geodon/Ritalin combo. Whenever I attempted to wean myself off all drugs, especially the "antipsychotics," I found myself unable even to start a piece of art, let alone finish it. When I resumed taking the drugs, lo and behold my ability to do art would return as well.
Now, I suspect some readers might claim that it was the stimulant which helped me produce art and read. I would be the last person to claim that Ritalin does not have the effect of increasing one's sense of well-being. But whenever I was on just the Ritalin alone, I stopped being able either to read (off Zyprexa) or to do art (off Abilify/Geodon). I went through many attempts to wean myself, but invariably the loss of my ability to do art brought me to the place where I went back on them. And that is where I am today.
Despite their category, I do not claim that this two-drug combo functions as an "antipsychotic." Not at all. My voices may have hugely diminished now, but this is largely, I believe, because of a therapist, a guide, who has listened to me, heard my stories of lifelong trauma and helped me deal with this. She also "treated" me with what I can only call unconditional acceptance, even love, and that was the most healing of all. I doubt the voices or a lifelong susceptibility to "paranoid" fears would return even if I stopped taking these "antipsychotics." Yet I remain on them and I want to remain on them. I have tried to stop taking them and always, always, no matter how slowly I wean myself, I stop doing art, and as a result of this become deeply suicidal. Art is my life, and my life is art. That's the tag line I gave my second WordPress blog, Arteveryday365.com, when I started it two years ago. And without an ability to do art and to love doing it, my life feels empty and worthless.
Reading Robert Whitaker's books around the time I switched to the "output" drugs was both eye opening and life-changing. I trust the results of his and others' research. I suspect that "antipsychotic drugs" have few anti-psychotic effects, beyond the general dulling they induce, and I also suspect that for most people they do more harm than good. I do not believe the dopamine hypothesis was ever more than a lie, constructed to excuse the forcible drugging of many, including me. For decades, hospitals tortured me physically and psychologically. To this day my memories of having been restrained for days at a time, secluded for weeks, or given ECT by force can torment me, if I let them have free rein. But I have not been hospitalized in three years, going on four, and best of all, I can do art and be productive in a way that is life-serving.
I no longer make any distinction between street drugs and the ones I take. I know what helps me and I remain aware of both the risks long-term and the presence of certain "side" effects. But overall, the effects are more beneficial to me than harmful. I also think most people know what helps them and what does not, even when it is a matter of street drugs. A system that stigmatizes the "drug user" by criminalizing her or him helps no one. Indeed, as is the case with "shrooms" at present and with heroin in the past, it is likely true that many street drugs could be prescribed and used in ways that prove beneficial, if only it were legal to do so. However, since researchers cannot freely study these substances it is difficult to know. All I know is that I am neither better nor worse than those who take marijuana or psilocybin or illegal substances of other sorts. If the drugs I am prescribed did not benefit me overall, and in ways that others as well as I myself notice, care about and celebrate, believe me, I would no more take them willingly than I would swallow rat poison.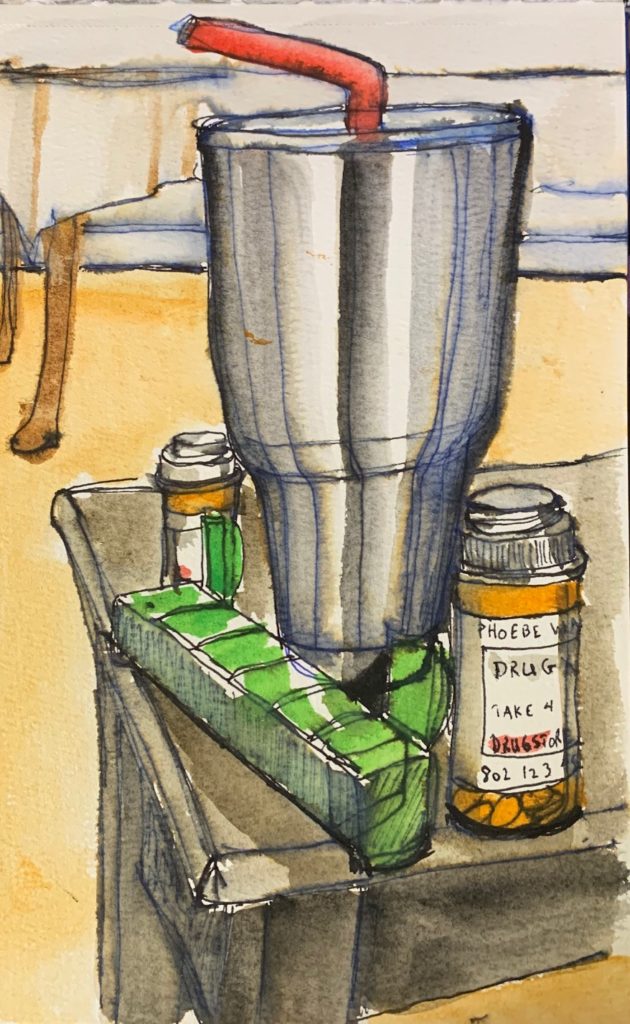 ***
Mad in America hosts blogs by a diverse group of writers. These posts are designed to serve as a public forum for a discussion—broadly speaking—of psychiatry and its treatments. The opinions expressed are the writers' own.
***
Mad in America has made some changes to the commenting process. You no longer need to login or create an account on our site to comment. The only information needed is your name, email and comment text. Comments made with an account prior to this change will remain visible on the site.