On December 23, the FDA approved a new drug for schizophrenia, lumateperone, which was said to be a "first-in-class" medication, suggesting that its mechanism of action differed from antipsychotic drugs in current use. This new drug, an article in JAMA Psychiatry concluded, "demonstrated efficacy for improving the symptoms of schizophrenia and a favorable safety profile."
After the FDA gave its stamp of approval, the stock price of Intra-Cellular Therapies, the company bringing lumateperone to market, soared on December 23, rising from $12.44 to $36.51. The company's valuation rose $1.3 billion that day, giving investors reason to hoist a glass of champagne.
In the company's press release, Jeffrey Lieberman, the former president of the American Psychiatric Association, who was a lead investigator in the trials and also served as an advisor to Intracellular Therapies, told of how lumateperone was a welcome addition to the medicine chest for schizophrenia.
"Schizophrenia is a complex disease that severely impacts patients and their families. Effective treatment in a timely fashion can be game-changing for people with schizophrenia," he said. "The efficacy and safety profile of Caplyta approved by the FDA offers healthcare providers an important new option for treating people living with schizophrenia."
That is the general story being told to the public, with the JAMA Psychiatry article, which was published online on January 10, providing a scientific stamp of approval for the FDA's decision. It was a novel drug that had proven to be a safe and effective treatment for schizophrenia. An editorial in JAMA Psychiatry summed up the possible therapeutic advance it represented.
"Although we do not know what the ultimate comparative advantages of lumateperone will be, it is encouraging and potentially exciting to see a new drug with novel pharmacologic properties progressing through the gauntlet of drug development and US Food and Drug Administration approval."
A Scientific Charade
While that is the public story, an in-depth look at the "evidence" for lumateperone reveals that the clinical testing and approval of this drug is best described as a charade, a game of scientific pretense. The clinical trials, in their design, served as the study of a drug for use after chronic patients have abruptly quit taking their psychiatric medications, as opposed to a study of a "drug for schizophrenia." And even in that context, the drug did not reliably best placebo in any of three studies.
Nor is the "novel" drug claim fully accurate.
There is nothing in the design of the lumateperone trials that is particularly new, or even surprising given the history of the testing of new drugs for schizophrenia and the commercial influences on that process. The clinical tests of lumateperone did not deviate, in any significant way, from the norm. However, the approval of this drug does provide an opportunity to see anew that the testing of antipsychotics for schizophrenia is, from a scientific perspective, a fatally flawed process, producing "findings" that tell little about a drug's efficacy as a "treatment for schizophrenia."
Indeed, the most interesting finding to emerge from the lumateperone trials provokes a surprising question: Why do the chronic patients abruptly withdrawn from all of their psychiatric medications and randomized to placebo improve, as a group, during the 28-day study period? That result runs contrary to all that is known about the emotional and physical difficulties that people experience following abrupt withdrawal of psychiatric drugs. Patients who abruptly stop their medications are expected to become worse, at least for the immediate period following withdrawal, and yet that was not true in this case.
A Drug Like Clozapine
Lumateperone is being promoted as a novel compound that will not cause the side effects that existing antipsychotics do. Lumateperone, wrote the authors of the JAMA Psychiatry article, "is a mechanistically novel investigational agent for schizophrenia. The mechanism of action is unique because it simultaneously modulates serotonin, dopamine and glutamate neurotransmission, the key neurotransmitters implicated in serious mental illness . . . In addition, lumateperone lacks interaction with off target receptors that may contribute to the adverse effects of other antipsychotic drugs."
In other words, this new molecule is something of a magic bullet. It "modulates" the very transmitters said to be the cause of schizophrenia, but—if the JAMA Psychiatry report is to be believed—does not interact with other neurotransmitters that cause the adverse effects that other antipsychotics do.
This is reminiscent of the "breakthrough" claims made about Risperdal and Zyprexa when they were brought to market in the 1990s. However, as the protocol for Intra-Cellular's phase III study that was used to gain FDA approval makes clear, lumateperone is quite similar to clozapine in its effects on dopamine and serotonin.
All antipsychotics block D2 receptors, which is understood to be the mechanism that reduces hallucinations and other psychotic symptoms. At a therapeutic dose, most antipsychotics block more than 60% of striatal D2 receptors. Yet, as the protocol notes, Intra-Cellular's drug does so as well. The 120 mg dose tested in its phase II trial blocks 70% of striatal D2 receptors, while the 60 mg dose blocks 50%.
Although the blockade with the 60 mg dose is slightly lower than most antipsychotics, it is similar to the D2 blockade with clozapine. Clozapine and other "second generation" antipsychotics also block serotonergic (5HT2a) receptors, with clozapine—the most potent of the drugs in this regard—blocking 90% of these receptors.
At a 60 mg dose, this is precisely what lumateperone does. Lumateperone, the protocol states, is "similar to that of clozapine with full saturation of cortical 5HT2a receptors when striatal D2 receptor occupancy is relatively low."
Researchers have identified the characteristic side effects that flow from a drug's blockade of a particular neurotransmitter. Blocking dopamine and serotonin pathways, while credited as providing a therapeutic benefit, causes a host of side effects. A clozapine-like drug may not cause extrapyramidal symptoms as regularly as a drug that blocks a higher percentage of D2 receptors, but it is likely to be sedating and cause metabolic changes that lead to significant weight gain.
While the editorial in JAMA Psychiatry touted lumateperone as having "novel pharmacologic properties," it also acknowledged that its primary mechanism of action, the blocking of dopamine and serotonin, was what existing antipsychotics do. "Whether its mechanism of actions is truly novel remains unanswered," the editorial stated. "It remains possible that lumateperone is just another 'me-too' second-generation antipsychotic."
The Elements of a Charade
The protocol
Lumateperone was tested in one phase II study and two phase III studies, each one lasting 28 days, with similar designs. The article in JAMA Psychiatry reported results from study 301, with a link to a pdf of the protocol.
In study 301, the participants were required to have been in a "stable living environment" for the previous three months, and while in that community environment, to have suffered an "exacerbation" of schizophrenia symptoms. They needed to have had a prior history of responding positively to an antipsychotic. And most notably, investigators needed to decide that they could be  "safely discontinued from current antipsychotic therapy, mood stabilizers, lithium, anticholinergics, and antidepressant medication."
There was a long list of exclusionary criteria. The study volunteers couldn't be suicidal, couldn't be substance abusers (of alcohol or other drugs), and couldn't have "clinically abnormal laboratory values." They also couldn't be suffering from any significant "hematological, renal, hepatic, endocrinological, neurological, (or) cardiovascular disease," and they couldn't have had a "history of neuroleptic malignant syndrome."
Those recruited for the study were admitted to an inpatient unit, and on the first day were abruptly withdrawn from all psychiatric medications. If the clinical investigators decided that it would be appropriate to titrate the withdrawal of medications, it could be done over a maximum of four days. Everyone had to be off all psychiatric drugs for at least three days before randomization.
At the end of the screening period, which could last up to seven days, the patients were randomized into the study if they scored 70 or higher on the Positive and Negative Symptom Scale (PANSS). This inclusion criteria would select for patients that were at least "mildly to moderately ill."
In study 301, patients were randomized to a 60 mg or 40 mg dose of lumateperone, or to placebo. Investigators were allowed to prescribe lorazepam during the 28-day study for "agitation, anxiety or to aid sleep."
The primary measure of efficacy was a change in the PANSS score from baseline to the end of study at day 28. The study was designed, the investigators reported in their JAMA article, to have the power to demonstrate an "effect size of 0.4," which would correspond to a six-point difference between drug and placebo in the reduction of symptoms.
The study population
As can be seen, the inclusion-exclusion criteria were designed to enroll a select group of "schizophrenia" patients. Those enrolled came from stable environments in the community, had previously responded positively to an antipsychotic, didn't abuse alcohol or other drugs, and were in relatively good health, even though they may have had years of exposure to antipsychotic medications. These criteria were being used to select patients who had a higher probability of responding to an antipsychotic than a random recruitment of "schizophrenia" patients, and, given their relatively healthy profiles, were at lower risk of suffering adverse effects.
Pharmaceutical companies regularly use inclusion-exclusion criteria to select a subset of patients from a diagnostic group that will be most likely to respond well to the drug. However, it is well known that because of this selection process, the results may not reflect how effective a drug will be in a "real-world" population of patients.
The most dramatic example of this "real-world" problem comes from antidepressant trials. Two decades ago, the NIMH funded two studies of antidepressants in "real world" patients, and in both studies, one of which was the large STAR*D study, response and remission rates were quite poor, and notably lower than response rates from commercially funded drug trials.
This is the first element of pretense in this trial of lumateperone, an element common to most industry-funded trials of psychiatric drugs. The trial used inclusion-exclusion criteria to enroll a subset of patients that could be expected to have higher response rates and fewer adverse events than a "real-world" set of patients. The study volunteers were not representative of a cross-section of "real-world patients," yet the results are being promoted as proving efficacy and safety for "real-world" use.
Prior drug exposure
In study 301, the 449 patients randomized into the study were, on average, 42 years old, and they had been diagnosed 17 years earlier. At least 94% had been taking psychiatric medications prior to the study, with nearly two-thirds on lorazepam. The most common antipsychotics that patients were taking were quetiapine, risperidone, haloperidol, olanzapine, and aripiprazole. All patients had a history of exposure to antipsychotics.
As is well known, antipsychotics and other psychiatric drugs change the brain. They perturb neurotransmitter systems, and in response, the brain goes through a series of compensatory adaptations in an effort to maintain a "homeostatic equilibrium." At the end of this process, former NIMH director Stephen Hyman wrote in a 1996 paper, the brain is operating in a manner that is "qualitatively as well as quantitatively different from the normal state."
For instance, antipsychotics block D2 receptors. In response, the brain increases the density of its D2 receptors. Thus, anyone who is exposed to an antipsychotic for any length of time will have this unusually high density of D2 receptors, and this is just one of the many changes that will be induced by years of exposure to antipsychotics and other psychiatric drugs.
As a result of this drug exposure, lumateperone was not being tested in "people with schizophrenia," as though their brains were now in their original "disease" state. The drug was being tested in people whose brains had been dramatically remodeled by their years of exposure to antipsychotics and other psychiatric drugs, and if the patients in this study shared any common physiology, it was the abnormalities—such as an increase in D2 receptors—induced by exposure to the drugs.
Everyone knows this. Yet this scientific elephant in the room is never discussed. Instead, the pretense is that a drug-washout design removes the effect of this prior drug use, and returns the study participants to a pristine "schizophrenia" physiology. This allows for claims that a drug has been tested for a "disease," even though it is in fact being tested in a population of patients whose brains are "abnormal" because of their years of exposure to the drugs.
This pretense, it should be noted, permeates 65 years of clinical RCTs assessing the short-term efficacy of antipsychotics. As Lieberman and colleagues confessed in a 2017 paper, there has never been a "randomized, double-blind, placebo-controlled study" of an antipsychotic in medication-naïve patients. In other words, there is no good scientific record that these drugs are effective, even over the short term, in psychotic patients whose brains have not been changed by prior exposure to antipsychotics.
No placebo control
As is well known, there is the possibility that people diagnosed with a disease may get better without treatment, and that is particularly true for people given a psychiatric diagnosis. A placebo control is designed to provide a measurement of this natural capacity for recovery, with the understanding that in order for a drug treatment to be effective, the drug must provide better results than the "natural recovery" in the placebo group.
In this study, the abrupt withdrawal design produces a "placebo group" that is suffering from withdrawal symptoms, as opposed to "unmedicated" schizophrenia, and there is a lengthy record of research documenting the hazards associated with abrupt withdrawal of antipsychotics and other psychiatric drugs. These hazards include a worsening of psychotic symptoms, anxiety, fear, depression, inner agitation, mood swings, headaches, insomnia, vomiting, and a possible worsening of extrapyramidal symptoms.
Indeed, the common thought is that abruptly withdrawing chronic patients from all of their psychiatric medications would be clinical malpractice, given that it is known to put patients at great risk of deterioration.
The charade here is obvious. A drug-withdrawal group serves as a stand-in for a placebo control, which provides a "comparison" that could be expected to make the drug look good.
This telling fact is also regularly hidden from readers of the medical literature. In the JAMA Psychiatry article, there is no mention of the fact that the participants had been abruptly withdrawn from their psychiatric medications immediately prior to randomization; that telling detail is missing from both the "Methods" and "Discussion" sections of the paper.
A drug-restoration study
Given the abrupt withdrawal of all drugs during the screening period, the trials of lumateperone are properly described as "drug-restoration" studies. Those who were randomized to lumateperone were put back on the same type of drug—one that blocks dopamine receptors—that their brains had become accustomed to.
In clinical settings, this of course is the usual practice. If a schizophrenia patient has abruptly quit taking his or her medications and is now suffering from psychotic symptoms, the patient is quickly put back on an antipsychotic. One would expect that this drug restoration would help alleviate the symptoms that flared up following the abrupt withdrawal of the antipsychotic in the first place.
Regardless of expectations, the point is that the lumateperone trials, like most industry-funded trials that utilize a drug-withdrawal design, only provide an assessment of the possible merits of this drug within a specific clinical situation: If chronic schizophrenia patients abruptly stop all medications, what is the short term effect of putting them back on lumateperone? Over the next 28 days, do they fare better than those who are not put back on an antipsychotic?
The missing data
The clinical course studied in the lumateperone trials is this: Schizophrenia patients living in the community suffer some degree of exacerbation while taking their medications. They are then abruptly withdrawn from all their medications and randomized either to lumateperone or to placebo. They remain in this treatment groups for the next four weeks.
The study, in order to provide a clear assessment of that course, should present three PANSS assessments for the participants:
Scores at initial screening
Scores after abrupt drug withdrawal (immediately prior to randomization)
Scores at the end of the 28-day study period
In the lumateperone trials, there was no use of PANSS at the initial screening. Instead, potential recruits were screened with the use of a scale (CGI-S) that quickly assesses "global" clinical status, and those who scored at least a four were seen as potentially eligible, in terms of their symptoms, to be in the trial. Yet, even these initial CGI-S scores, assessed before drug withdrawal, are never reported.
Thus, there is no information that details the symptoms of the patients before they had their drugs abruptly withdrawn. However, it is expected that the abrupt withdrawal will  exacerbate the patients' symptoms, at least to a small degree. This withdrawal-induced exacerbation then becomes the baseline measurement for assessing efficacy at the end of 28 days.
With this design, a study participant can end up being evaluated as having "responded" to the study drug even though he or she is worse off than when first screened for the trial.
For instance, in the lumateperone 301 study, the mean baseline PANSS score for the patients was 89. But what would have been their PANSS scores prior to the abrupt withdrawal? It is possible that they might have been only mildly ill, which would have produced PANSS scores in the high 60s or low 70s, with the abrupt withdrawal then pushing up their score to 89 at "baseline." Twenty-eight days later, their PANSS scores might have dropped to the mid-70s, and they would now be categorized as having responded to the drug, even though they were now worse than at the initial screening.
If these studies were done to provide clinically relevant information, then the patients' symptoms should be assessed using the PANSS scale at all three moments: initial screening, after abrupt drug withdrawal, and end of study. Then it would be possible to assess whether "improvement" on drug was an artifact of the drug-washout design. In addition, it would be possible to see how much harm had been done to the study volunteers by the abrupt drug-withdrawal design.
The concomitant use of a benzodiazepine
In the lumateperone trials, roughly two-thirds of the patients had been taking lorazepam before they were withdrawn from their psychotropic drugs and randomized into the study. However, following randomization, the protocol allowed for investigators to once again prescribe lorazepam to treat anxiety, agitation, and insomnia. More than 70% of the patients, in both the placebo and drug arms, were given this benzodiazepine.
The use of a second psychotropic obviously confounds the efficacy that can be attributed to the study drug. As an expert in clinical trial design testified in a civil case involving Prozac,  the concomitant use of a benzodiazepine in the Prozac studies was "scientifically bad," as it would "confound the results" and "interfere with the analysis of both safety and efficacy."
Again, everybody knows this. The prescribing of a benzodiazepine in the lumateperone trials could help hide adverse effects and help diminish many of the 30 symptoms that are assessed with PANSS. And while the use of a benzodiazepine is certainly of clinical use when people have been abruptly withdrawn from all of the psychiatric drugs and are suffering from withdrawal symptoms, the pretense comes from ignoring that their use confounds the study results.
This pretense extends to the article published in JAMA Psychiatry. There is no mention of the concomitant use of lorazepam. One has to read the protocol and the online supplement to find that out.
The ethics of abrupt withdrawal
It is well understood, by doctors and patients alike, that abrupt withdrawal of antipsychotics and other psychiatric drugs can be perilous. It exposes the patient to any number of physical and emotional risks, and in regular clinical care, is never advised.
Yet, in the lumateperone study, patients could be enrolled if the investigator determined that they could be "safely" withdrawn from all of their psychotropic medications.
This "safe" phrasing is meant to provide an ethical cover for the study. But how was this supposed to be done? The protocol did not provide any method for the investigators to figure out who among the screened patients could be "safely" withdrawn from their drugs. Nor was any explanation given for why there might be a subset of chronic patients that can, in fact, "safely" withdrawal from all their psychiatric drugs at once.
Indeed, if there exists a subset of chronic patients who can safely be withdrawn from all of their medications, then why isn't "abrupt drug withdrawal" seen as an option in regular clinical practice?
This is yet another element of the charade. The inclusion criteria provides ethical cover for an unethical act.
The bottom line
There was nothing particularly unusual about the design of study 301 or the other two clinical studies of lumateperone. But, from a scientific perspective, these studies cannot be said to provide a test of the safety and efficacy of this drug for "schizophrenia." The best that could be said of the trials is this: In a population of chronic patients diagnosed with schizophrenia, with years of exposure to antipsychotics and other psychiatric drugs, did lumateperone provide a benefit following abrupt withdrawal of the drugs they had been on?
The charade is to pretend that the trials tested something other than that.
The Efficacy of Lumateperone
The remarkable aspect of the FDA's approval of this drug, through a fast-track process, is that even in that scientific context, as a treatment for patients withdrawn from all of their psychotropic drugs, it didn't reliably provide a benefit.
Intra-Cellular Therapies conducted one phase II study and two phase III studies as part of its application to the FDA. It provided summaries of these studies in its 2019 10-K filing to the Securities and Exchange Commission.
In the phase II trial (study 005), 335 patients were randomized to one of four treatments: 120 mg of lumateperone, 60 mg of lumateperone, 4 mg of risperidone, or placebo. The primary endpoint was reduction in symptoms on the PANSS scale from baseline to study end at day 28. While the 60 mg dose of lumaterone and the 4 mg dose of risperidone both provided a "statistically significant" benefit,  the 120 mg dose of lumateperone did not.*
In one of the two phase III studies (study 302), patients were randomized to either a 60 mg dose of lumateperone, a 40 mg dose of lumateperone, risperidone or placebo, with reduction of symptoms on the PANSS scale the primary endpoint. Neither of the lumateperone doses "separated from placebo" on this endpoint, whereas risperidone did.
In the other phase III study, study 301, the 60 mg dose did show a "statistically significant" benefit over placebo on the PANSS scale, but the 40 mg dose did not.
Thus, in these three studies, there were six comparisons made between a lumateperone dose and placebo, and in four of the six, the drug did not provide a benefit over placebo. The 60 mg. dose was the dosage approved by the FDA, and in the two comparisons with risperidone, it provided similar results in the phase II study, but was inferior to risperidone in the phase III study.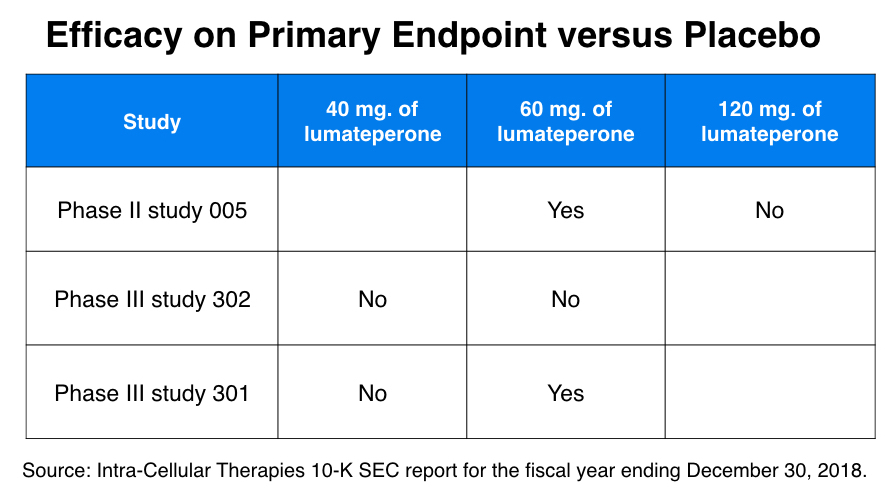 Moreover, in study 301, the efficacy of the 60 mg dose over placebo was of a minimal sort. The baseline PANSS score for  study participants was 89-90, and at the end of the 28 days, the average reduction in PANSS scores was 15.6 for the 60 mg group versus 12.4 for the placebo group.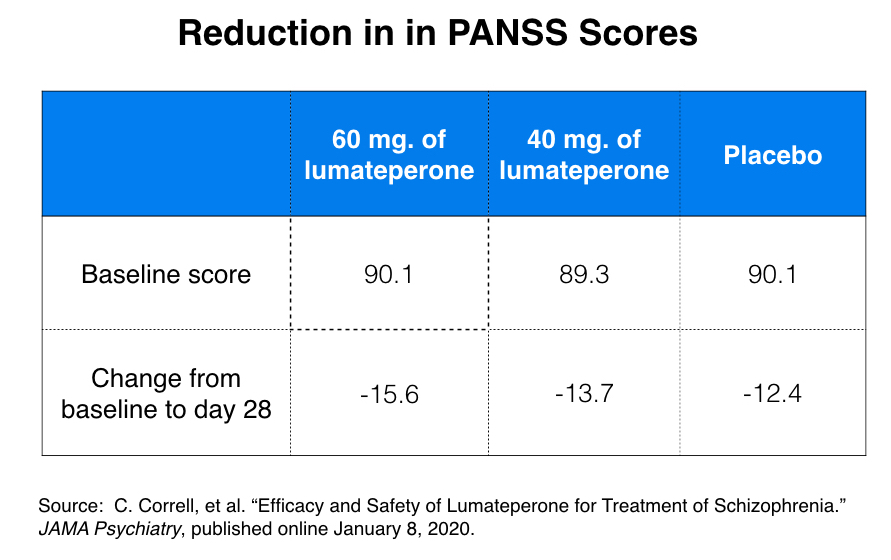 While this three-point difference was "statistically significant," it is clinically meaningless. PANSS assesses thirty symptoms on a scale of 1 to 7, which means that scores can range from 30 to 210. In a 2012 paper, researchers determined that there needed to be a 15-point difference on the PANSS scale in order for that difference to be clinically meaningful. A three-point difference on a 210-point scale would not be clinically noticeable.
The study 301 investigators, in their JAMA Psychiatry article, also reported response rates, stating that a 20% reduction in PANSS scores would be evidence that a patient had "minimally improved" by the end of the study. Fifty percent of the patients in the 60 mg group responded by this measure compared to 38 percent in the placebo group.
This produces an NNT of 8, which means that eight people have to be treated with the drug to produce one additional "minimally improved" response. This also means that seven of the eight treated with the drug will suffer the adverse effects of the drug without receiving any benefit. These seven are composed of non-responders to the drug and those who would have responded without the treatment (the placebo responders).
Thus, in sum:
There were only two instances—out of six tries—that lumateperone proved "statistically superior" to placebo on the primary endpoint of reduction in symptoms on the PANSS scale.
In the positive 301 study, the superiority of the "effective" dose of 60 mg was of such a marginal sort that it was clinically meaningless.
According to the "minimally improved" NNT of 8, seven of eight people treated with lumateperone will suffer the risks of adverse events without any benefit, as they will either be non-responders to the medication, or would have improved to the same extent without it.
The Safety of Lumateperone
Intra-Cellular Therapies, in its promotion of Caplyta, has touted it as safer and causing fewer side effects than antipsychotics in current use. The most common adverse reactions in the clinical trials, Medscape Psychiatry reported, "were somnolence/sedation" and "dry mouth."
The JAMA Psychiatry article, in its conclusion, provided a similarly rosy picture of its side-effect profile. "The adverse events in the lumateperone groups that occurred were sedation, somnolence, fatigue, and constipation, which were all predominantly mild."
This does seemingly tell of a great advance. No metabolic dysfunction, no dramatic weight gain, and apparently no extrapyramidal symptoms.
Here is how this safety profile was created.
List of common side effects
According to the study 301 protocol, the only "adverse events" that would be recorded would be those that newly emerged during the 28 days of treatment. The trial participants might have been suffering adverse effects from their prior years of psychiatric drug use, such as extrapyramidal symptoms, with such symptomatology remaining throughout the 28 days, but such symptoms would not be reported unless they newly emerged following randomization. In the JAMA Psychiatry report, these were described as "treatment-emergent adverse symptoms" (TEAS).
Second, the protocol was designed to minimize recognition of such adverse events. There was no use of an adverse-event checklist that would require the investigators to ask about potential negative effects. Instead, the protocol stated: "Adverse events may be volunteered spontaneously by the study subject, or discovered by the study staff during physical examinations or by asking an open, non-leading question such as 'How have you been feeling since you were last asked?'"
This is a method that drug companies regularly use to minimize reports of adverse effects. If you don't actively look for such negative effects, you won't find as many.
This method produced the following list of common side effects, which seemed fairly benign.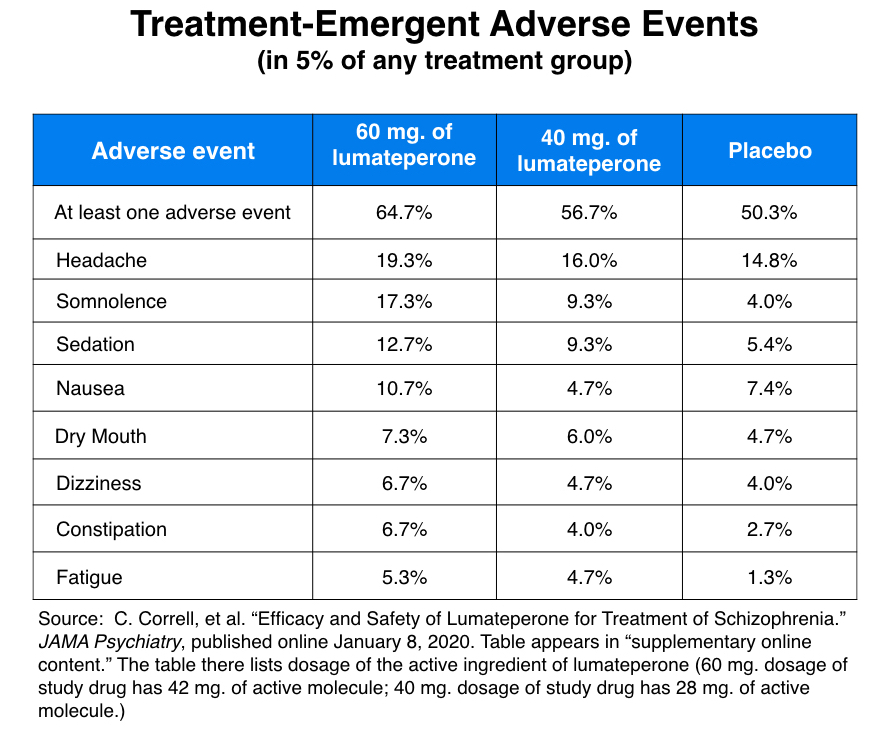 What is notably missing from this list is any evidence of EPS symptoms, and in their JAMA report, the study 301 investigators emphasized this point. "No EPS-related TEAS occurred in 5% or more of patients in any treatment arm," they wrote. "EPS related TEAS were rare."
Extrapyramidal symptoms
The first-generation antipsychotics—chlropromazine, haloperidol, and so forth—were notorious for causing extrapyramidal symptoms (EPS). Patients developed tics, dystonias, Parkinsonian symptoms, an inner agitation known as akathisia, and so forth. The second generation antipsychotics, such as olanzapine and quetiapine, were seen as improved drugs in large part because they didn't block D2 receptors to the same degree as the first-generation drugs, and thus induced extrapyramidal symptoms to a lesser degree.
A drug that didn't cause EPS symptoms at all, but was equally effective as existing drugs at improving PANSS scores, would be seen as a notable improvement. Although the adverse-event list seems to make the case that lumateperone doesn't cause EPS, a company wishing to make this claim would need to show that it actively assessed EPS symptoms, rather than just waiting to see if such symptoms showed up as adverse events.
Intra-Cellular Therapies did this in its trials. The patients enrolled in study 301 were given baselines tests to assess the presence and severity of EPS symptoms and akathisia, and then these same assessments were made periodically during the trial and on the last study day. The investigators reported that based on these measurements, "treatment with (either dose) of lumateperone was not associated with increased EPS."
The key word in that sentence, which can be easily missed, is increased.
In the JAMA Psychiatry article, the investigators reported on the mean changes in EPS symptomatology from baseline to day 28, as opposed to the percentage of patients who may have been suffering from such symptoms. Patients who were exhibiting extrapyramidal symptoms at baseline could still be exhibiting such symptoms at day 28, but as long as their symptoms hadn't worsened, this wouldn't produce any "mean change" in their EPS scores.
Furthermore, the investigators omitted the information that provided some insight into the percentage of patients who were, in fact, suffering from EPS during the study.
The protocol allowed for the prescribing of lorazepam during the trial to treat agitation, anxiety, and insomnia. All of these are EPS-related symptoms, with agitation and anxiety seen as cardinal signs of drug-induced akathisia (which often spikes following abrupt drug withdrawal). The investigators didn't mention this fact in their article. But the online  supplement does: more than 70% of the patients were prescribed lorazepam during the study for anxiety, agitation and insomnia.
Yet, these adverse events are missing from the list of general side effects.
Given this presentation of safety data, it's impossible to know the percentage of patients in study 301 who were suffering from EPS. It appears that there were only a few instances when such symptoms newly emerged, and on the whole, there was no "mean change" of EPS symptoms in the patient groups over those 28 days. Yet, more than 70% of the patients were prescribed lorazepam to treat agitation, anxiety, and insomnia, symptoms that are a sign of akathisia. It would seem then that 70% or so were suffering from this "adverse event."
The company, in its press release, stated that the "incidence of extrapyramidal symptoms was 6.7% for Caplyta and 6.3% for placebo," which would indicate that its drug doesn't cause such adverse effects. But information in the company's press release and the JAMA Psychiatry article about the use of lorazepam in the studies is absent, and so the public is left in the dark about the potential for this drug to cause "agitation, anxiety and insomnia."
Metabolic dysfunction
With the second-generation antipsychotics, metabolic dysfunction—weight gain, diabetes and so forth—moved to the forefront as the most problematic adverse effect. The study 301 investigators reported on this worry in the same way they reported on EPS symptoms.
The protocol required investigators to assess metabolic factors at baseline, and then again during the study and at day 28. But in the JAMA article, the investigators only reported "mean changes" from baseline to day 28, and thus if the patients had abnormal readings on metabolic factors at baseline, as long as metabolic-related measurements didn't worsen during the four weeks, it would seem that lumateperone didn't cause such problems.
As the investigators wrote in their JAMA article, "there were no significant mean changes in metabolic parameters from baseline to day 28 compared with placebo."
Yet, just as the regular use of lorazepam in study 301 tells of patients who continued to suffer from symptoms that are linked to akathisia, weight-gain data published in the supplement suggests that lumateperone, like clozapine, may cause metabolic problems, at least for some patients. Twelve of the 143 patients in the 60 mg group had an increase of more than 7% of their baseline body weight in 28 days, which indicates that they gained 10 to 15 pounds (or more) in this short period.
The bottom line
It may be that lumateperone has a relatively benign safety profile compared to existing psychiatric drugs. However, what is clear is that the company and its investigators, in their collection and reporting of adverse event data, did not provide a picture of the presence of metabolic dysfunction and EPS symptoms in trial participants during the study. The fact that there were no "mean changes" in these domains indicates that at least those treated with lumateperone didn't worsen in those two domains during their 28 days on the drug. But that doesn't translate into evidence that lumateperone won't cause such negative effects in some significant percentage of real-world patients.
The FDA's Approval of Lumateperone
After the company completed its phase III trials, the FDA, in November of 2017, gave lumateperone its "fast-track" designation. This was granted, the company stated in a press release, because "lumateperone has the potential to address the unmet medical need for the treatment of schizophrenia with significant improvements on several clinically significant safety parameters, including with respect to metabolic, motor and cardiovascular issues associated with many currently available antipsychotic agents."
Once the company filed its New Drug Application, the FDA scheduled an advisory committee meeting for July 31, 2019. But it cancelled this meeting on July 23, which spooked the investment community. Perhaps the FDA hadn't found the lumateperone data very convincing.
Those fears were quickly quelled. On September 10, the FDA announced that it no longer planned to hold an advisory committee review, and three months later, on December 23, it approved the drug. It did so despite the lack of two positive phase III trials, which is the usual standard for getting a drug approved.
Earlier in 2019, the FDA approved eskatamine as a treatment for depression even though the efficacy evidence was of a similarly unconvincing sort, and with this approval of lumateperone, financial analyst Paul Matteis explained the pattern that was now evident. "The FDA is more flexible than average for neuroscience drugs" and is now taking "a glass half-full approach" to approving such drugs, he wrote.
The development of lumateperone did produce financial benefits for those involved.  Investigators who conducted the trials were of course paid for this work, and as noted above, after the FDA announced its decision, Intra-Cellular's valuation jumped $1.3 billion in a single day. Both Intera-Cellular's CEO and CFO have sold shares of their stock since that day, each receiving more than $1 million  from these trades.
Analysts said the company was expected to price Caplyta at $900 a month when the drug is launched in the spring. That is more than 200 times the monthly cost of generic risperidone at Walmarts or other pharmacies that sell generic antipsychotics at discounted rates. In this realm of commerce, the costs will be borne by those who purchase the pills.
The Unanswered Question
As mentioned earlier, there is one result from the lumateperone trials that warrants further investigation. Why did the PANSS scores of chronic patients who were abruptly withdrawn from their medications and then randomized to placebo improve over the next 28 days? Relapse studies regularly tell of withdrawn patients whose psychotic symptoms increase in the first month, and the general understanding is that abrupt withdrawal regularly leads to the eruption of many difficult symptoms. But not in this case, and such improvement in the placebo group is regularly seen in industry-funded trials, in spite of their drug-withdrawal design.
The improvement in the placebo group in this trial could be evidence that supports the regular use of tapering protocols. If chronic patients can improve following abrupt withdrawal of all of their psychiatric drugs, what improvement might they experience over longer periods of time if their psychiatric drugs were gradually withdrawn? However, another possible explanation is that during an industry-funded study the evaluators are expecting to see improvement in the participants, a bias that extends to both the drug-treated and placebo patients.
But that is not a question that interests commercial funders of drug trials or apparently the investigators in the lumateperone trials. In their JAMA Psychiatry report, they didn't even mention the drug-withdrawal design. There is no discussion of this improvement in the placebo group, which represents yet another way that these trials do not help inform clinical care in any meaningful way.
*******
* The molecule that was tested in the trial was lumateperone tosylate. The 60 mg dose had 42 mg of lumateperone, while the 40 mg dose had 28 mg of lumateperone. In the JAMA Psychiatry article, some of the findings are presented using the 42 mg and 28 mg numbers.
MIA Reports are supported, in part, by a grant from the Open Society Foundations