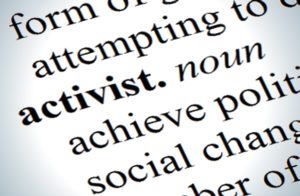 I identify as an activist, and I am tired. Not yet ready to move on to some dreamscape. Hoping to be re-energized. But very, very tired. Part of the reason I've reached this level of exhaustion is that I seem to be living what life would look like if 'painted into a corner,' met 'put in a box' in a car wreck, leaving the two a tangled idiomatic mess. Yes, this 'painted box' in which so many activists of so many kinds seem to find themselves stuck is all the harder to escape for its combination of confined quarters and wet edges. It can be suffocating.
In October, Will Hall published an article, "Our Movement Has Failed." In it, he asserted the following:
"What's happening in the 'peer' world is very far from the Western Massachusetts Recovery Learning Community's vision of peer leadership. And my colleagues at WMRLC will be the first to point out that their work is limited by the need for larger social change."
Although I was a little confused as to how my local community — the Western Mass Recovery Learning Community (RLC) — earned a spot in Will's blog, I suppose he's right that most things 'peer' don't look the way I and those with whom I most closely work feel that they should. (In fact, I've written about some of that in blogs like this one: "In Peer We Trust.") Yet it's a mistake to speak of the vision under which we operate as strictly the RLC's 'vision.' That feels somehow minimizing and marginalizing. As if us 'crazy' folk over here in Western Mass came up with some quirky counter approach that hasn't found its footing just yet. Silly us.
In actuality, we coexist under that vision (or similar) with many others including the folks over at Intentional Peer Support, some of our friends up north at the Hive Mutual Support Network, and, well, much of the world Hearing Voices movement. Just to name a few (hundreds of thousands). Yes, the RLC is a loud voice for the integrity of peer support, and we've developed something of a reputation and platform for that. (See, for example, "An Open Mind" in Sun Magazine, my opinion piece in the Boston Globe, or the articles focused on our work in the New York Times and Foreign Policy.) But we are far from operating in isolation.
I'm also not sure I'd claim that our work is exactly "limited by the need for larger social change," so much as I'd say that creating larger social change is a part of our work, even if not fully realized just yet. In truth, to say that our movement has 'failed' (even just 'so far') is to diminish or dismiss so many lives that have been saved, voices raised, internal spirit fires rekindled, and paradigms weakened, even if only a bit. Together we have real potential to make that "larger social change" come to life.
And yet, my message isn't too much cheerier or any less melodramatic:
This movement has unquestionably seen some successes, but holy hell… At. What. Cost.
What follows are the top eleven examples of how activists and advocates are asked to cough up boundless energy while simultaneously being demoralized, devalued, diminished, and used. Why eleven? Sure, that's a weird number to choose; a weird number for weird me. Think of it as a list of ten with one for the road, if it makes you feel better.
In any case, these are examples of why it can feel so soul-crushing to attempt to upend power dynamics and sustain well-organized pushes for change; why it sometimes feels like this movement is chewing us up faster than progress is being made.
Guilty Until Proven Innocent (Yelling Doesn't Help)
It has become painfully clear over the years that when an activist enters a room in the 'mental health' world, they tend to enter at a deficit. Most others speak, and they're heard for what they actually say. When we speak, we must simultaneously attempt to prove that we are not 'anti' anything and not 'too radical,' just so that our actual words may even be heard as we speak them. We need to pet and soothe egos while challenging minds. Oh, and we better do all that without taking up too much time (because that alone might be seen as a symptom, or a lack of impulse control, or as a show of anger and disrespect that renders us not worthy to be heard at all). All this just for the privilege of standing at the very same starting line as everyone else in the room.
Sometimes it can feel like speaking from under water, while the rest of the group is up on deck. Like everyone on message shares an invisible bullhorn, and anyone offering a counterpoint speaks through choppy air like a bad connection. And, the harder one tries to be clear, the less they're understood. Because what they're saying doesn't fit within the pre-sets on people's filters, or with what they want to hear, and so the more specific one is about any differences, the farther off they seem. That's a frustrating and exhausting thing… for there to be a sort of inverse relationship between how much of what one says is heard correctly and how precisely one speaks.
I recall in the earliest days of the RLC a hospital saying they'd looked at our website and seen that it was 'antipsychiatry,' and on that basis, refused to give us any access to the people hospitalized there. The most important part of that story, however, is that at the time, our website was only a placeholder, with no information of any substance and no particular perspective conveyed. Just a few images, and our mission statement (which was focused solely on the provision of peer support, and far milder than the one we have now).
I've had similar experiences individually, with people attempting to define my own beliefs in ways that run contrary to (or at least slightly askew of) my words. Sometimes they speak my supposed beliefs back to me with the utmost confidence, surprise turned quickly to disinterest when I have to explain (again and again and again) that that's not what I actually said. Sometimes I feel as if, every time I open my mouth, I should be asking everyone to summarize back to me what they heard, just to hear how far off base they've fallen.
How do we acquire the same privilege of starting at the 'neutral' line? Of being heard for what we actually say? How do we change how we are seen, when most of that truly is in the eye of the beholder?
(Oh, we see you. We see you as we want and need you to be. Don't mess with a good thing.)
You're So Articulate (Maybe a Little Too Articulate… Would You Please Shut Up?)
It seems so obvious. If the stereotype is that one is acting out of emotion rather than information, 'anecdote' rather than hard research, anger rather than reason… Well then, the best bet is to speak as articulately as possible, emphasize logic, and come with a back pocket full of facts… Right? Except, in my experience, that person is quickly seen as taking up too much space, acting too self-righteous. Who are they to speak with such confidence?
My favorite is when I'm told that the way I speak — so definitive and clear — makes other people (ones who typically make more money and hold more power than me) feel silenced. That by simply being in the same space, I render them voiceless, unable to speak their own truth. (This, of course, begs the question of what precisely they wanted to say that they're so afraid to say in front of me.) Perhaps my words make them feel as if their medicalized views are being dismissed, because I've infringed upon about one percent of the 95% of the air space that such views take up with my inconvenient facts. How dare I push up against their generalizations with something that might require them to reevaluate their own unrecognized dogma?
One of the funniest (super unfunny) things I've ever seen was a psychiatrist on the stand at a commitment hearing talking about the "patient's" flat affect and delayed response times while he exhibited just about the flattest affect and strangest speech pattern I've seen to date. (Much stranger than the to-be-committed individual while she was on the stand, by the way.) His side still won.
Because those with the power define the roles we are supposed to play, while claiming all the wiggle room for themselves. Sometimes there is this fantasy that if we can demonstrate dramatically enough how flawed those roles can be, that people will be dutifully impressed and willing to change. Yet, in actuality, when those with considerably less power try to change the story, it's more likely to create annoyance than a shift.
(Shoo fly, shoo.)
That's Not What We're Here to Talk About Today (Would You Like Five Minutes at the End?)
People are quick to frustration when thrown off agenda, even if their agenda was the wrong one right off the bat. I recall a recent meeting that a co-worker and I dropped into. There, we encouraged consideration of alternatives rather than business as usual with the topic at hand. In actuality, our questions and suggestions took only a small fraction of the time available, but the facilitator of the meeting went on at great length to counter us. So invested was he in demonstrating our wrongness that time to address the planned agenda fell far short. Yet, I guarantee (and frustrated side glances confirmed) that if a survey went out asking what threw the meeting off track, the fingers would point toward us.
This, of course, speaks to who is setting the agenda in the first place. One is generally not seen as disrupting that which they determined in the first place… even when they change their mind about how things should go. It also speaks to the one most common inclusion myth of all time: The goal is just to get them to your table. Nope. Real inclusion means establishing a joint agenda at a new table altogether.
(Would you like that five minutes, now? Really, it's only three because things ran long, and I know people are shuffling papers and getting ready to go, but we promise we are listening real hard!) 
Your Anger is Righteous (But It Makes Me Uncomfortable… So, Stop It)
At this point, the system seems to want a lot of credit for all their purportedly progressive efforts to put 'peers' in largely ineffectual roles where their relative silence is rewarded with high (but not too high) paychecks and low expectations. It's happening under the guise of change, but it is mostly an act of silencing.
It works in two ways: Either a loud voice is hired with the hope that they'll come more under control once their finances depend on it. Or (most often), a group of individuals eager to compromise are employed at least in part as a buffer between the system's most powerful interiors and those calling for change. That group allows the interior to go about its business as usual, while claiming commitment to change through the mere presence of this tokenized group, and — if all works as well as hoped — the tokens might even turn on those pushing for change from the outside and keep each other busy and away from the serious work.
In the end, most system-appointed leaders know it's the 'right thing to do' to acknowledge some harm and need for change. But these liability-minded folk also seem to put about a 10-second shelf life on anything approximating an apology, and so anyone who wants more is met with discomfort and, eventually, if they keep it up too long, willful exile and diagnostic avalanches.
(Hey, buddy. We brought you into this room, and we can kick you right back out of it. If you're not willing to respect that we want you around to make us look good, and not to make us feel uncomfortable, then you're not welcome here.)
You Look So Good Wearing Me (I Should Have Gotten a Copyright)
I realize this sounds like a bit of a bad pickup line, but that's certainly not how it's meant. Rather, there is a sort of phenomenon that happens where an activist does something innovative and limit-pushing, gets ostracized and torn down (perhaps even fired), and then imitated to all hell and back.
There's little that's more maddening than being demonized for doing something, only to have that idea stolen and portrayed as new and wondrous once you're out of the way. But it happens all the time.
In fact, it has happened to me in both big and small ways. I lost a job once where I was heavily criticized and questioned for doing too much in a different way, only to have that organization attempt to build up their name on much of what I had developed once I was gone. I've also seen words I've literally written onto some of our brochures plagiarized by other organizations that have since accused us of being 'too extreme.' (Then come up with your own damn words, will you?) It sometimes makes one wonder what those individuals who lifted those words even thought that they meant in the first place.
And watch out should you ever decide not to share. Then you get accused of not having your eye on the larger good, and being in it for your own self interests.
(Let us get what we can out of you, please. You're dispensable, but your work isn't. Now hand it over all nice like, please.)
Denial is a Diagnosis (And a Tautological Trap)
We all know that denying you're 'mentally ill' can be seen as a symptom that you are 'mentally ill' indeed. TAC-heads (Treatment Advocacy Center) have even erroneously lifted a real medical diagnosis (anosognosia) and applied it inappropriately to this phenomenon in a sad attempt to turn 'lack of insight' into an illness all its own.
Yet, it apparently works the same way when one says, "No, I'm not anti-psychiatry." Woops. Apparently, I'm anti-psychiatry now all the more. I frequently think back to an interview I did with John Read in which he explained that 'anti-psychiatry' is a sort of diagnosis at this point; just another way that people can claim there's something 'wrong' with you, and you therefore no longer need to be taken seriously.
The funny thing is I'm really not anti-psychiatry. (And I'm not interested in arguing about it, either, with those who feel that I should be.) I'm more critical psychiatry than 'anti.' I'm all for questioning at every level. I'm not so impressed with rigid agendas to be force fed. Most importantly, I believe that the best way to support someone to get out from under psychiatry's clutches is to shine light on all paths. It may seem a bit counterintuitive, but the best way to show someone out is to also give them the option to stay.
(Thank you, ma'm, for explaining how you're not anti-psychiatry. Now we know you surely are just that. And here's the real trap: We'll only believe that you're not when you stop saying anything at all.)
Cannibalism is Fun (Friends Taste Better Than Enemies)
I've been watching this Netflix series called the 'Santa Clarita Diet.' I'm not impressed. It's kind of gross, and I'm perplexed by what Drew Barrymore's career seems to have come to. It's also really more about zombies than cannibalism. Though, I guess zombies are cannibals in their own way… But, I digress.
In any case, any good activist knows that we're meant to be snacking on each other. I mean, this is what happens with systemic oppression in general, right? The most powerful somehow convince the 'have nots' that they need to be angriest at the 'have even less' contingent. (Drug test for food stamps! Welfare abuse! Don't let those freeloaders get too comfortable on my dime! Did you see that fancy cell phone they bought?!)
The same thing happens here. The system convinces those standing on the middle ground that their survival (either their 'mental health' or their paycheck) is dependent on moderation. They're rewarded for their relative silence (complicity) with speaking engagements, award nominations, better paying jobs, shorter work days, and seats at that table that everyone keeps talking about. At the same time, those of us who are a little louder and firmer and freer with our anger are the ones supposedly screwing it all up. Of course, no one speaks so plainly about this phenomenon. Instead, it becomes all about how the ones in the middle are so "skillful at compromising," or so "friendly and professional," while those on the fringes are "too angry," and "don't you wish they'd just choose a different way to get their message across?"
Gosh. If only someone had ever told us that if we were just nice and polite all the time, people would listen, and the system would already be fixed! (And, if you believe that…)
(Hey, loud mouth! You're messing things up. Don't you know I have a good thing going over here?)
Saying It in a Way They Can Hear It (Is Almost Like Saying Nothing At All)
If I had a dime for every time I've heard a provider talk about wanting to find or hire an advocate who can speak their advocacy demands in a "way that people can hear…" Well, I'd be able to buy that social change Will spoke about before.
Too bad it's bullshit. (Oops. Did I say that 'out loud?') I mean, sure, there are ways to say things that might reach people better. I practice that myself, and I work with individuals who I sometimes refer to as 'provider whisperers.' But if someone isn't wanting to hear you in the first place, there's not much you can do. I've spent years trying to figure out just how many times I need to say what I don't mean, in order for people to hear what I do. I've tried dressing up, and dressing down. I've tried starting with a compliment, and being self-deprecating. I usually manage to get at least a few laughs when I present. I mean, that ought to help, right? Help stop people from being so angry or disliking me so much that they dismiss what I have to say before I even get started? And yet, what I eventually learned is most of them don't want to hear what I do mean. And, the only way I can fix that is to… well, stop wanting it myself.
This is all so much foolishness. Since when have the people with less power ever been in the best spot to undo systemic oppression? Suggesting that there is a right way that I could say something to make change, and that if change isn't made that it's my fault is a good game. It lets you off the hook, right? It's like diagnosis. You're not sad because you're homeless or living in poverty, you silly. You're sad because you're depressed! Don't look at me. You've got to fix this yourself (using these pills that I give you), or you're treatment resistant.
No. This is absurdity. It's the people in power who can make the change. When someone has trouble hearing me, I'm typically not going to be able to 'fix it' by saying what I am trying to say in some different way. As much as I wish it weren't true, I need you. You, dear ally (in whatever form you come), are the one who can push people to listen. If you have enough power on your side, you can even demand it. You are the one who holds all the credibility and respect. You are the one who can tell them to cut it out.
Don't tell me they don't like me, or have complaints about me and what I say. That gives them power, and sucks a little bit of life out of me every time it happens. Instead, ask them why.  Ask them what they're afraid of. Tell them to get over it. Help me get heard. That's your job. You have to have some skin in this game. Some risks you're willing to take. And if you don't want to, then please don't tell me that you're an ally anymore. You're just another person who wishes I'd "say it in a way they can hear it" which, like I said, is basically like saying nothing at all.
(Look how angry you are. How can you expect me to support you?)
Sweet Whisper of the Ally (You're Tickling My Ear)
This isn't just another cute header. (Though I admittedly like all the headers in this article quite a lot.) This is about that person. You know the one. That person who approaches you after you've spoken up at a meeting or workshop or other public forum to challenge the presentation in some way. Their favorite place to approach you is in a public bathroom, or just on your way out the door. There, they speak in hushed tones and thank you "so much" for saying what you did. Because they can't speak up like you do. They might get in trouble if they did. Or, maybe they're just nervous about speaking in front of crowds, and afraid they'll stumble over their words. (So was I once upon a time, by the way, before I figured out I couldn't afford to be silent.)
Great. That's just great. Sometimes it even feels flattering. And it's certainly better than the folks who saunter up to you during a break and speak in much more brazen tones about how your perspective might put someone at risk, and how you just don't understand. Poor little naïve you.
But let me tell you something. I'm tired of it. So tired of it. It is precisely what leaves me on an island, facing criticism with a reputation as "the difficult one." The one who doesn't play well with others. Which is ironic because I get along perfectly well with most people, and one of my strengths is synthesizing multiple perspectives. But, whatever. What does it matter when people who barely know you find you a little too challenging, and everyone else will only whisper their support.
Just know if you're only whispering, you're not an ally. If you take no risks in what you say, you're not an ally. If you believe it's okay that I pay the price for your silence by being the only one to speak up, you're not an ally. And if you're not there to defend me when I've been put in that position over and over and over again, then you are decidedly not an ally. You have just as much paint on your hands as everyone else.
(Paint! I see no paint! What do you mean?! I was just trying to be nice.)
Eat Misery (Be Happy)
I despise the term 'consumer' as it exists within the mental health system. If I am a 'consumer,' it is as a consumer of misery. I am expected to repeatedly share the most painful parts of my existence, pretty much for the purpose of everyone's entertainment (since it certainly doesn't seem to lead to much change). I am expected to sit with the deep pain and desperation of others as a relative constant in my job. I am expected to listen to people working in the system say terrible, horrible, demoralizing, dehumanizing things on the regular about people not unlike myself, and somehow avoid screaming at them. (Say it so they can hear it, remember!) And, I am expected to push for change with people who don't always take me seriously and constantly talk behind my back, all while also dutifully filling my social media feeds with pertinent issues and horrifying stories of injustice in the world.
And I'm expected to do it all nicely, and gently, with a smile on my face, and with so much patience (because change is slow!). Sometimes I wonder how many other jobs come with such a high expectation of smiles in the face of so much disrespect.
Where's the off switch? There has to be an off switch somewhere, right? What happens when the input of terrible gets to be too much, but any output of fury at all the injustice (including the slowness of change while people are dying) will accomplish nothing more than people being mad at you?
(Now, will you look at her. We told you she was a problem, didn't we?)
We Absolutely Love What You Do (As Long As You Do It Over There… You Know… Away From Us)
If I had a dime… No, let's go with a nickel this round… for every time someone who makes more money than me asked me to do something for them without any compensation… Well, hell. Maybe I'd be making as much as them. It's funny how readily people are willing to consume my work, without necessarily wanting to be associated too closely with me. Or maybe they're willing to give me a platform to speak a bit, so long as it's clear I don't work for or represent them.
Perhaps the best part (for them) is that me looking so 'radical' over here, makes the small shifts these pretenders of change are making over there look tame in comparison. So, they get away with it, while I pay the price. For their small (often dubious) gain. It's a good strategy. (For them.)
But who wants to be the one constantly in the position of making others look good? Where does my humanity go when you treat me like a disposable tool? Just how long am I expected to keep up the energy it takes to hold all this — myself — together?
(We love your work. We'd like to use your work. But, you… Well, you're a bit of liability, so we don't need you. I'm sure you understand.) 
Yes, folks, this is what systemic oppression looks like. (More on that soon.) All of this. And this is what tears us apart. Those not-really-your-ally allies. The people willing to take your work in so many ways, but rarely willing to risk taking you. Those who never want you to act angry, because they never want to be expected to apologize or change. The ones who think that we're doing something wrong the moment they experience any discomfort. The ones who tell you to "say it so they can hear it," when we all know damn well that there's no way to actually do that. Saying hard things is what it is. You do it, or you don't.
It is exhausting. It is deflating. It is dishonest. It is a (willful) refusal to see.
If you recognize yourself in what I wrote about those on the flip side of the coin from me, then you have a choice to make. Saying you want change is not enough. If you say you want change, but you can't escape the fact that your face is all over what I wrote, then you don't really. You should stop lying. To yourself. To all of us. Get some skin in the game, or stop playing. Sit with the reality that your inaction has been harmful and has hurt people. Wallow in defensiveness and shame for a few minutes if you must, but then move on, because it's not helpful. Decide to make a change. Or don't, and get out of the way. Stop taking up space from those who are willing to take the necessary risks.
As for me, I know this whole piece is a bit self-pitying and melodramatic (as aforementioned). I'm better off than many. I do make money doing this work (never mind that it consumes almost every day of my life). I get to travel periodically to interesting places, and speak at public gigs. My life isn't so hard, and yet sometimes I feel like I'm dying inside for all the reasons above and more.
My hope is that this piece doesn't need to be about me alone; that many advocates and activists will see themselves in the 'I's above. That seeing the commonalities in what we're all up against may provide some fuel. The system needs to see us in a particular sort of way to sustain itself. That generally means we won't be seen at all for who we truly are, but we can at least try to do that for each other.
"We don't see things as they are. We see them as we are." – Anais Nin
***
Mad in America hosts blogs by a diverse group of writers. These posts are designed to serve as a public forum for a discussion—broadly speaking—of psychiatry and its treatments. The opinions expressed are the writers' own.
***
Mad in America has made some changes to the commenting process. You no longer need to login or create an account on our site to comment. The only information needed is your name, email and comment text. Comments made with an account prior to this change will remain visible on the site.