Gnatola ma no kpon sia, eyenabe adelan to kpo mi sena. (Ewe-mina) 
Until the lion has his or her own storyteller, the hunter will always have the best part of the story. (English)
There is little denying the power of story… until our own stories get taken from us, positioned against us, and used to determine our value as some sort of human commodity.
Storytelling has a rich past, especially among indigenous groups but also in general. It is a way people pass on history, both familial and cultural. It helps us honor and remember times and people of years gone by. It allows us to remain connected to our roots, even when others would rather we forget. Were we to heed the lessons found in the stories of our history, we'd all be far better off.
Story can also help us connect to a whole range of emotions from grief to joy. And it is an important teaching tool. Our stories can bring more abstract points to life in ways that academic explanations simply never could, and sometimes serve to immeasurably deepen the connection between the speaker and their audience. Yet there are many potential harms, especially when intertwined with matters of systemic oppression.
Honey, Let Me Take That For You
For example, when those in power take on the telling of the stories of marginalized peoples, storytelling can serve as a weapon that obfuscates the truth, and further entrenches social injustices. For example, the much lauded film Hidden Figures told the story of three black women finding success in NASA in the 1960's in spite of the tremendous racism they faced. Yet, the (white presenting*) director and screenplay writers took great liberties with the story, creating such memorable scenes as when Kevin Costner beat down the "colored ladies" bathroom sign with a crowbar. This made him look awful good — like a great white savior of sorts. It also inevitably made space for white audiences to feel a little better about themselves — seeing their own image in not only the villain but also the 'hero' role — and thus perhaps a little more able to acknowledge racism as a "thing." (Because, you know… white fragility.) Yet, it simply didn't happen that way in real life.
Green Book is another great example of a whitewashed story of racism. And, whether we look to the film's deviations from the truth, or to (white presenting*) Director, Peter Farrelly's much talked about acceptance speech (for Best Picture at the Academy Awards) during which he chose to lift up (white presenting*) actor Viggo Mortensen as the reason for the film's success, it's hard not to wonder how different things might look with someone a little more tied to the story's roots at the helm. There are many motivations for avoiding the truest versions of these stories, capitalism (in this case, selling tickets) being tops among them all.
Speak Your Truth (the Way I Want You to Say It)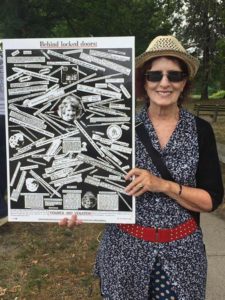 Of course, this phenomenon happens all the time within the psychiatric system, where people's files and treatment meetings are chock full of someone else's stories about them; fragmented bits and pieces told through a distorted, wholly medicalized lens. For many stuck within, their lives become enveloped and nearly fully defined by these stories that they've had no personal hand in writing. And so, in some ways, the move to reclaim our stories has been key; a critical move toward reclaiming ourselves. For example, Dorothy Dundas — one of the last living survivors of insulin shock therapy — infamously took pieces of her own hospital file and reformed them into a powerful poster and statement about the system overall. But more and more, especially as "peer support" has drifted from revolution to industry, it's all become something else entirely. Sometimes (too often) we've been turned into puppets. Our own mouths appear to be moving, but they are being worked behind the scenes by folks who still want to retain control over the story that gets told. We are instructed as follows:
"Speak your truth. As long as your truth isn't critical of our service system (says the providers), or your family (says the parents). Blaming others is mean and unfair. Never forget: The root of all this struggle lies within you, so kindly conform your story to that very important fact. This is equally true for all you "treatment resistant" folk (you know who you are!). If you must name a villain outside yourself, please be sure to also name a hero, and make them one of us. Lift us up as the "crisis warriors" that we are. Remember the struggle is all in the past (even if it isn't, you should still say that is so), and you shouldn't focus too much on that, anyway. Please speak primarily of your "wellness." You're all better now, after all. Thanks to us. If you could work that into your speech ("I'd like to thank my psychiatrist, my therapist, my parents…" kind of like you were winning an Oscar in the world of "mental health" treatment), that'd be just great. And, please do all this while pulling at our heartstrings, as if your life were designed to go straight from being lived to the big screen, all neat and slick-like. Make us feel something. Bring tears and laughter. But, for goodness sake, please don't make us uncomfortable. You know the drill."
We're also often given storytelling rules for our "own good." No graphic detail, because even though many of us have lived through horrors, we're apparently too impossibly fragile to hear them from others. We're taught to be so afraid of "triggering" one another that our stories sometimes become unrecognizable. (See also my article on 'trigger' and internalized oppression here: "The Language of Internalized Oppression.")
My Story is Bigger and Better than Your Story
And then there's the competition. Oh, the competition… where us "survivors" are encouraged to battle each other for the spotlight. It's that same old theme: Those in the power down position are encouraged to compete with one another for supposedly limited resources by those who are in control. In the process, us "consumers" are taught to consume one another in the most vicious of ways, with our own souls sometimes getting subsumed along the way.
Some of that encouragement comes in tacit form. For example, my good friend and co-worker, Caroline Mazel-Carlton (who has been featured in both the New York Times and O Magazine) was told by the Ladies Home Journal that her suicide attempt story was neither recent nor spectacular enough to merit writing about. In fact, that piece was supposed to be about the work of our shared organization, the Western Mass Recovery Learning Community, in developing Alternatives to Suicide, but the lack of a "blood and guts" sensational story to go along with it apparently meant they also lost interest in an approach that is actually working to prevent such events from even taking place. Meanwhile, there seems to be no end of space for "good suicide attempter" (as described by Jess Stohlman-Rainey in "Hegemonic Sanity and Suicide") Kevin Hines, whose personal story of surviving a jump off the Golden Gate Bridge has metastasized into such a fantastical tale that it's hard to believe anyone hears it as real anymore.
And then there's the American Association of Suicidology (AAS — Pronounce that acronym however you see fit). AAS makes no secret of their desire to pit one person's story against another. In fact, each year — linked to their annual conference — they offer the "Paul G. Quinnett Lived Experience Writing Contest." Hopeful contestants must offer:
"a first person account of suicidal ideation and/or attempt(s). The winning entry will focus on the progression from before the attempt, or the time of the attempt, until the current time. The writing will describe impact on the writer, and will tell this story in a way that is accessible and understandable to the greater community."
Winners receive a monetary award ($1500 for first place, $1000 for second, $500 for third), which at least some of them then use to be able to attend the overpriced AAS conference which currently costs $655 for non-members ($765 after March 24 for this year's event), and offers zero discounts to people living on fixed incomes or who identify as having actually struggled with suicide themselves. (I recall a few years ago arguing with a conference organizer about how important it is that they offer such a discount, and being told that I need to keep advocating so as to be able to reach the far more recognized status of family member who has survived a loved one's suicide.)
Gross. (Oops. Did I write that "out loud"?)
Ah, but it gets worse. The contest's namesake, Paul Quinnett, is the current CEO of QPR (Question, Persuade, Refer!), one of the nation's leading "suicide prevention" modalities. I'd like to tell you exactly what he has to say about the award, but when I click on "Why a Writing Contest" to read what Paul has to say about this, I find that the "page has been removed." Pity. Meanwhile, to make matters worse, the head judge (among a long line of not-head-judges) is Sue Eastgard, a Master Trainer in (you guessed it) ASIST, yet another leading "suicide prevention" approach in our country, and the training that I wrote about in this article (where they reported me to DCF and called the cops on me for a "wellness check"): "ASIST Suicide Prevention Training: 'Safe' for Who?"
But let's get back to the point here. So, what's better than attending a conference where so many leaders in the suicide prevention industry spend a bunch of money to come together and stare at each other in bafflement while discussing how all their various assessment tools and intervention strategies are failing? Why, convincing all the people they're trying to "help" to compete with one another to come up with the very best, most dramatic suicide story so that they (and by "they" I mean one or two of them) can attend, too.
Gross. Again.
Now, I've heard people (even those who are in the "I've struggled with suicide" camp) defend this practice. But, really. What building block of systemic oppression is more detrimental than convincing a marginalized group to allow themselves to literally compete to be fetishized for some particular "talent" they may possess to amuse the masses? Black people are seen as "good" when they entertain us via sports, music, or dance, but aren't we aghast when they try to use that platform to speak seriously for a moment. Women… we like them best when they're looking pretty and staying quiet (and maybe naked or close to it). And, those psychiatric patients… well, let them entertain us with their stories and then send them on their way so the "grownups" can talk business.
This is "Recovery Porn" (a term I understand to have been coined a few years back by "Recovery in the Bin") at its finest. It may seem like we're finally getting our voices heard, but that is largely illusion. We are being used, and it is not okay. We deserve to have our stories heard and to hear the stories of others, but on our own terms, and without competition for paltry awards and recognition. Moreover, we deserve to tell our stories in ways that drive connection and, even more importantly, that drive (and demand) action. And finally, we deserve to tell our stories without threat of loss (of jobs, children, freedom, or anything else). (Hell, they're not "stories." They're our lives, and all the wisdom we've gained from living them.) However, that is going to mean turning the system on its head and avoiding the allure of selling ourselves (and each other) out.
* * *
* I used the term "white presenting" in this article rather than just "white" because I hesitate to make too many assumptions about the race or ethnicity of some of the individuals named above. However, whatever their actual race or ethnicity, they have nonetheless clearly experienced the privilege of passing as white in a country where many people's paths are deeply impacted by being read as black or otherwise a "person of color."
***
Mad in America hosts blogs by a diverse group of writers. These posts are designed to serve as a public forum for a discussion—broadly speaking—of psychiatry and its treatments. The opinions expressed are the writers' own.
***
Mad in America has made some changes to the commenting process. You no longer need to login or create an account on our site to comment. The only information needed is your name, email and comment text. Comments made with an account prior to this change will remain visible on the site.