You know those movies that start close to the end, zeroing in on some catastrophic scene, and then backing up their timeline for the big reveal on how they got there? Let's take this otherwise fairly straight forward ASIST review and try that out:
<SCENE> It's Friday, January 25, 2019, two days after I've completed the ASIST Suicide Prevention training at Northern Rivers in Albany, New York. I'm back in western Massachusetts, sitting in my car outside the gym preparing to log some steps on the treadmill. Before proceeding, though, I am mulling over the call I got a mere hour or so earlier from the Department for Children and Families (DCF) Child Protective Services (CPS) telling me that someone had filed a 51(a) complaint against me for suspected child abuse of my daughter. While I'm still in active mull, my phone rings again. I pick it up thinking it must be DCF calling me back to let me know whether the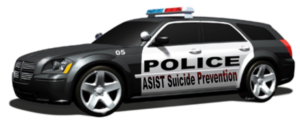 report has been screened in or out for full investigation. But it's not DCF. It's the local police department, and they're saying that Northern Rivers has asked them to do a "wellness check" on me. They want to know where I am. </SCENE>
True story. Now let's back up to the beginning.
What on Earth is ASIST, and Am I Misspelling It?
ASIST is an acronym, extra 'S' intentionally left off. It stands for Applied Suicide Intervention Skills Training Program. To the best of my understanding, it is seen as the intermediary step between 'SafeTalk'  (a half-day training meant for anyone 15 and older who wishes to raise their "alertness" to signs of impending suicide) and 'Suicide to Hope'  (a full-day "postvention" training meant for clinicians who are working with people who've struggled with suicide, but are currently "safe"), all as developed by LivingWorks. LivingWorks claims the mantel of "world leader in suicide intervention training," and lists among their main aims, the creation of "Suicide-Safer Communities.".
(You might have already gathered this, but in case not, "safe" is pretty much their favorite word ever.)
Now, as someone who has been deeply involved in making space for the topic of suicide and supporting others to do the same, I've been curious about ASIST for quite some time. However, I found a burst of energy to track down a training when I learned that my colleague, Caroline Mazel-Carlton, and I were slated to present on a panel with ASIST trainers come February. (If you want to learn more about the event to which I am referring, check out the Institute for the Development of Human Arts. They seem to be doing some pretty good work.) Wanting to be as prepared as possible, I located a training in nearby Albany, New York, and signed up for research purposes.
I went in not entirely knowing what to expect, but I was somewhat heartened by a review of ASIST that I'd read online. Aside from the cover image (suggesting that perhaps this approach was primarily for middle-aged white ladies), there was some decent stuff in there. Perhaps what most stood out to me was this:
"While most gatekeeper training models are linear – teaching a three-step process of identification, intervention, and referral – ASIST more closely follows [a] philosophy by teaching a Suicide Intervention Model (SIM) that does not necessarily result in direct referrals to professional mental health services."
Hallelujah! Was this going to be the first mainstream training I would ever attend that wasn't pretty much all about getting people into the mental health system? Were they going to make space to talk about the dangers of medicalizing human distress? Were they going to challenge the assumption that suicide is necessarily even connected to "mental health issues"? Were they going to understand that the psychiatric system has the potential to do more harm than good so much of the time?
I'd like to report that this training was genuinely, fundamentally different than its most notable counterparts like QPR (Question, Persuade, Refer). But… well, how do you think that turned out?
Hint: "Always encourage appointment with a medical doctor, now or later." Page 13, ASIST workbook.
ASIST Started on a Cold and Cloudy Morn
It was a cold and cloudy morning. Soft music intermingled with fluorescent lights to create a… disconcerting ambience. No, really. You know that brand of music that plays in a massage therapist's office? That was precisely what greeted me as I entered the training room where I was to learn all about ASIST. Added to the mix were slides rolling on a loop and offering factoids mostly ranging from nonsensical to vaguely interesting. For example:
"Suicide rate is a measure of suicide for a group" (Courtesy Captain Obvious, best friends with No Shit Sherlock.)
"Suicide is NOT more common during the full moon" (Alrighty then.)
"Left-handed people are at slightly greater risk" (Huh.)
"People in institutions are at higher risk of suicide" (Go figure.)
"Many people who might have been famous have died by suicide" (Might have been? Wha..?)
Only a select few slides seemed substantive in their messaging. ("Suicide rates tend to be higher in aboriginal communities" is one example, though also a candidate for understatement of the year given that indigenous communities in the US, Canada, and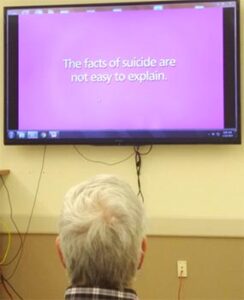 Australia have the highest rates of suicide, period.) One slide went so far as to suggest that there are some people who actually aren't at risk of suicide — some precious, protected group. But when a training participant asked the trainers to identify which group that was, they just said, "Well, we wouldn't agree with that slide."
I guess that's okay, because the very next slide said, "The facts of suicide are not easy to explain." Apparently so. At least as ASIST would have it go…
ASIST Wants to Know When You Go Potty
Our first task as training participants was to fill out a survey at the front of the room. We were encouraged to walk up to a poster board, and put a check next to our role (family, clinician, etc.), whether or not we've known people who've struggled with or completed suicide and so on. There was also one other very secret question we had to answer on a slip of paper, then folded over and dropped in a bowl. That very secret question, of course, was whether or not we ourselves had ever been suicidal, and if so, how recently.
Once we were all answered up, one of the trainers furiously compiled the data in the back of the room, while another stood up front telling us that we needed to let them know when we were going to the bathroom. Yes, in a flashback to grade school, we were instructed to give them a thumbs-up sign when we were headed to the potty (or, in fairness, any other time we were leaving the room for "safe" reasons), or else — they warned — one of them would follow us to make sure we were okay. Because, they claimed, it was their job to keep us "safe." I should have counted how many times the word "safe" was uttered in those two days, but "safe" to say it was too damn much.
(As a side note, I will add that I basically "held it" for most of this training because while part of my brain felt energized by the idea of running wildly in and out of the room non-stop just in order to keep them on their toes, the other part of me refused to participate in their thumb game while also really not wanting to be followed, and so I just tried to stay put. Until day 2. That morning, I threw caution to the wind and walked out with all my digits retracted. No one followed me, and I've been contemplating ever since whether it's better or worse to follow through once such paternalistic expectations have been set.)
Then it was time for us to learn the results of our little pre-class questionnaire (for no discernible reason other than the fun they had collecting the data and reporting it back). Turns out 7 people had (lied and) said they'd never considered suicide in their whole darn life. But, should any of us more currently be struggling, the trainers wanted us to know that they themselves were among the eager helpers we could tell. Yeah. Right.
(I'm just going to drop a gentle reminder right here that this story ends with this organization calling DCF and the cops on me.)
ASIST and the River of Suicide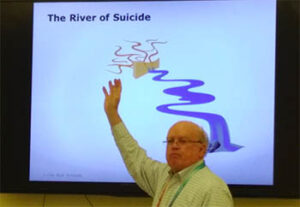 Now, I've got to give ASIST props for at least recognizing that it is a model of intervention, and not prevention. Early on, trainers pulled out the 'river of suicide', and explained that prevention is actually what happens before someone thinks seriously of suicide (up on the other side of that dam at the top of the picture). Intervention is what you do when they've already descended into those blue suicidal waters, headed toward that big drop down below. And no, the "river" analogy never fully ended up making sense, even after their explanation. But, okay. Got it.
Next?
Trainers went on to mention several times how ASIST has undergone three major makeovers, but it's a little hard to get a handle on whether it's moved in a more or less medicalized direction. Notable changes have included shifting away from calling it a 'Suicide Intervention Model' (SIM) to a 'Pathway for Assisting Life' (PAL). Of course, that just sounds like a lot of euphemistic shuffling to me. Reportedly, the model makers also claim to now have moved "beyond risk to promoting safety," although assessment-oriented questions (like "do you have a plan") still reign central. Meanwhile, I'm unconvinced that a single one of these ASIST folks could adequately differentiate between assessing risk and promoting safety in actual practice.
But, let's back up and take a look at the overall framework… I was admittedly (momentarily) excited when I saw that phase one of the three phase line-up was "Connecting." That is, until I saw that it didn't just say "Connecting." It said "Connecting with suicide." That's right, phase one isn't about connecting with another human being. It's more about sussing out whether or not that person is contemplating their own death. And all that sussing about like an overeager truffle hog is initiated by what ASIST deems an "invitation."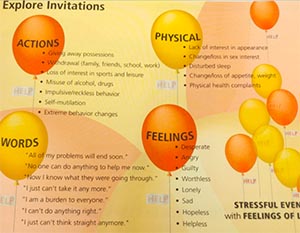 Yes, in a fit of balloon-fury and graphically questionable decision making, ASIST folks want us to know that "invitations" can come in any form. Basically, those "invitations" are anything another person might do or say that gets us thinking something might be wrong. But make no mistake: In spite of the voluntary-sounding nature of the word "invitation," it really doesn't matter if they meant to invite you or not. And, much like if you were a vampire, once you've been "invited" in, there's not really any getting you back out according to the "ASIST way" until you decide to leave yourself.
Meanwhile, phase two is about understanding choices, which basically translates to listening and asking questions to learn what's actually going on for someone. Thank goodness for that much, but don't get too comfy there. Because you're basically just waiting for the "turning point" where they signal readiness to consider the next step on your ASIST checklist.
Phase three is said "readiness" phase. It's called "Assisting Life" and basically boils down to "disabling" one's suicide plan (i.e., confiscating the "means" with which they were potentially going to kill themselves whether they like that idea or not), and building a "safe plan" in its place. Yes, the dreaded "safe plan." (I will give the trainers some credit for at least differentiating between a safe plan and a safety contract, noting that the contract and related signatures are problematic and usually about the clinician's safety more than anyone else's.) Though, don't worry. If someone is "unable to participate in the intervention," you're always free to "activate emergency response" and "24-hour monitoring." (Page 10, ASIST handbook)
ASIST Makes You Safe… For Now
There really isn't much more to ASIST than a lot of emphasis on paying attention to the verbal and non-verbal cues someone else is sending out, asking them honest questions in hopes of honest answers, and supporting them to think about how to move forward. Trainers even spent a fair amount of time emphasizing the importance of partnership over control, or necessarily following all the steps as they're written on paper.
However, unfortunately, that stripped-down version of what ASIST is all about doesn't address how it gets at those points, what harmful beliefs or practices people tend to cling to and incorporate in the absence of support to unlearn them, or what it misses altogether. For example, ASIST fails to address:
How quickly "invitations" can turn into raids
How little curiosity and listening to someone's story might mean if you're simply trying to fit what you hear into a particular box
How the language and rigidity of a "safety plan" might be off-putting and problematic for many
ASIST also glosses over how utterly useless any brand of suicide risk assessment has turned out to be according to just about any and every formal assessment, the potentially harmful impacts of hospitalization (aka "24-hour monitoring") especially when involuntary, and how unlikely someone is to tell you the truth of their struggles if they realize you pose any kind of risk to them being forced into the hospital as a result. It also misses the mark regarding how an agenda that focuses on whether or not someone is willing to say "I am suicidal" can get in the way of supporting them to talk about what they're actually struggling with underneath all that
Additionally, trainers spent a substantial amount of time explaining that ASIST is only about making someone "safe for now," because "safe" in general might take much longer and involve a "warm hand off" (gag) to a clinician who can see them ongoing. "Activating" other more forceful responses behind a person's back while someone else "keeps them talking" was also promoted multiple times by both trainers and participants.
Safe/safety.
Invitation.
Partnership.
Connecting.
Turning point.
Warm hand off.
Activating.
I'm building a list of words and phrases that ASIST trainers and I might need to get together to unpack real soon.
ASIST Brings Out the Stereotype in You
ASIST in itself is kind of a stereotype. What do you do with someone who might be suicidal? Well, you ask them if they have a plan! Come on. What else would you do, silly? Then you substitute the suicide plan with a safety plan, and if all else fails, call 911. Then (at least for some folks) you get to stop caring because you did what you could to "CYA (Cover Your ASS)," and now they're out of your sight, so what happens next isn't on you at all. Done!
ASIST's approach is nothing new, and has probably only developed the reach that it has because people are so terrified to talk about death and dying in any form that they crave something that at least creates the illusion of morphing complexity into the concrete. Yet, this sort of model isn't just a stereotype unto itself. It can also serve to draw out the stereotypes lodged in you. Especially if you happen to be a young clinical type.
By late morning on day 1, we found our larger group split in half. And, once divided, we dove right in to talking about our beliefs about the topic at hand. While likely the best part of the training in most regards (given it had nothing to do with the actual ASIST approach, and was simply about exploring common societal beliefs), this is where certain clinical archetypes began to show up.
Young and idealistic newbie therapist: At some point during the dialogue, I asserted that the system is designed around the "safety" of the clinician, not the people seeking support. I further explained that that was a large part of what drives so many people to feel they can't be honest with providers for fear of negative consequences like forced hospitalization. This, of course, is where young and idealistic newbie therapist stepped in ("I just want to challenge that a little bit"), and told me how it's not really that way anymore, and their training really encourages them to keep people out of the hospital nowadays. Thanks, newbie therapist guy. In all my years of being in the system and supporting and working side-by-side with other people who have been or are receiving services in the system, I never would have known that if you hadn't said so. Clearly your two minutes of professional therapy work amount to more wisdom than my lifetime.
(I'd like to once again take this opportunity to remind everyone that this story ends with DCF and the cops.)
Young and proud soon-to-be college grad: When discussing who was to be held "responsible" if someone does attempt suicide, young and proud soon-to-be college grad jumped in to throw around theories about underdeveloped or impaired frontal cortexes, serotonin, dopamine, and more. She threw around so much schoolbook knowledge that she sounded as if she were taking an oral exam. She was confident. She was excited to soon be entering the clinical world all grown up and graduated. She was so super sure of what she was saying. And, it might have been more endearing, had so much of it not been so damn wrong, and such a big indicator of how little anything has changed at all.
Young and cocky CYA guy: Young and cocky CYA guy was late. Apparently, his pipes had frozen overnight, and there was some issue with his daughter and her car seat that he had to tend to before gracing us with his presence. But all that lateness didn't come with an ounce of humility. Yes, this is the guy that openly told us that he's all about the "Cover Your Ass" approach, and that his "therapy style is dismissive sometimes." (Never before had I known that jackass was a therapy style. Go figure.)
I wish I could remember these three young people's names. There was Griff (short for Griffin), Steve, and… Ashley, maybe? I wish I could find them and make them read this, and make them hear about what happened to me.
What happened to me after I was assured by an ASIST trainer that partnership was so important.
What happened to me after I was assured by young and idealistic newbie therapist that they're now trained to keep people out of systems.
What happened to me because of all their dismissive assumptions, and actions taken out of smug CYA motivation, or even retaliation, and without any regard to the impact of their abuses of power.
ASIST, DCF, and the Cops… Oh My!
By the morning of day 2, we were supposed to move into role playing. Each of us were paired off with the expectation that we would perform two role plays: One as the helper and one as the helped. We would act out each scene in front of our small group and trainer, and receive feedback on how we were doing with employing the ASIST model. We were warned ahead of time by a trainer to "not use a scenario that would hit too close to home."
I probably should have listened to that warning and used a fake scenario. Oh, yes, I should have listened. But, I had to make a choice. Either I was going to pull out of participation altogether and leave my partner stranded for how much I didn't believe in the ASIST model, or I was going to make best use of this small platform I was being given. I decided on the latter.
By the afternoon of day 2, I was role playing myself back when my daughter was around one year of age. I played a mother (myself) who was having visions telling her to hurt her baby, and how she was struggling with wanting to die just to make all the visions and nightmares stop. That experience was real. I wrote about it in Miscarried Life back in 2013. I've shared about it all over the US, and in parts of Canada and Australia. After the role play was over, I explained to the ASIST group gathered before me that it was a real life experience, and how I'd moved through it; what had helped. I also said explicitly that I'd never actually felt at risk of hurting my daughter. I told them, "Just like you might have an annoying neighbor who tells you to do something that you never feel you actually have to do, I never felt like I needed to listen to those visions."
Now, I'd shared that story because of all the concerning things trainers and trainees had said in reference to "clients" ("Clients are hardly the bedrock of mental health. There's no telling what they'll say or do"), or those deemed "psychotic" ("People with psychoses won't be able to engage in these sorts of conversations"). I also shared it because it challenged all the conventional ideas people have about what is helpful at all. Normally, when I share, at least one mother approaches me and thanks me for speaking about it, for helping them feel less scared and alone. But, in this instance, it led someone in that group to call the Department of Children and Families (DCF) on me.
Yes, whoever that was (and I'm pretty sure it was the trainer because DCF had been given my unlisted work cell phone number and the address I used to register for the training) deviated from the lip service ASIST gave to the idea of asking questions and getting to know the "story," and went straight for the "better safe than sorry" that is the true underlying theme of this model. Except, I would argue that "safe" shouldn't include systems demonstrated to discriminate against parents with psychiatric histories coming into my home. And "safe" shouldn't include reporting behind my back something I was openly discussing with the group, and about which I encouraged people to ask me questions.
So, after that call, I did what most people would do in today's day and age: I took to social media and posted what had just happened. I also e-mailed the organization. In both spots, I included the following statement:
"This is why people kill themselves rather than be honest with anyone in a clinical role, ever. Whoever did this has done *such* a disservice. If they felt confused by my story, they could have asked me questions or asked that I clarify. What is the point of a training like this if one can't even do that much?"
And it is this statement that I believe the Northern Rivers folks used to justify what they did next, which was to call the police. In a move that I believe was pure retaliation for posting about them on social media, Northern Rivers had the cops come to my workplace and search around for me for the purpose of a "wellness check," because (as they told some of my co-workers) of a "concerning Facebook post." Fortunately, the police were satisfied with talking to me on the phone, and went away after that.
ASIST is More Powerful Than Me
Only about a month before the ASIST training, I facilitated an Alternatives to Suicide training in that very same city. In that training, we went through a segment where we broke down all the unhelpful elements and assumptions of standard approaches to suicide, and how many people are driven to keep doing unhelpful things largely out of a fear of liability. One training participant, however, asked a very good question: If there's research saying conclusively that practices like assessment aren't helpful (and there is), then why aren't people more afraid to be held liable for using such a discredited tool rather than not using it?
The answer lies in power and dominance. Approaches like ASIST follow the standard practices, and standard practices needn't be good practices. In order to limit liability, they must simply be the most accepted (which also often aligns with whatever is perceived to be most profitable to some particular group or corporation in this capitalistic society of ours). That is, in fact, precisely from whence they draw all their power. And those with that power are the ones who get to decide what "safe" and "risk" even mean.
Ever since the cops and DCF were called on me, I've been trying to see it all as a gift. What better proof to counter Griff (and all other providers who claim it's "safe" to tell) than what happened to me? What better evidence that our system responses are seriously off track?
I have a fair amount of privilege. I'm white, and have the confidence that comes from being fairly educated about my rights, the system and how it all works. I work full-time, and am reasonably well regarded in various professional circles. I wasn't at all in actual distress. (Well, except for the distress that came from sitting through the training itself.) Fortunately, the police didn't bother me beyond that phone call, and DCF screened me out of a full investigation. The worst consequences I experienced were embarrassment at work, and needing to sit my kids down to tell them what's going on, and that people might approach them at school with questions. (My daughter was scared, near tears, and expressed fear because — at age seven — all she really knows of the police is that when they are involved it's usually because someone is going to jail.) But, if things could get this far with me, what would the likely outcome have been for someone else with less privilege and more fear? How often are families disrupted and torn apart with little to no reason at all? We needn't look far to see what's going on around us all the time.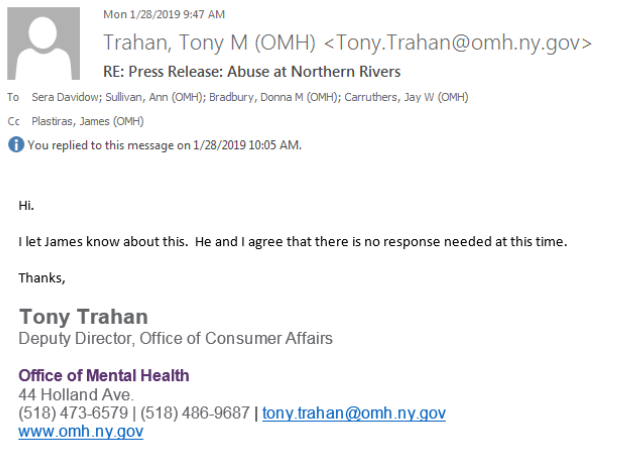 So, I've taken this gift and turned it into a press release. I've now sent that press release to all sorts of media contacts, the Northern Rivers CEO and COO, all the ASIST trainers who facilitated my class, and several Northern Rivers Board members. Additionally, I sent it to the Commissioner (Ann Sullivan) of the New York Office of Mental Health (OMH), the OMH Director of Child and Family Services (Donna Bradbury), and the one remaining employee of the OMH Office of Consumer Affairs, Tony Trahan (who was left on his own after the Director of that Office, John Allen, was charged with 29 counts of child endangerment and fired from his post). Not surprisingly, they've all been silent in response. Well, except for Tony Trahan who accidentally (I assume) copied me into an e-mail that he wrote just to say he'd be ignoring me. I replied immediately asking if he couldn't even spare a "I'm sorry that happened," but got nothing back. I guess I just have to see this as the part of the "gift" where I'm also given hard evidence about how useless  and incompetent these systems are in handling the complaints about the terrible things they do.
In the End, ASIST is Not Safe
Perhaps one of the strangest things about the ASIST training was its incessant focus on "safety" as it intersected with all the trainers' insistence that we might not be safe. We weren't safe to say openly whether or not we'd personally struggled with suicidal thoughts. We weren't safe to go out of the room on our own without assuring the trainers we were okay. We weren't safe to use scenarios too close to our real life, because we might not be able to handle the feelings it could bring up. (At some point, one has to begin to wonder if what the trainers meant is that they wouldn't feel safe…)
How strange that ASIST insists it's so important to be able to talk about suicide openly, while simultaneously signaling that it might not be safe to do so. And, in the end they were right. It wasn't safe. Not for me. Not for anyone who wasn't a clinician. Not for anyone who might actually need or want some sort of "help."
Yes, ASIST is more powerful than me. It gains its strength from a system that is more powerful than all of us. And, it apparently sits in a place that grants its wielders immunity when they use all their strength to siphon power at someone else's expense. In the end, everything that happened to me was the result of fitful efforts on the part of providers to make themselves feel "safe," all wrapped up in the smug warmth of widely misunderstood concepts like "mandated reporter." Ultimately, ASIST is just another cog in that same old system.
But, then, what do we do with the fact that the sort of loss of power and alienation experienced by so many people who are "helped" is exactly what drives so many of us to want to kill ourselves? Is the goal to actually support people to build lives that lead them to want to live? Or do we have to finally acknowledge that we've been tricked, and that so much of what exists is set up to keep people as comfortable and blame-free as possible when those people go ahead and die…
* * *
NOTE: If you know of a media person who might be interested in this story, please e-mail me!! And in the absence of that, I hope you will share this article far and wide.
For more information on the topic of suicide along with ways to actually support people who are contemplating death:
***
Mad in America hosts blogs by a diverse group of writers. These posts are designed to serve as a public forum for a discussion—broadly speaking—of psychiatry and its treatments. The opinions expressed are the writers' own.
***
Mad in America has made some changes to the commenting process. You no longer need to login or create an account on our site to comment. The only information needed is your name, email and comment text. Comments made with an account prior to this change will remain visible on the site.