As Gandhi said: "There are no goodbyes for us. Wherever you are, you will always be in my heart."
My friend Kathleen Fliller ended her life last month, on November 23rd, 2021. I am here to share her story.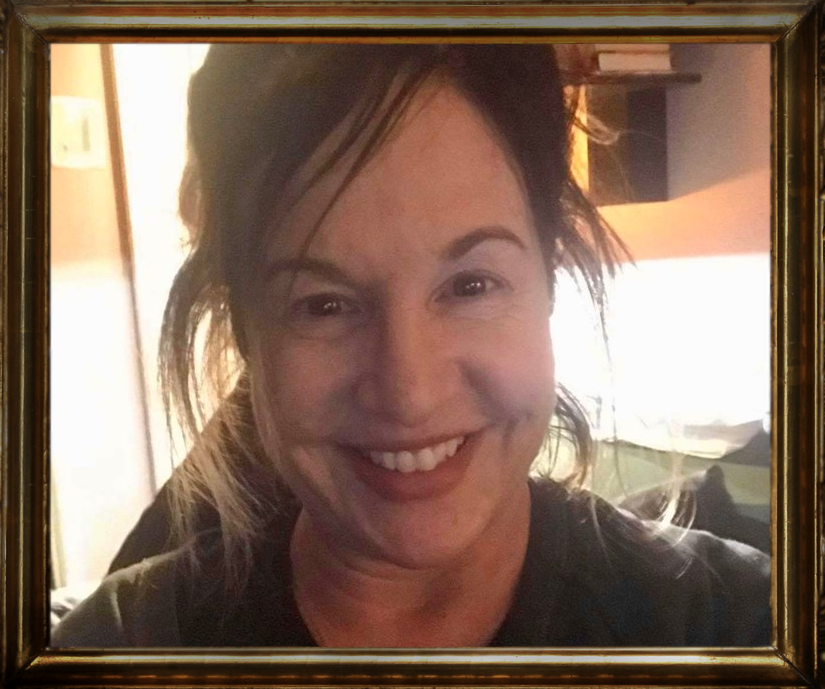 I met Kathleen in an online akathisia support group. We decided to exchange phone numbers because we were both seeking more personal support. We talked on the phone for hours and hours a day and our relationship grew rapidly. She shared with me that she had more going on than just akathisia from long-term psych medications and withdrawals. She also shared with me that coming off the medications had painfully helped her recognize the patterns in her life that kept repeating. How she was always looking to love and be loved unconditionally.
She recognized now how she had consistently, unintentionally recreated the same scenario over and over again of being hurt by expectations of love. The drug withdrawal and akathisia had increased this awareness and it hurt her deeply. As her symptoms increased, so did that need to be loved and people fell short because she truly was difficult to love. Like a child, she would cry and shout and yell and tell people what they didn't want to hear. She would hold people accountable for their actions and their words.
It was a challenge and an honor to be friends with such a beautiful soul. Not many people want to touch the "dark sides" of themselves and the people around them. She would demand that I not "sugar coat" her suffering or my own. She forced me to see my own ugly side and even though it hurt like hell, the integrity and high principles she held our friendship to were rare and treasured.
We skipped the facades, fakery, and masks. It was difficult, and even though we had each other, it was lonely at the same time.
Some people wanted to blame Kathleen's behavior on psychiatric diagnoses, and that only hurt more. No one is their diagnosis. These psychiatric diagnoses are simply used for coding and billing for insurance purposes. They should never be used as an excuse to love someone less or treat them with disrespect.
We are all broken and we all want to be loved. In my opinion, it's those people that are the most difficult to love that are here to teach and change the world!
Kathleen had written a 49-page chronicle of her struggles, which she asked me to share with the people she was trying to love: her family, her friends, past co-workers and some of her medical and legal providers. She also asked me to share her story with Mad In America to be published in hopes that it might help others not feel so alone. The following is excerpted from that document.
I loved Kathleen. All of her unlovable parts that were messy and ugly and difficult to love made her more real to me. She will be thoroughly missed. I am so sorry that our society has set up so many broken systems that hurt my friend and anyone that loved her.
"A society is only as healthy as its ideas are humane." ~ Kurt Vonnegut 
***
This is goodbye. I am dead.
I died due to a horrific, debilitating and devastating neurological injury from prescription drugs. It was drug-induced (iatrogenic) chemical brain damage. This was due to an extremely severe case of cold-turkey withdrawal from SSRI antidepressants and benzodiazepines.
After the cold turkey, the doctors kept on prescribing antipsychotics, antidepressants, mood stabilizers, additional benzos. These additional drugs never worked and they destroyed my already compromised brain and central nervous system. I was continually cold turkey'd off of these meds. The symptoms got severe after I was last kindled off of Xanax in April 2021.
Eight days of hell in an abusive detox facility, scared out of my mind. On phenobarbital, Seroquel, Elavil. I never slept. My body felt horrendous. I took the drugs because I thought they would help me. I had no idea my system was being more and more destroyed. I came out of there in even worse shape, if that was possible. I was traumatized even more. My body was falling apart and I had no idea why.
Akathisia was the worst symptom of all. This is not just about pacing (I walked many, many thousands of miles), there is also the internal part of akathisia. The terror and fear where the nervous system has completely gone haywire. It kept me awake at night.
All the nights when I could manage to lie down for a few minutes, I couldn't lie flat, left or right. These positions made the uncomfortableness, which I cannot even describe, more severe. It made the vibrations in my body, in my legs, more severe. I'm trying the best I can to explain it and I've said it many times to my family but they just thought I was crazy. I felt like I wanted to tear my skin off. I got on the floor begging for help, hugging the walls, clawing at furniture, crying out to people to get the monster out of me. It's like being utterly possessed.
I was on these drugs for 27 years. I went on these drugs because I could not sleep for many years and the psychiatrist prescribed them to me. I was desperate for relief. It felt so good to sleep when I first took the drugs. And they just kept refilling it for all those years. Upping the dose each time a traumatic event happened in my life. I never questioned the doctors. I have lived my life extremely naively. Why did they not suggest short-term usage? Why not find out the root of the issue instead of giving me the quick fix? I hated myself for trusting.
***
About two years ago I was crying a lot and I was coming unglued. At the recommendation of my psychologist I went to her recommended psychiatrist. I wanted to work on my severe lifelong trauma, C-PTSD, and thought that coming off the medications would be a good opportunity to do that. The psychiatrist said I could get off of these drugs easily. She said I could cut the pills in half and have no problem getting off. She slapped her hands together like lickety-split. I trusted her. I was off the drugs in a few months. Then the torture began.
The severity started in August 2020, when I suddenly stopped sleeping and started to have uncontrollable anxiety and panic. I was in withdrawal. But nobody told me about that as it was happening. I just kept going from doctor to doctor and getting more and more meds, but nobody told me what was actually happening. I had to do my own research. I was tired of being put in psych hospitals, having 5150s called, talking to arrogant doctors who just wanted to keep feeding me more and more meds that were actually destroying my body more and more.
And the meds were not even working! Everything was going paradoxical, the opposite of what it should've been doing. I had no idea why. I was getting worse by the day and I had to figure out what the heck was going on. I did figure out what the heck was going on, finally.
However, my family, my so-called friends, the many doctors, still didn't believe me.
But there is tons of information out there about what I was going through. So many personal accounts of the suffering and the invalidation and dismissal! I shared articles with my father, my sisters and my therapist, psychiatrists, and numerous friends. They didn't take it seriously. I literally begged them to read it. They wanted to come up with their own diagnosis to suit their own inhumane narrative.
I was met with disgust, intolerance, humiliation, dismissal, abandonment, cruel words. I couldn't make this stuff up if I tried. I know you will either believe me or you'll just go into that hole of dismissal because you don't have time for this. That's what so sick about the human race. Unless you're famous or you have a family that truly loves you, you are disposable. I was disposed of! I was a lab rat.
***
I had started to break down several years ago due to a trauma I couldn't get over, being fired from a company I had created. Over my life, I started several companies. And I lost them all! I was so insecure, I always had to take on partners after I built my companies. I was naive and never protected myself. Really it was all about my childhood trauma. I had to keep creating chaos, because that's all I knew based on the family dynamic I grew up in. I was still re-creating my family. But I didn't know that at the time. I only know that now.
These companies were all in the entertainment realm. First it was in the music industry and then I got into the motion picture advertising industry. Music was my passion and my true love. But I couldn't stay stable in the music industry. I changed jobs every 9 to 12 months. I wanted them to respect me, and I never felt like I was respected. I couldn't handle abusive people and I was constantly surrounded by abusive people. I was in an abusive industry and I didn't have the backbone to fight it.
I was just a scared child, just like I am now. I wanted them to love me.
All they could see is: this girl is making us a lot of money and she's incredibly passionate and we're going to take advantage of her and we're going to use her and abuse her and get what we want! And sometimes people disposed of me which was very painful. And it kept happening. I worked my butt off in the music industry, working many, many hours and making the people that employed me a lot of money. I was the perfect employee because I just wanted people to love me and respect me. I ended up with nothing. I gave and gave and gave and gave until I was exhausted and I got nothing in return.
Just reliving this is such a big blow to me. I have been in denial of all that pain. My whole life was always about getting love. And yet I couldn't love myself, so I kept going after the same kind of horrific so-called love based on that hellish household I grew up in.
My family, even though they gave me nothing and never validated me, told me that I was always unhappy in the music business so I should just get out. So I listened to them because I wanted them to love me, and I got out. And you know what? I sat on my couch for over nine months at 34 years old and for the life of me I could not get another job. I was humiliated and belittled by my father and my sisters and I was all alone.
I never felt like I could do life on my own. I hid behind work. My father instilled that in me when I was about 6-7 years old. That's all he could ever talk about, getting a job and paying for yourself. My insecurity started at such a young age. My father had me working from age 11. And I could never work hard enough or long enough hours to make this man happy. I was always a failure in his eyes.
I have paid for everything, including my college education. My dad would say work harder work harder and I was trying to get his love all my life and I would work 18 hours a day or sometimes days in a row straight and it still wasn't good enough to win his love. This man never gave me a dime and yet I worked so hard to prove myself to him just to get his love and acceptance.
My whole life I felt so unworthy.
Having a personal life and a romantic life was so uncomfortable for me. I felt like I would be found out! Everyone would see how unworthy I was. So I just kept running, living in denial. I just kept running into brick walls. Little did I know this was my childhood trauma reenacting itself over and over and over again. I set myself up for abandonment. It's all my brain knew. It was a pattern that would keep repeating itself until my death.
It's such a tragedy that I couldn't figure this out until the very end of my life, and I couldn't repair it because of this drug-induced chemical damage.
***
As I endured this torture that was not seen or validated, I felt like a prisoner, being laughed at by friends, family, medical professionals. The cruelty in itself was torturous. So many months in so much pain. The unbearable loneliness and isolation. Being invalidated and dismissed at every turn. Being awake 24/7, crying uncontrollably every day and night, calling out to God, peeing every 10 minutes, not being able to read, watch TV, listen to music. Too much stimulation and complete overwhelm.
I turned into a child.
I felt myself disintegrating from an adult into a child. I kept telling my family this. They looked at me in disgust. They told me I was indeed sleeping. Every step of the way my family thought they knew me better than I knew myself. I have never, ever told anybody what they're thinking or feeling in my entire life.
If you saw my text messages throughout the night and saw me walking around in horror, you would know I DID NOT SLEEP. My brain was in a constant state of fight or flight. My brain was stuck in fifth gear! It just couldn't relax. My legs were constantly vibrating and a constant state of terror consumed me.
My brain wanted me to keep running. And trust me I ran many times. But I was running from the illness, but the illness was with me, and I could not escape it. This horror of just being with myself, in my own pain 24/7. Nothing to do. So incredibly sleep deprived. No distractions. This was torture!
Having severe withdrawals and akathisia as excruciating as mine is absolutely no way to live.
I have begged for death every day for months on end. I tried many times. But I couldn't do it myself.
I have been in excruciating pain and there's no way to prove it to anyone, as there is no way of measuring it. It is invisible. It is the unseen cancer.
In his book Medication Madness, Dr. Peter Breggin discusses akathisia under the title "A Painful Dance of Death." He describes akathisia as "a drug-induced neurological disorder that is known to drive people to suicide and violence, and to madness." He notes that "Patients suffering from akathisia often use electrical metaphors or descriptions such as 'electricity going through my veins' or 'shocks in my head.' Words like excruciating, torture, and indescribable are commonly used. Patients often say they would rather die than live with akathisia . . . these individuals seem to be describing physical phenomena, as if they are being tortured from the inside out."
It is neurological and yet it is unmeasurable neurological damage.
They can't see the brain or the nervous system and what the drugs have done. They can only bear witness to it, and it is very subjective to each person going through it. Of course depression and anxiety are a part of that and there are so many other devastating symptoms. Sometimes people are damaged for six months, sometimes a year, sometimes for many years, sometimes decades.
There's no way of knowing. Some people are damaged permanently.
Every time I had a phone call with my family they said we don't wanna hear it anymore. My father would go on an hour-long tirade telling me I just needed a psychologist, I was mentally ill, that I had a personality disorder and I was depressed.
In the beginning, my father seemed like he believed me about drug withdrawal and akathisia, but then it was too complicated, taking too long, and infringed on his livelihood. That is when my nightmare got much, much worse. He turned every person against me. He said I just wanted pity, and so did my sisters.
The last thing I wanted was pity! I wanted to live! I kept saying, I do want to get better. But I couldn't handle their unreasonable expectations of how they thought I could heal. I was so incapacitated. I was barely surviving. My body and mind were in a constant state of fight or flight. My body did not know how to relax and shut down. My brain and my heart never got tired even though my legs would be killing me from pacing so much. I kept saying I've never been like this before in my life.
I did not want their pity, I was in pain. I could not keep it in. I needed somebody to tell me that I could survive this, and they would love me no matter what. I couldn't do this on my own.
I kept telling people that I had a stroke 7 yrs ago and meningitis encephalitis at 15 years old. My brain was compromised. My father said, "The doctors said that those two other brain injuries had nothing to do with what you are going through." How the heck were they supposed to know that?
Family, therapists, many doctors, thought it was all mental. People are going to believe you or they're not. And most people do not believe you because it would take too much time to figure out how to repair you and that's not worth it to them. That would take away from their lives and their fun. I could not meet their expectations. I could not get up and go hiking, go participate in dinner, mingle with the crowd.
Your expectations were too much for my body to endure.
In the end, as far as I know there is no quick cure.
The cure is time. The cure is patience. The cure is understanding and compassion. That's what makes this disease so difficult. It takes lots of time for the brain and nervous system to repair itself. Sometimes it does not repair.
I needed a compassionate soul to reach their arms out and hug me and say I love you, I'm here for you.
I needed someone to tell me they were there. Tell me I was going to make it without telling me that I was a welfare case, a hag, that I will end up with nothing if I don't get better.
***
Up all night. Intense terror usually hit at 3am when the cortisol/adrenaline rush hits due to withdrawal symptoms. My brain and nervous system were going haywire and my family would just walk past me in disgust. Excruciating pain. No sleep for days. Screaming and crying at night. Pacing. Talking loudly, begging for relief. Begging for mercy.
My father, the man that goes to church several times a week, has all these religious books, tells me to read them and I will get better from this drug-induced nightmare. He left those books around his house like an Easter egg hunt for me to find them. When I did not find them as I was crying out in pain, he humiliated and belittled me. Trust me, I saw those books and do you really think I was going to pick them up?
I lost all faith in God.
What God will torture somebody like this? My father said to do the rosary and I will heal. He would constantly tell me I have no idea who God is and invalidate me because he has always been the only person who was ever right.
My sister threatened, repeatedly, to put me in a group home. Adding to my terror. Because I was not getting better. Because her letting me stay in her home did not fix my brain instantly. You think a brain can heal in a few weeks? A few months? I couldn't appreciate the beauty of her home and I was punished for that. This sickness makes you very depersonalized, derealized, it instills anhedonia, makes you agoraphobic. You don't feel like you're part of earth. You can't appreciate anything no matter how beautiful it is. You can't see it. I describe this as a fragmentation of the mind. Nothing connects.
My family used to call me a drug addict when I was taking Paxil. And when I got so sick, all they wanted me to do was get on more drugs. And when those drugs didn't work, they thought I was lying.
They had no idea what those additional drugs did to me and the torture that I endured. I became super sensitive to all medications. My body was overly sensitized. My nervous system couldn't handle it. Every drug went paradoxical including all supplements. My body was even more on fire and more agitated which did not seem possible. I was screaming, crying, on the floor, calling people in the middle of the night, begging for death. It was like taking 1000 cups of coffee and every upper at the same time.
I don't know how I survived those days and nights. On one of my last emergency room visits, I actually asked for morphine. They wouldn't give me anything for the sleep deprivation. I hadn't slept in 18 days I think at that point. So I asked for morphine. I ended up having a severe reaction! My body was shaking so severely, it looked like I was possessed. It was indescribable.
I think I was in shock as I sat on my dad's patio. His wife did not want me there at all. I was exiled to the patio and they just went about their business, sitting there looking at the TV screen as though I did not exist. I waited it out alone. Seizing and violently shaking. I was left alone having seizures in my head for hours with no comfort or concern. Just disgust.
Another thing that happened during this withdrawal is my language skills got messed up. It's called language aphasia and it happens when I don't sleep for weeks. I was talking one day to my dad and to a friend and I honestly couldn't get any words out and it sounded like I was having a stroke. The words just kept repeating themselves and I couldn't get the next word out. Another bizarre symptom. This happened several more times during my severe sleep deprivation.
I went to the emergency room and they diagnosed me with akathisia. A neurologist and a doctor both said this is what I had. They diagnosed me after many tests. My dad thinks that I told the doctors that I had akathisia. He thinks I had the symptoms because I read up on them and then I took them on. But I had these symptoms even before I read about them. If anybody ever finds my journals, which I'm sure have been burned or disposed of by now, you will see I was writing about the symptoms for many months before I even knew what I was suffering from. I was trying to figure it out.
***
My youngest sister called a few months ago saying dad says you're doing great and it's so good to hear you're doing better. I was floored. I honestly couldn't believe what I was hearing. I'm literally falling apart, I have not slept in weeks, my physical being has deteriorated greatly. I'm completely isolated and alone, in and out of emergency rooms and hospitals and he tells her I am doing great? I am tearing at my skin, talking to myself, acting like a child, afraid of all people, overstimulated and overwhelmed, unable to watch TV, read a book, work on a computer, listen to music, watch YouTube videos, do a crossword puzzle. I'm afraid each second of every day. And my father says I'm doing great.
I went to the wrong people for help.
I was estranged from my family most of my adult life but when I got so sick, I was so desperate, I reached out to them. Mind you, I had had a stroke and never asked for help. I had meningitis encephalitis at age 15 and I received no help. I was put on a couch in my dad's girlfriend's house while I was paralyzed. Just keep your mouth shut and let them live. But this time, this drug withdrawal, it was something I could never have even imagined. I've never, ever been this sick in my life. This sickness caused me to take my own life.
If you know this disease, you are the only ones who can understand. I was told I needed to be an adult. Not to cry. If you have this disease you know that's impossible. If you read the literature it says it over and over and over. Men cry, women cry. You're in such pain, you cry, you scream out, you beg God to save you. I kept asking for a miracle. I was eventually thrown out of my father's house because I could not be silent and I could not act like an adult.
I have no idea why the neurological damage does this and neither does the so-called medical community. I have read articles that said they don't have data because there's no money in it. Most likely they do know but they make more money and live a good life leaving the collateral damage behind. It is a sick world. There have been many of us that have gone before me, and there will be many that will come after me. We did die in vain, unfortunately. And it will never change. I was one of the unfortunate ones.
***
My last therapist said I was too complex and complicated and she also thought I was making up the adverse drug withdrawal symptoms and the sleep deprivation. Why could I not be believed? I will never know. My therapist said the brain is a powerful thing and I created it. I had no idea I was extremely sensitive to the drugs, that's why I kept taking them. I didn't know.
I was so sick. I was so sick. How do you watch somebody who is figuratively on fire and drowning in front of your eyes? I was deteriorating and they saw it but I was just too uncomfortable for them. There was no hospital that could fix me. Trust me, I went to many of them. They could not help. There is no help for this illness. It just takes time.
People suffering like this need kindness, compassion, sacrifice. They need understanding and support, tolerance and patience.
It's a lot. The hospitals can't help you so you need your family or friends to help you. That didn't happen for me. Providing a roof over my head does not heal neurological damage. I needed help finding doctors, I needed help paying the bills, I needed help just getting on with life because I was so incapacitated. They forced me to do things that I could not do.
The psych hospitals were so traumatizing. The 5150s, having the cops show up at my door, handcuffs, treating me like a criminal, putting me on a stretcher while all the neighbors watched, it was soul crushing. This happened twice.
Once I went to the emergency room on my own because I was so anxious and sleep deprived due to the withdrawal and lack of sleep. I thought I was doing a good thing. They put me into a psych hospital for three days and forced medication. They lied about me and said I was suicidal. I had never mentioned suicide. I was just trying to sleep and get rid of the agitation.
I hate the psych hospitals and emergency rooms because they come up with their own narrative to make themselves look good. Not taking into account what's happening with the person who went there for help. I went there for help, not to be abused and humiliated and lied to. But it is your word against theirs. It is on your record and there's no going back. You are now a psych patient forever and ever. I do advise anybody to stay out of any psych wards or emergency rooms if possible, if you have any kind of psychological problems. You will be traumatized and abused and it will affect you for the rest of your life. It's something you will never get over.
***
I tried to get people to read the articles I found about psych drug withdrawal and akathisia. Some said they read it and others said they didn't want to read it. Some read it and it was completely dismissed. My therapist said she read it and she ended up calling me a liar. I know this because I got her paperwork to find out what her diagnosis was of me. I thought she was on my side. She was never on my side.
This was my life. I needed your help, I needed your understanding, I needed your compassion.
Every day my symptoms kept getting worse and worse. I became overstimulated and overwhelmed by every little thing. Panic was everywhere. I started to talk to myself out loud in grocery stores as I could not handle being around people and keeping everything straight when I was so messed up.
I didn't want to live this way for much longer. I couldn't meet the expectations of my family. I needed help. I needed comfort. I needed kind words. I know that it was devastating to watch me but I was the one who was suffering. Not you. I'm sorry I made you all so uncomfortable but imagine how uncomfortable I was.
I'm not saying all drugs are bad. I would never say that. I just happened to be one of the unfortunate ones and I needed some help along the way to make it through. I didn't know how long it would take my brain to heal or if it ever would. There was no way of knowing. There's no test for that. But I didn't have time on my side.
I'm not saying this is going to happen to everybody but it happened to me. I lost my life because of it. I could not take it any longer. I want dignity and I am tired of suffering. At 58 years old, I could never recover from this.
~ Kathleen Fliller
***
Mad in America hosts blogs by a diverse group of writers. These posts are designed to serve as a public forum for a discussion—broadly speaking—of psychiatry and its treatments. The opinions expressed are the writers' own.
***
Mad in America has made some changes to the commenting process. You no longer need to login or create an account on our site to comment. The only information needed is your name, email and comment text. Comments made with an account prior to this change will remain visible on the site.