Sever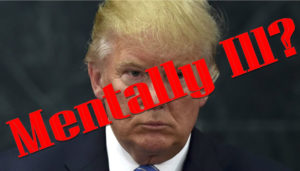 al articles are now in circulation claiming that Donald Trump is 'mentally ill'. Petitions have surfaced declaring his supposed 'illness' as a reason to cut his term short. One such petition calls specifically upon psychologists and other degreed professionals to demand his removal, and has over 20,000 signatures to date.
And, of course, others seem to find this to  be a solid opportunity for some utterly (not) hilarious 'crazy' jokes. Take Andy Borowitz, best-selling author, comedian, and long-time writer for the New Yorker, who thought the time was ripe for making satire out of Trump-themed voice hearing. Surely, he meant for this to be at Trump's expense, but who do you suppose is really losing out in his portrayal? (Thank goodness for the much better 'voice hearing' representations conveyed in recent issues of both Foreign Policy and the New York Times.)
While I get the desperation to play any angle that stands a chance at ousting this man from office, we're treading on dangerous territory here. Of course, the backlash has already begun. Dozens of articles have also popped up to counter the 'Trump is mentally ill' trope. Even controversial (at least 'round these parts) psychiatrist Allen Frances got in on the game.
However, I have yet to see a single article that does a good job of challenging the claim of 'crazy' where Trump is concerned that doesn't also legitimize the diagnostic process overall. This is a serious problem.
In order to squarely demand everyone "stop saying Trump's crazy", we shouldn't simultaneously be required to commit to the tag, "because it's unfair to the real crazy people".  (More on this later.) And we certainly shouldn't have to say, "Hey, don't call him crazy… just yet." This latter approach is where the vast majority of 'crazy' contrarians seem to be coming from with a nod to the 'Goldwater Rule.' In other words: "We can't diagnose someone… until we've sat down with them in person and spent our proper 15 to 50 minutes needed to do so."
First of All…
First of all, I'd like everyone — in both camps — to take a deep breath (as a rule, I really hate when people tell me to 'breathe', but… just in this one case… please give it a go) and examine why this argument is even a 'thing'. Like, why is whether or not Trump has been assigned a psychiatric diagnosis relevant to whether or not he serves as our president? What does the fact that we're so fervently battling this point out even say about how our culture regards emotional and/or mental distress?
We are, after all, talking about someone who has been accused of everything from inciting hate crimes, to sexual assault, to illegal travel bans. Why, precisely, is 'diagnosis' seen as taking it to the 'next level' beyond all that? Either Trump has done terrible things, or he hasn't. Why should whether or not he also has a supposed 'mental disorder' even matter? Especially since we know that correlation (in this case, the same person allegedly having a 'mental disorder' and lacking fitness for presidency) does not mean causation (that the former is what led to the latter).
But, this isn't new. Consider the following:
Person A: Person A has been stalking their former partner for the last several months. Person A shows up where their former partner works on a regular basis, and has sent multiple threatening emails and texts.
Person B: Person B has been a part of a crime ring for the last ten years. They've previously been convicted of drug and assault charges, but served their time and are back out and about in the world. Recently, however, it's become pretty clear to the local police that they're once again involved with the same group, and the police have received multiple tips that a large deal is about to go down involving the sale of a shipment of illegal weaponry.
Person C: Person C has no history of violence, and has never been arrested on any charge. When they were 19, they were diagnosed with schizophrenia. They're 23 now, and recently shared with their therapist that they believe they're being followed by a neighbor, and have been thinking about suicide.
Our current reality is such that Person A and Person B… in spite of the fact that one of them has a clear history of violence, and in spite of statistics pointing at both of them as being a much higher risk for committing an actual violent act in the future… will likely roam free until they actually do something. Yes, Person A's former partner might be awarded a restraining order, but not much more than that is terribly likely to happen.
Yet, chances are substantially higher that Person C might wind up involuntarily locked up in a psychiatric ward, not because the threat of them doing something harmful is greater, but because of what they said. And because — somehow — the attached psychiatric diagnosis seems to afford others the right to openly hold them to a completely different standard for incarceration.
Yes, somehow psychiatric diagnosis seems to be received as not just permission, but as a directive to act in certain situations, even if it defies logic or would result in no action under similar circumstances were the person label-free (and even in the face of much more statistically reliable predictors being present).
Acting as if whether or not Trump has a 'mental disorder' somehow colors his acts and the threat he poses in a different sort of way certainly does defy logic. Again, he's either done wrong, or he hasn't. He's either fit to serve, or he's not. We don't need to know 'why' it's happening.
So, one approach to this particular 'which is it' game might simply be to say, "Who cares!"
But, many people care, and so do I…
In reality, I do care whether or not Trump gets called 'mentally ill' and you should, too.
I care because this argument speaks to a trend in claiming that societal ills are individual ones. Take Dylan Roof, for example. Roof murdered nine black people at a church in Charleston, South Carolina while quite openly proclaiming himself to be a white supremacist. Yet voices were quick to rise, questioning whether or not 'mental illness,' rather than racism, might be a primary culprit.
In fact, 'extreme racism' has been proposed for diagnostic consideration, and that debate is well underway. But even the most conservative psychiatrist doesn't generally claim that 'mental illness' is catching (at least, not beyond the repetitively faulty genetics tripe), and it would surely seem that racism is a thing that spreads (so says its linguistic bedfellow 'systemic'). Thus, we shouldn't be too quick to let ourselves off the hook.
Trump is a man who many (albeit not the majority) voted into office. People liked what he had to say. At least on some level, they admired his wealth, his sexual conquests, his capitalist nature. They were willing to excuse or ignore those pesky little signs of his 'occasional' over-indulgences, or impulsive episodes of mouthing off. They even lauded some of his transgressions, suggesting it demonstrated he was all the more 'real.' And those of us who disagreed — well, we apparently lacked the momentum and togetherness to create an effective blockade.
Sure, we can now point fingers and say there's something wrong with Donald Trump, but what is wrong with those of us who saw his behavior and elected him anyway? What is wrong with those of us who saw the signs of danger descending upon us and still couldn't pull it together to sufficiently fight back?
Trump is a symptom, not an illness. He would never have made it to the oval office if not for society being sick.
There but for the grace of (lack of) diagnosis go I…
And then there's this whole diagnosis thing, overall. The aforementioned problem with almost all the other "Trump's Not Mentally Ill" retorts in which they use this opportunity to inexplicably raise up the sanctity of the diagnostic system instead of summarily thrashing it down.
In Allen Frances's article, "Trump isn't Crazy," he has some interesting things to say. Most notably, this:
"But they ignore the further requirement that is crucial in defining all mental disorders—the behaviors also must cause clinically significant distress or impairment. 
Trump is clearly a man singularly without distress and his behaviors consistently reap him fame, fortune, women, and now political power. He has been generously rewarded, not at all impaired by it."
Yes. Yes, precisely, Allen! You've made a very important point here, although… I'm not sure you quite meant to make it. Diagnosis so often does depend on… privilege! Thanks so much for drawing that out.
Donald Trump isn't 'mentally ill' at least in part because he has experienced such tremendous privilege that he's unstoppably risen to the top of our society's ranks. Because there's so much excess between us and his 'indiscretions' that he's pretty much untouchable by hook, crook, or DSM. He may do things we don't like. He may even hurt people (far more than most who are locked up for being an 'imminent risk of serious danger to self or others'). Individuals might find him to be 'eccentric' (widely accepted code for 'crazy but rich'), careless and/or unkind. Apparently hundreds of thousands believe he poses a great threat to this country's overall wellbeing. But, no, he's not 'mentally ill,' because this whole manner of categorization of human beings is just that subjective.
In other words, Trump is not 'mentally ill' because he is not a member of any of society's groups for which tools of control (like our diagnostic system) are most specifically designed. His brand of dangerous is party to some other kind of measure. A different set of standards. And while this tells us something about Trump, it tells us much more about ourselves.
Trump Party Favors…
And here's where perhaps… just perhaps… this whole argument has done us a bit of a favor. In a way, having such a high profile debate on this very topic has helped expose some of the absurdity of it all. Just a little, at least. We're caught up in an era of a psychiatric free-for-all. Where "Hey look, mom, I've got a mental illness" may compete in frequency with such childhood markers as learning how to ride a bike. But who gets 'caught' and who escapes the diagnostic machine may have a lot less to do with someone's internal workings than most may still think.
It would seem that who is 'mentally ill' is a movable target (much more so than, say, the cancer or diabetes to which it is often compared), sometimes based on convenience and strategy. If you hold enough power, you can decide who's sick, provided they don't have enough leverage to outdo you at your own game. Whoever has the (figurative and/or literal) keys gets to decide who goes home at the end of the day (and to where).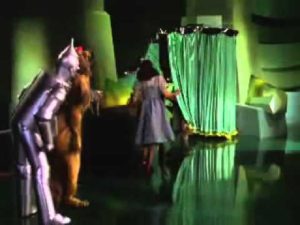 And all of that has absolutely nothing to do with addressing real human suffering, which surely does also exist. In fact, it commonly runs counter to it. One can only hope that the blatant and willful diagnostic malleability currently on display will be akin to the effect of pulling back the curtain on the Wizard of Oz. Maybe, at least now, people are seeing a suspicious set of feet?
In the end…
We need to stop calling Trump 'mentally ill' because it suggests that emotional distress and trauma (and all the rest that often gets wrapped up in and confused with this idea of 'disorder') are somehow scarier and worse than what Trump is actually doing. It's a distraction of the worst kind from what we can actually see and know.
We need to stop calling him 'mentally ill' because it misdirects us away from holding ourselves accountable for his election and the societal ills that led us to this point. We're far better off learning from our mistakes, and figuring out a way to back off of this crumbling ledge.
And we need to stop calling Trump 'mentally ill' because such labels are routinely applied inequitably and in ways that have harmed so many, and this present maelstrom only further encourages that trend. Psychiatric labels tell us little to nothing about how to be with or support one another, and give almost no information about what's actually going on. This is true of both president and neighbor. Friend or lover. Child or parent. Human being.
It certainly tells us nothing about how to get us out of our current bind.
***
Mad in America hosts blogs by a diverse group of writers. These posts are designed to serve as a public forum for a discussion—broadly speaking—of psychiatry and its treatments. The opinions expressed are the writers' own.
***
Mad in America has made some changes to the commenting process. You no longer need to login or create an account on our site to comment. The only information needed is your name, email and comment text. Comments made with an account prior to this change will remain visible on the site.