MIA blogger Matt Stevenson, who was best known to the MIA community for his frequent—and insightful—comments on MIA posts, died last Thursday. He took his own life, at age 32.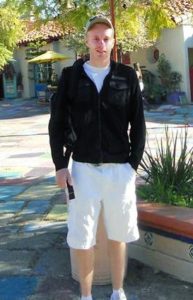 Matt first showed up on MIA writing under the name of BPDTransformation, and by our count, he wrote nearly 2,000 times on MIA. The theme he sounded most often was about the spurious nature of psychiatric diagnoses, and the harm such labels could cause.
Matt was born in London, UK, and as a youth, his family moved around a great deal, such that he lived in England, Poland and Hungary while growing up, with his family settling in Northern Virginia when he was 12. In his personal blog, BPD Transformation, Matt told of the trauma he'd suffered as a child, and how, at age 20, he became suicidal and was involuntarily hospitalized.
There he was given the diagnosis of borderline personality disorder, and informed that BPD was a lifelong illness, which could be "managed" but never "cured." Thus began his descent into the life of a mental patient, which included the usual prescribing of multiple antidepressants and antipsychotics. He dropped out of college, as he had become "possessed by the fear of becoming a hopeless borderline." He read all he could about BPD, and the first texts he found reinforced this belief that he suffered from an incurable illness.
His climb out of that self-perception was triggered, in part, by a "kind psychiatrist" who "never used this label on me." He began to feel a "sliver of hope," and wondered "if that feeling could become stronger." The thought occurred to him that "maybe there is nothing really wrong with me," and thus began his immersion in literature of a different sort, which told of people with this diagnosis "fully recovering."
Matt was on his way to a new self-conception. He graduated with a degree in English from Marymount University, and with this new-found confidence, he began working as a tennis coach at various health clubs in Northern Virginia. "He especially loved coaching kids," his sister Catherine recalled. Matt also did volunteer work, teaching English.
As part of his transformation, Matt began digging into the scientific literature for BPD, analyzing it and critiquing it in his own mind, and as he did, he began to wonder if "the disorder, not the symptoms, really existed at all." This led him to read texts and books that criticized the validity of DSM disorders, and several years ago, with this new learning in mind, he stepped into the critical psychiatry world that can be found online.
His became an energetic and forceful voice, particularly on this question of the validity of DSM disorders. He was active in several Facebook groups, such as Drop the Disorder, and in such organizations as The International Society for Psychological and Social Approaches to Psychosis (ISPS) and The International Society for Ethical Psychology and Psychiatry (ISEPP).
In his writing for MIA, Matt published several interviews he had conducted, which reveal his skills at illuminating a subject. He also published a two-part essay that sought to deconstruct the conventional biological model of psychosis, a text enriched by his own personal story of recovery.
While Matt wrote of how his rejection of that disease story was fundamental to his recovery, as his death makes clear, he never fully escaped his diagnostic past. In a note that he wrote prior to taking his life (which his sister Catherine, following his wishes, sent to MIA and others), he told of how, five months ago, he became haunted anew by psychiatry's disease story. In particular, he read a study that painted a pessimistic future for people who had experienced a psychotic episode, and that triggered a mental suffering that he couldn't escape from.
"Recently, I continued to be extremely terrified of certain psychiatric studies, ideas and diagnostic labels, and could not contain the fear around them. I knew this intellectually but could not change it enough emotionally no matter how hard I tried. I was robbed of my life by these identifications."
His hope, he wrote in his note, was that others would carry on with the critical psychiatry work that he had become devoted to in the last years. "The message should be that serious mental distress, including psychotic and borderline states, is primarily caused by adverse psychosocial events, not primarily by faulty biogenetic factors, and that people can mostly or fully become free from these states with support and sufficient hope, that key thing I couldn't feel at the end."
Matt was known personally to us at MIA. He was in regular email contact with editors and board members, spoke on the phone with us, and visited us once at our office. We all feel we have lost a friend, as you can see in the testimonials below.
 –Robert Whitaker
* * * * *
From Emmeline Mead:
Matt had so much to contribute to the world, and to this movement, that the scope of the loss leaves me breathless. He possessed a rare blend of fiery analytical brilliance tempered by wisdom and compassion. Over the years he was here at MIA, first as a commenter posting under a pseudonym and later as a blogger writing under his real name despite fear of repercussions, I saw Matt gradually transform as a person and refine that blend. He became known for his unflinching critiques, for the wealth of information and resources he was devoted to sharing, and for the kindness and support he offered to other survivors, frequently speaking up to honor people's courage in coming forward to tell their stories.
Even in his last months, in the midst of intense struggle, he was still reaching out to people. Still caring, still fighting for the cause.
It's heartbreaking that someone whose mission was to ensure that others weren't deprived of hope by psychiatry was ultimately unable to maintain hope for himself. It's tragic, and it's maddening, and I have to admit it makes me question a lot of things. But I have no question about what Matt would have wanted us to do, and that's to keep up the fight. To honor our fallen, to support each other in our grief, and to channel our love and rage into the work that needs to be done to stop this system from destroying people.
There was another thing Matt was known for, at least among some, and that was his playful side and irreverent sense of humor. No other author has ever sent in blog submissions with comments such as:
"And by the way Emmeline, Lloyd and I were going to present a version of this interview at the APA, and be paid thousands of dollars and get a fully covered vacation to the next APA conference. But now that we have submitted it to MIA, since MIA only wants exclusive submissions we cannot do that! It is only out of my deep and enduring love for MIA and its mission that we donate things like this to it. I will rue the sensual massages and free pill samples that I could have gotten at the APA conference if we had used this material there."
I'll miss those emails, and the comics he used to make and send as tongue-in-cheek submissions to our art section. They generally depicted his least favorite psychiatric figures as horror movie monsters or arch villains and were always hilarious. The following was one of my favorites (it makes more sense if you're familiar with E. Fuller Torrey's toxoplasmosis theories):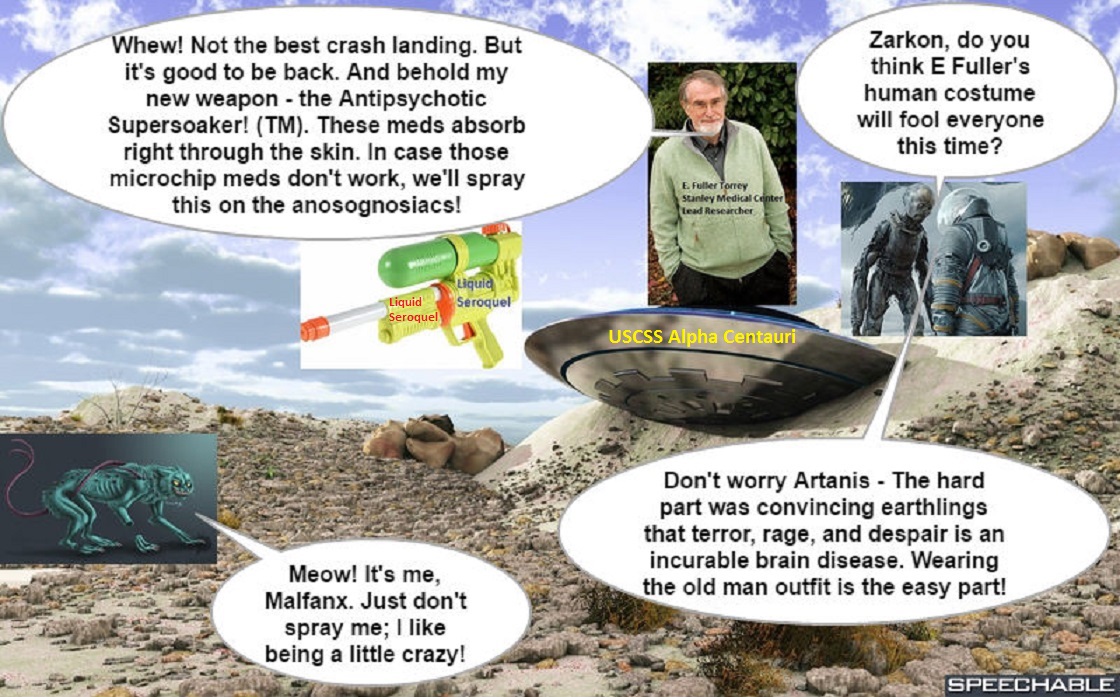 Rest in peace, Matt. Wish you were here. We'll keep doing our best to unbrainwash the earthlings.
* * * * *
From Emily Cutler:
I feel so fortunate to have known Matt Stevenson. This past April, when I went through a personal crisis, Matt was one of the first people I spoke with about the distress and sadness I was experiencing. Matt was a great listener who took the time to be there for me without judgment, and he became a huge source of support during this time. He checked in with me regularly to make sure that I was doing okay. Even though I was experiencing a great deal of self-doubt and questioning my reality almost every day, Matt continually reassured me that I was not crazy or irrational. I remember once, I joked that I must be crazy because I prayed to Thomas Szasz when feeling distressed, as his work is my "higher power" — Matt responded that he, too, believed in Szasz more than any god!
Matt's strong belief in recovery gave me hope and helped me feel more optimistic. He always encouraged me to see all aspects of the situation I was in, recognizing the full humanity of everyone involved. When I was feeling very angry with a loved one, who had recently joined a cult-like group, Matt reminded me that this was only one aspect of this person, and to focus on the good in each person. He also taught me that, as difficult as it is, it is important to try not to filter or categorize people based on their views of psychiatry. Even though I at times feel fearful or nervous around people who support forced treatment, Matt reminded me that this is only one aspect of a person, and we should never lose sight of each individual's complexity.
Matt was also very active in a small Facebook group I started called Smash Medical Paternalism. He was incredibly intelligent and provided lots of helpful insights into the issues we discussed. He also sent funny and satirical memes that provided much comic relief when discussing what is often a difficult subject.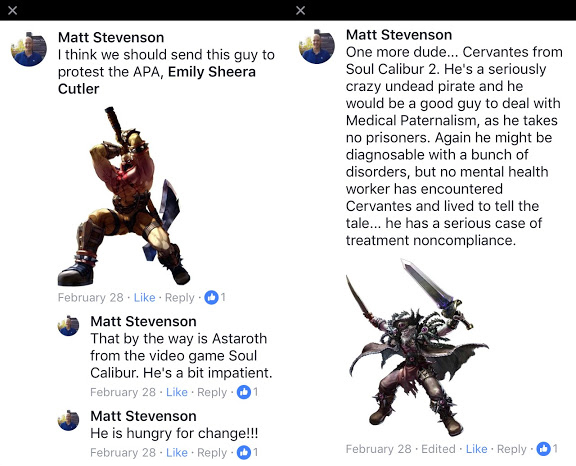 As an assistant editor at MIA, I feel very grateful to have had a chance to learn from Matt's writing and commentary. His thorough critique of the medical model of mental health and biological psychiatry contributed a great deal to the critical psychiatry movement.
* * * * *
From Kermit Cole:
Matt hit the scene a whirlwind of power, passion and intelligence. His voluminous emails and posts were intensely well-reasoned and informed. I had no doubt that he would continue to become an ever more powerful voice in the movement to rethink diagnosis. It seemed that his thinking and his view were ever-expanding, and in our private emails — the last being this past March — they seemed to be heading in a quite optimistic direction. I am shocked and saddened that he, as Lucy Johnstone put it in a tweet about Matt, was "unable to disentangle himself from the damage dx caused to his life, hope & sense of identity." The writing he left, including his gracious and kind notes to his friends and family, should help us all to follow his lead in freeing others of the oppression that psychiatric diagnoses settle on struggling people.
* * * * *
From Louisa Putnam:
I reached out to Matt when his "righteous indignation" (William Blake) and fury had turned toward MIA at one time, and shared with him our journey with my son, Luke. His kindness surpassed his anger and he "held" our loss of Luke with unusual tenderness. After that time, we corresponded sometimes, mostly my reaching out with appreciation for a brave post he made on the ISPS listserv, speaking his truth about the curse of diagnosis and toxicity of medication. He was right there, responding as he did, swiftly, fearlessly and honestly to everyone. I join everyone's voices in honoring this man and missing him. My heart goes out to his family who are feeling a terrible tearing of their heart and life's fabric. I hope we are able to join in support of his wishes.
* * * * *
From Olga Runciman:
The house of sorrow
Sadness, the ache of loss
Permeates the house in every crack and crevice
Dripping from the lamps running down the walls
The house weeps oh how it weeps
Windows filled with darkness
The door locked grief stricken
leave me alone says the sign
Can't you see?
This house is weeping oh how it weeps
The wind wailing the sorrowful song of loss
Rain falling softly bathing the house in tears
Darkness falling covers the house
With the heavy weight of endless sorrow
And the house sobs weeping over its loss.
This is a poem I wrote when words were not enough, I want to use it here for Matt. For we have lost another brave soul. A gentle spirit, kind to the very end, whose life psychiatry stole. Matt touched so many including me and though he is gone in body, he will be with us in our hearts and holding our hands when we continue the battle for change.
My thoughts go out to his family who are suffering the pain of loss and to his many friends. As part of MIA, we have lost a passionate blogger. I am so sad that not even MIA with all the people on it was able to dispel psychiatry's story of hopelessness for Matt. For the sake of Matt and many others like him we must continue the fight for change. We are many who will miss you Matt. Rest in peace.
I will be speaking at the Danish Houses of Parliament tomorrow, about how to reduce forced treatment and drugs in psychiatry. And I am going to dedicate my talk to Matt.
* * * * *
Editor's note: A service to celebrate Matt Stevenson's life will be held on Thursday October 5th, at 7 pm, at the Celebration Center, 2840 Graham Road, Falls Church, VA 22042.
All are welcome to the service and reception to follow. As this is a celebration of his life, please do not feel the need to wear black.
For those who wish to contribute, donations will be collected to support the International Society for Psychological and Social Approaches to Psychosis (ISPS), an organization that was dear to Matt's heart.
***
Mad in America hosts blogs by a diverse group of writers. These posts are designed to serve as a public forum for a discussion—broadly speaking—of psychiatry and its treatments. The opinions expressed are the writers' own.
***
Mad in America has made some changes to the commenting process. You no longer need to login or create an account on our site to comment. The only information needed is your name, email and comment text. Comments made with an account prior to this change will remain visible on the site.