On August 26, VICE NEWS published a long article titled "The Movement Against Psychiatry." The piece featured interviews with many people familiar to Mad in America readers, and Mad in America—this webzine—was also featured in the article, albeit at times in distinctly unflattering ways. The criticism of my book Anatomy of an Epidemic was something else altogether: it was an arrow aimed at the heart of all that we do.
Criticism is nothing new to Mad in America, and personally I have had my fair share of it. And while it is often best just to shrug it off—after all, if you challenge a conventional narrative in society that brings prestige to a medical guild and billions in profits to pharmaceutical companies, you can expect slings and arrows to come your way—in this instance deconstructing the article and responding to the criticisms provides an opportunity that shouldn't be passed up.
Although Vice may not be "mainstream media," it is a publishing venture that has gained a growing readership, particularly among younger adults, in the past few years. This article was also one of the first to report on the growing effort in American society to challenge the conventional narrative that psychiatry has told over the past 40 years. Thus, the article is of some importance in terms of societal understanding of this "movement against psychiatry."
The article provides a three-fold opportunity. First, it provides us at Mad in America with a reason to set forth a clear explanation of our mission and why we do what we do. Readers of Mad in America may not have a good understanding of this, and without that understanding, it limits the impact we can have on this discussion regarding the merits of psychiatric care today.
Second, it provides us with an opportunity to publicly answer a criticism that defenders of the conventional narrative regularly make about me as the author of Anatomy of an Epidemic, and, to a lesser extent, a criticism of the Mad in America website. The criticism is that we distort the scientific record, and thus, our "critique" of the conventional narrative is an intellectually dishonest one. Vice aired this criticism the instant it introduced us into the article, and then sought to provide examples of this "distortion."
Thus, by examining those "examples," it becomes possible for readers, in their own minds, to assess the merits of this criticism.  If the Vice article provides evidence of a distortion of science in Anatomy of an Epidemic, and evidence that Mad in America commits the same sin in its coverage of scientific findings, then I think it would be best if we shut down Mad in America tomorrow. We would be doing harm.
However, if a close reading of this article reveals the opposite, that in fact the criticisms are of a hollow kind, and that the examples cited in fact reveal an effort by defenders of the conventional narrative to explain away findings that belie their narrative, then the rebels—those said to be part of a "movement against psychiatry"—can take heart. They will know, more clearly than before, that science is on their side.
Third, it provides an opportunity to see how the media itself, in its reporting on psychiatry and its treatments, is resistant to challenging the conventional narrative.
The Vice article was presented as an exploration of the "movement against psychiatry," and yet you can see, once it is deconstructed, how it told a story that surely pleased the promoters of the conventional narrative, and put the "critics" on the defensive at almost every turn.
Understanding Mad in America
As I have often written, I began this long journey of writing about psychiatry as a believer in the conventional narrative. The first time I wrote anything of note about psychiatry was in 1998, when I co-wrote a series for the Boston Globe on abuses of psychiatric patients in research settings.
One part of the series focused on studies that involved withdrawing schizophrenia patients from antipsychotics, which we said was "unethical." My understanding at that time was that antipsychotics fixed a dopamine imbalance in the brain. They were—and this is what psychiatrists I interviewed for the series regularly said—"like insulin for diabetes."
That was a metaphor that told of great medical progress. Researchers had come to understand the "pathology" of schizophrenia, with drugs now available that were an antidote to that pathology. However, while reporting that story I came upon two studies that belied that story of progress, and ultimately this is what motivated me to continue writing about psychiatry and its treatments.
One was a study by Harvard researchers that found that long-term outcomes for schizophrenia patients had declined in the past 20 years, and that recovery rates were now no better than they had been in the first third of the 20th century. The other was a finding by the World Health Organization that outcomes for schizophrenia patients were much better in three "developing countries" than in the U.S. and six other developed countries.
In addition, I had interviewed David Oaks from MindFreedom for that series, expecting to get a quote from him about how awful it was that researchers had conducted studies that involved withdrawing antipsychotics, and instead he told me how many people heartily disliked the drugs and found them extremely debilitating. Oaks challenged me: investigate what the drugs do to us, he said.
That was what led me to write Mad in America, which was published in 2002. And that was a book that broke with the conventional narrative that psychiatry told about its drug treatments.
In the conventional narrative, treatments before the arrival of antipsychotics in asylum medicine in 1955 are often depicted as unhelpful or even barbaric. But then, or so the narrative goes, chlorpromazine arrives and this drug kicks off a "psychopharmacological revolution," a great advance in care. Chlorpromazine is deemed an "antipsychotic," a name that tells of how it was a specific antidote to psychosis.
But while researching Mad in America, I found a much different story in the research literature. When chlorpromazine was introduced, it was described as a "neuroleptic," meaning it "took hold of the nervous system," and praised for causing a "chemical lobotomy," a change in being similar to that caused by surgical lobotomy (which at that time was still seen as a positive comparison). Chlorpromazine and other first-generation drugs of this type powerfully blocked dopamine receptors in the brain and thus induced a deficit in the dopaminergic system similar to what is found in Parkinson's disease. As for their long-term effect on psychotic symptoms, in the 1970s researchers worried that antipsychotics induced brain changes that made patients more biologically vulnerable to psychosis. Several studies found that many patients developed a severe, chronic psychosis after taking the drugs for a longer period of time. As for the World Health Organization studies that had first triggered my curiosity, the best outcomes were in developing countries where only a small percentage of patients—16%—were maintained long-term on antipsychotic drugs.
In this narrative, the conventional story of "medical progress" disappears. At the same time, Mad in America told of how the voices of those who were treated needed to be listened to. The "ex-patients" told of truths that were not found in the conventional narrative of progress.
In Anatomy of an Epidemic, I once again began with a question. After Prozac was introduced in 1987, our societal use of psychiatric drugs exploded. The newer psychiatric drugs were said to fix chemical imbalances in the brain, and if that were true, then one might expect that the "burden" of mental illness in our society would have gone down since then. Instead, all the public health data told of the opposite happening, and as a marker of that burden, I reported on the rise in the number of adults receiving disability payments due to mental illness. Thus I posed a question: how do psychiatric drugs affect outcomes in the long-term? What does the research literature show?
That is a question that arises from within a "medical model" conception of a "disease." Is the treatment for that disease "effective" over the long term?
As I sought to answer that question, I first investigated the chemical imbalance story. This was a hypothesis that arose in the 1960s once researchers discovered how antipsychotics and antidepressants acted on the brain. Antipsychotics blocked dopamine receptors; perhaps psychosis was due to too much dopamine in the brain. Antidepressants increased serotonergic activity; perhaps depression was due to too little serotonin. However, years of research then failed to find that people diagnosed with schizophrenia or depression suffered from a chemical imbalance that was then fixed, in some fashion, by the drugs. You could find that admission in psychiatry's own literature, with the American Psychiatric Association's 1998 textbook telling of how the low-serotonin theory of depression had not panned out.
The question of the long-term effects of psychiatric drugs needs to be framed in this way: Does their long-term use produce superior outcomes to the "natural course" of the disorder? And when you dig deep into the scientific literature, you find a mix of various kinds of evidence, stretching across 50 years, that psychiatric drugs, on the whole, increase the likelihood that people will remain symptomatic over the long-term and become functionally impaired. This called for a rethinking of the use of these drugs.
That was the counter-narrative of science that was told in Anatomy of an Epidemic, and in the last part of that book I told of the financial and guild influences that had led psychiatry, as an institution, to tell its story of great medical progress, even while its own science was telling a very different story.
Madinamerica.com, our webzine, was born from that book. And the basic understanding was this: Our society had organized itself around a false narrative, and that doing so had led to great harm. This of course was true for many other societies as well. Our website has sought to be a forum for developing a new narrative to guide a society's thinking and care.
From the beginning, we have tried to do so in three ways:
Reporting on research findings. The pharmaceutical industry and psychiatry regularly promote research findings to the media that support the conventional narrative (and the results are often promoted in ways that exaggerate what was found). Research that belies that conventional narrative rarely makes it into the mainstream media. We have sought to fill in the gap, with daily reports of research findings that the public rarely hears about, yet tell a very different story about the merits of our current paradigm of care. It's an effort designed to help our society create a new narrative that is informed by that full record of research, as opposed to the selective record of research that appears in the mainstream media and is tailored to serve guild and financial interests.
Personal stories. Good medical practice relies on listening to patients. Those who are treated with a drug can tell of adverse effects they may be experiencing, whether the drug is working for them, and in a larger sense, whether they are finding a treatment helpful. Yet, psychiatry, as it has developed its "evidence base" for its treatments, has regularly dismissed feedback from its patients, and that is particularly true for those diagnosed with psychotic disorders. We publish personal stories so that the voices of those with lived experience can be heard, and be part of any societal "rethinking" of psychiatry.
Blogs. While MIA's mission is to serve as a forum for creating a new paradigm of care, we do not set forth our ideas of what we think that paradigm should be. We think that there needs to be a societal discussion of that topic, one informed by research and personal stories, and we publish blogs from a diverse group of international writers who, for the most part, share a belief that our current paradigm of care needs to be rethought.
I have detailed the roots of this webzine, and what we strive to do, in order to make clear that our critique of the conventional narrative does not derive from any "antipsychiatry" ideology, but rather from pro "good medicine" values. A society needs to organize its psychiatric care around an understanding of what science is revealing about the validity of psychiatric diagnoses and the merits of psychiatric treatments, and not around a story that, while it serves guild and financial interests, is out of sync with psychiatry's own scientific findings.
The Vice Interview
Although readers of the Vice article may conclude that Vice interviewed me about MIA and its operations, that isn't so. The reporter, Shayla Love, emailed me on August 18, a week before the piece was published, to tell me that she was finishing up a "feature article about antipsychiatry and critical psychiatry," and she wanted to know, as soon as possible, if I cared to respond to three criticisms of MIA and me that she was planning to publish.
That in Anatomy of an Epidemic, I "misinterpreted, misunderstood studies, and that for each of the studies included in the book, there are many others that come to the opposite conclusion, but are not included."
That "Mad in America doesn't provide substantive policy recommendations for the improvement of psychiatric care."
That Mad in America highlights research that "negatively portrays diagnoses or treatments, but not dedicate space to research that finds the opposite."
There was no questioning of what MIA does, or what our mission is. I responded in an email to Love that it would be nice if she would interview us about what we did, as otherwise it seemed like this piece was going to be a "bit of a hit job." I then answered the criticisms in this way:
I told her we weren't an antipsychiatry website, but rather that we were better described as a "critical psychiatry" website.
I said our coverage of research in Mad in America was designed, among other things, to tell of research findings that challenge or belie the conventional narrative, but "which are virtually never aired in the mainstream public."
I said that making policy recommendations is a function of policymakers, not journalists, but noted that on our website we have told "of innovative programs that are achieving good results and are exploring alternative paradigms of care. That is the journalistic function; not to recommend, but to highlight—and make known—these efforts."
Finally, in response to the accusation that I misinterpreted studies in Anatomy of an Epidemic, and left out studies that came to an opposite conclusion, I said this: "There is a simple way to put this criticism to the test. If there are indeed studies that are misinterpreted, then this [critic of Anatomy] should say which studies she is talking about. Or if there are others that come to the opposite conclusion, this person can cite what those studies are . . . If this isn't done, this is just idle criticism, which is really pretty slanderous."
Love wrote back a few hours later. There were two studies that psychiatrist Joseph Pierre said I had misinterpreted. The first was a study of long-term outcomes of psychotic patients by Martin Harrow, and the second a study by Lex Wunderink on this same topic.
This perked up my interest. There is no study that belies the conventional narrative more than Harrow's, with Wunderink's a complement to his findings. If Love would actually investigate those results, this article could really stun readers.
In response, I told her she could easily determine whether the criticism of me had merit. She could read what I wrote about Harrow's study in Anatomy of an Epidemic and Wunderink's on Mad in America, and see if I had misreported those studies in any way. Better yet, I urged her to call Martin Harrow or his co-investigator Thomas Jobe to "see if they think I misinterpreted or misunderstood their study."
That would be an easy way that she, as a journalist, could search for the truth. Yet, given that she hadn't agreed to interview me, I feared the worst.
"If you air this criticism of Pierre's without checking if it is accurate, I'll be extremely unhappy," I wrote." I've seen this time and again, and it's bad journalism. You need to see if his critique of me—which is saying I am a shitty journalist—has actual merit. Please call Jobe, and read what I actually wrote."
Understanding Harrow (and Wunderink)
The criticism that Pierre had raised, with its focus on Harrow, is the same criticism that E. Fuller Torrey and others voiced when Anatomy of an Epidemic was published. And there is a reason that Torrey and others have done so.
Harrow's study is, by far, the best and most rigorous assessment of the long-term outcomes of patients diagnosed with psychotic disorders since the arrival of chlorpromazine in asylum medicine, and his results—unless they can be explained away—tell of a paradigm of care that does harm. Criticizing me for misinterpreting the study is an effort to do just that, to explain away the results.
Beginning in the late 1970s, Harrow and Thomas Jobe recruited 200 psychotic patients into their studies, recruiting them from two Chicago area hospitals (one public and one private.) All were treated conventionally in the hospital with antipsychotics, and after they were discharged, Harrow and Jobe periodically assessed how they were faring (at 2 years, 4.5 years, 7.5 years, and so forth, with their follow-ups eventually spanning 20 years.) At each follow-up, they assessed the status of their psychotic symptoms, their social functioning, whether they were working, and their use of antipsychotic medication.
At the start of the study, the average age of the patients was 22.9 years, with 46% experiencing a first hospitalization, and another 21% a second hospitalization. Thus, this study mostly followed a cohort that was newly diagnosed or from a time early in the course of their treatment. At the end of 15 years, Harrow and Jobe still had 145 patients in their study, 64 who were diagnosed with schizophrenia and 81 with milder psychotic disorders.
They found that the recovery rate, at the 15-year mark, for the schizophrenia patients off medication was eight times higher than for those who were medication compliant. This was the outcome that threatened to rock the grand narrative of progress: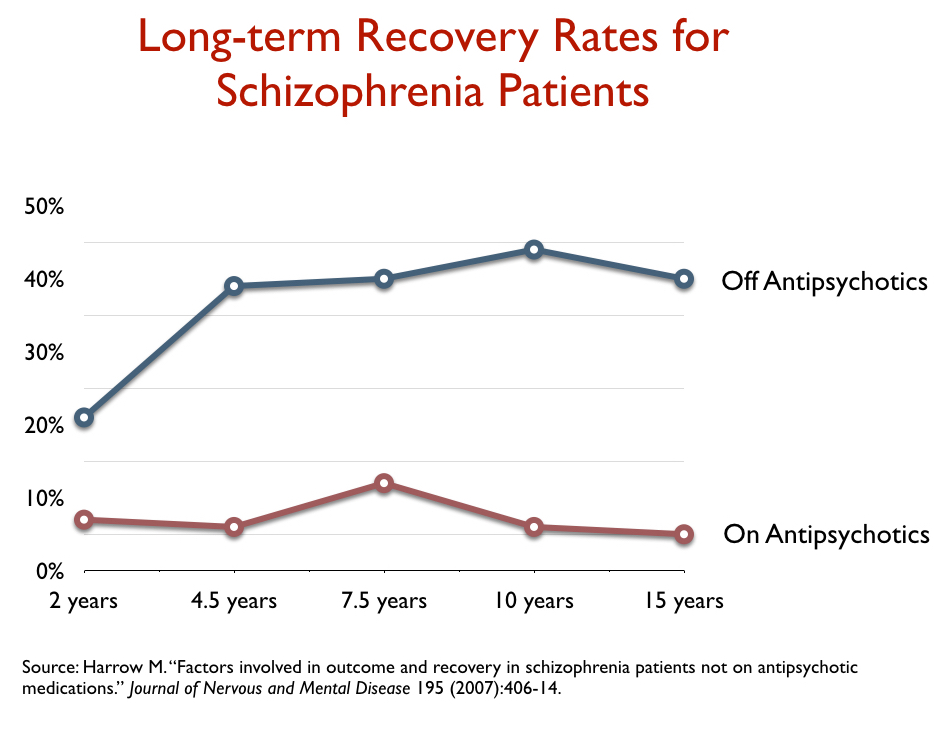 However, in their 2007 report on 15-year outcomes, Harrow and Jobe wrote that it wasn't that the drugs had caused the bad outcomes, but rather that it was those with a good prognosis who were more likely to go off the drugs, and that could explain the difference in recovery rates. I reported on that explanation, which did spare the drugs of any blame, in Anatomy of an Epidemic (pages 116-118).
Yet, I saw in their reports findings that belied that explanation. They also reported outcomes for those with milder psychotic disorders, and if you created an outcomes chart for all of the patients in the study, it showed that those with milder psychotic disorders at baseline who stayed on antipsychotics had worse long-term outcomes than those with schizophrenia who got off the medications.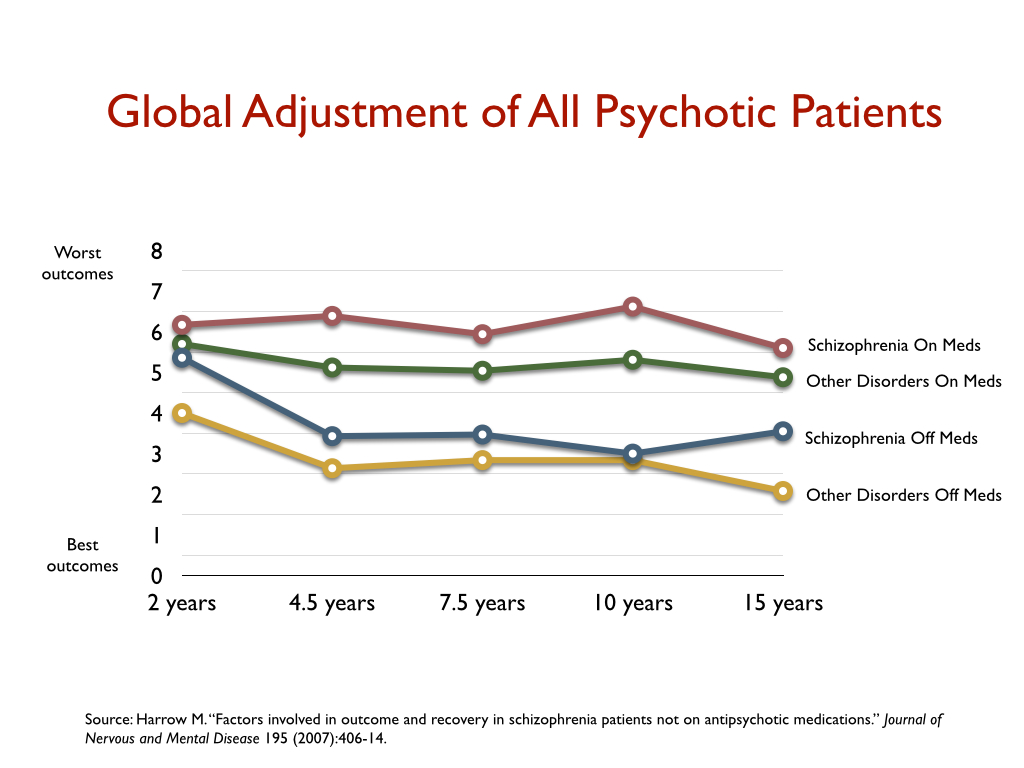 Now, in 2007, that was not a comparison that Harrow and Jobe made. It was in their data, but I was the one who compiled it into a graphic that illustrated this outcome and pointed it out. But as I explained in my email to Shayla Love, Harrow and Jobe subsequently continued to analyze their long-term data, and in one of their published papers, cited me as raising the issue of whether the drugs might worsen long-term outcomes (in the aggregate.) In these later papers, they published findings that told of drugs that increased the likelihood that patients would become chronically psychotic and functionally impaired.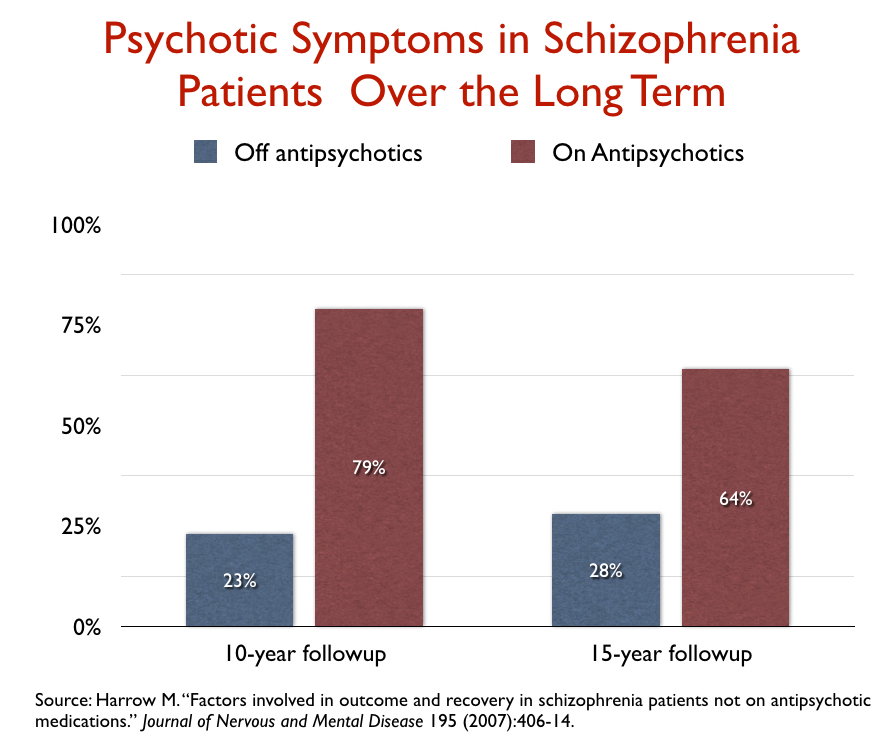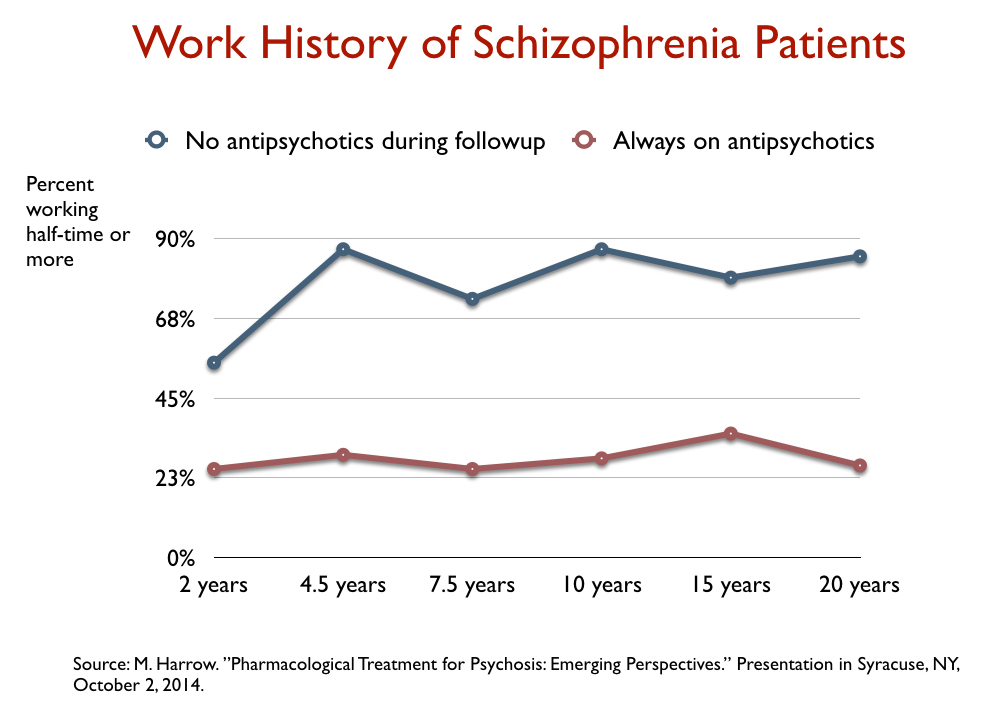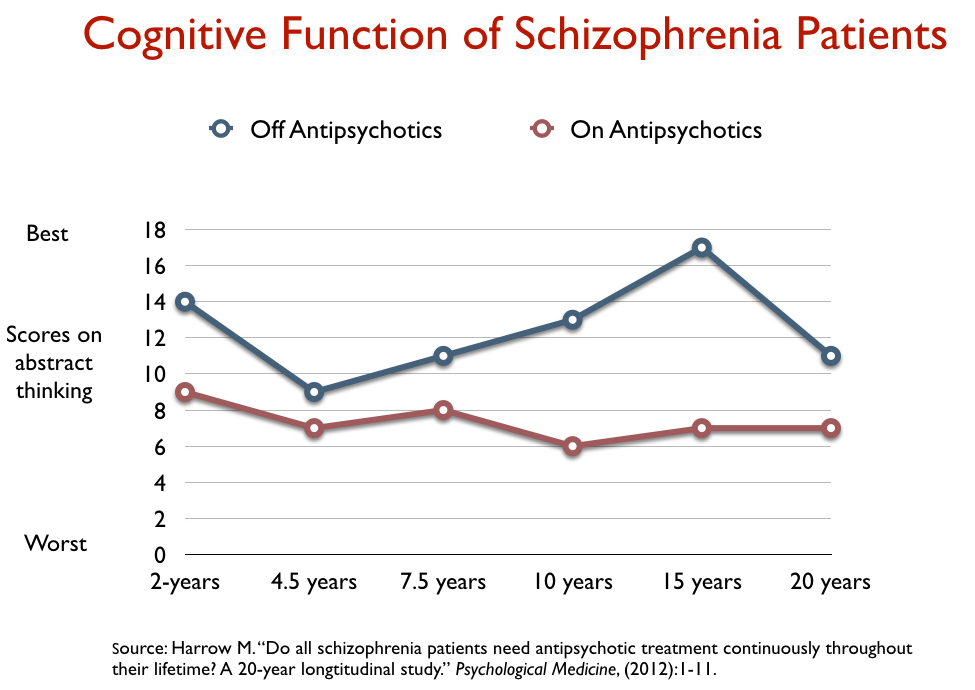 Furthermore, Harrow and Jobe, in these subsequent papers, specifically stated that it was time for the field to address the question of whether antipsychotics might, in a causal sense, be worsening long-term outcomes. They wrote: "How unique among medical treatments is it that the apparent efficacy of antipsychotics could diminish over time or become ineffective or harmful? There are many examples for other medications of similar long-term effects, with this often occurring as the body readjusts, biologically, to the medication."
Torrey, Pierre and others, in order to explain away Harrow's study, argue that since it wasn't randomized it was likely that it was the more severely ill who stayed on the drugs and that this could be the reason for the worse outcomes. But in making this argument, they are turning a blind eye to the evidence that belies that explanation. Those who were less severely ill at baseline who stayed on the drugs had worse outcomes than those who were more severely ill at baseline who got off the drugs.
As such, Pierre and others are the ones who could be said to be "misreporting" the outcomes in the Harrow study. But they need to do so in order to maintain a societal belief—and their own belief—in a narrative that tells of antipsychotics as a great advance in psychiatric care, with these drugs an essential long-term treatment for those diagnosed with psychotic disorders. If they were to incorporate the above graphics into their textbooks and the stories they told to the public, their narrative would collapse.
The Wunderink study can be seen as a follow-up of sorts to the Harrow study, and partially confirming its findings, because there was a randomization component. In this study of adults with a first episode of psychosis, all patients were stabilized on antipsychotics for six months (n=128), and then they were randomized either to a "drug discontinuation/drug reduction" arm (the DR group), or to standard drug maintenance (the MT group.) In other words, this was a randomized study designed to see which treatment protocol produced better outcomes: tapering first-episode patients from their antipsychotics (or down to a low dose), or standard drug maintenance, at usual doses.
At the end of seven years, those in the DR group had a much higher recovery rate (40.4% versus 17.6%). The difference in recovery rate was due to the fact that those in the DR group had much better functional outcomes.
Thus, this randomized study challenged conventional prescribing practices. It found that a dose-reduction protocol, which allows for the possibility that some patients could successfully go off their antipsychotic medications, produced superior overall results to the standard protocol of care, which emphasizes continual drug maintenance at higher dosages.
Together, Harrow and Wunderink together produced a one-two punch. There is reason to worry that antipsychotics worsen long-term outcomes, and there is evidence that a protocol that helps first-episode patients taper from the medications, or get down to a lower dose, will increase long-term recovery rates.
I handed all of this on a platter to Shayla Love. All she needed to do was read the studies, call Harrow or Jobe, and she could have had a blockbuster article, anchored by research that revealed there was a scientific rationale for a "movement against psychiatry."
Deconstructing the Vice Article
I believe that Love, as she wrote this article, thought she was doing her best to be "fair" and to "tell both sides." But when you deconstruct the article, and break it down into its various parts, you can see that it serves to defend the conventional narrative, and undercut the challenge to it.
Framing the Issue
When an article is titled "The Movement Against Psychiatry," the first expectation of readers is that it will feature interviews that can explain the reasons for the movement. What is the nature of their critique of psychiatry? What evidence supports their critique? The article could be expected to present this case, and then, having done so, it could explore the merits of that critique and include responses from leaders in psychiatry.
That is not how this article is organized.
The article opens with two anecdotes of contrasting "patient" experiences. In one, a mother tells of how her grown daughter, after being diagnosed with bipolar in high school and treated for that diagnosis, refused to take the drugs after graduating and years later had landed in jail and was severely ill. It's a story of a societal failure to force "helpful treatment" on an individual.
That failure is contrasted with a story told by Angela Peacock, a veteran of the Iraq War, who was diagnosed and treated with an array of psychiatric drugs, which led to her becoming debilitated. It's a story—at least as presented in the Vice article—of "overmedication."
The article then frames the "debate" in this way: "How could one woman be so overly medicated and diagnosed while another escaped any sort of proper care and ended up being abused in jail? Martha (the woman's mother), influenced by her experience, has become an advocate for more medical mental health intervention, while Peacock says a medication-happy psychiatric system left her sicker than when she started. These contrasting positions are at the heart of anti-psychiatry and critical psychiatry."
In journalism, this paragraph is known as the "nutgraph." It sums up what the article is about. Yet, from these two anecdotes, readers are left to understand that the "movement against psychiatry" is, at its heart, related to both a failure to force treatment on certain people (e.g. undertreatment), and to overtreatment with psychiatric drugs. The pro-force people are, it seems, being included as part of a "critical psychiatry" movement.
Since this is an article about "The Movement Against Psychiatry," Peacock's anecdote would make for a good introduction. But lumping the two contrasting anecdotes together makes for a confusing start for an article so titled.
Whiffing on History
After that opening, the article jumps into an exploration of the "history of antipsychiatry," jumping back to the ideas of Thomas Szasz, who wrote The Myth of Mental Illness nearly 60 years ago. This brief history then evolves into a suggestion that his arguments animate the "antipsychiatry" wing of the "movement against psychiatry" today, even though there is no-one quoted in the article who actually refers back to Szasz's beliefs. And with that straw man set up, the article then quotes several psychiatrists who criticize Szaszian ideas as having come from a time when patients remained in hospitals for years and are now out of date. Thus a first message is delivered: This movement is led by people who are stuck in the past.
The article also describes a second arm of this supposed movement against psychiatry: Scientology and its discontents. This is actually a talking point regularly put forth by defenders of psychiatry, which they have employed to delegitimize challengers to their profession. The criticism is coming from a cult, who might as well be members of a flat-earth society.
This description of today's "movement against psychiatry" completely misses the mark. The movement today is clearly driven by the activism of those with "lived experience" as patients in the system, including having been hospitalized. Its historical roots go back to the 1970s, when ex-patients published newsletters and organized protests that spoke of "freedom" from a system that forced treatment on them and locked them up, and of "liberation" from this oppressive arm of American society. This was, at its heart, a Civil Rights movement, and the book that served as their clarion call was not The Myth of Mental Illness, but Judi Chamberlin's On Our Own. Ex-patients, who dubbed themselves "psychiatric survivors," wanted the right to be the authors of their own lives.
That founding moment in the 1970s has surely metamorphosed into many forms over the last forty years, with a diverse range of opinions now present among activists with "lived experience." But their collective voice, while amplified by professionals in the field who may speak critically of the current paradigm of care, remains at the moral and emotional center of any movement today against psychiatry.
This Vice article misses this fact, and by referring back to Szasz, with a nod to Scientology, it whiffs on presenting the nature of the "movement against psychiatry" today. Instead, those references serve to plant doubt in the readers' minds about this "movement."
Indeed, this article reveals that a public discussion about the merits of psychiatry would be greatly aided by a popular book that told of the rise of this movement, tracing its roots as a Civil Rights movement in the 1970s to the diverse voices and groups pushing it forward today.
Enter Mad in America
It is at this point that the article introduces Anatomy of an Epidemic, which then segues into a discussion of the merits of Madinamerica.com. Love begins with a note of flattery, describing Mad in America as the "most active and legitimate critical psychiatry platform that exists today." Here are the ways that she then undercuts—and delegitimizes—the scientific critique that is at the heart of the book and our efforts at Mad in America.
1) Love describes Anatomy of an Epidemic as "a book that argues that an increase in mental health disability was caused by the long term overuse of psychiatric medication." That puts the critique in Anatomy into the "overmedication" category, which would make it a critique of prescribing practices, rather than an investigation of the merits of the drugs. That fits with her opening anecdote about Angela Peacock: the problem is overmedication, and that is what people are rebelling against.
However, as I noted above, Anatomy tells of a failed paradigm of care, with an extensive presentation of scientific findings that, at the very least, provide reason to worry that psychiatric drugs worsen long-term outcomes. This mistaken characterization of the book keeps readers from understanding why the book is so threatening to psychiatry, and why it provides an "evidence-based" reason to fundamentally rethink psychiatry.
2) The Vice article then rightly ties the founding of the Madinamerica website to Anatomy. The book is described as "the bedrock of Mad in America," and then in the very next breath, Love quotes Nev Jones, an assistant professor in the Department of Psychiatry at the University of South Florida, as stating that Anatomy "is just packed with misinterpreted, misunderstood studies that Whitaker uses to make claims that I think are demonstrably untrue."
This is more than just a shot at me and Mad in America. The article is informing readers that the "most legitimate critical psychiatry platform that exists today" is built upon a foundation of "misrepresented" studies and "claims that are demonstrably untrue." That signals to readers that the critical psychiatry effort movement—something much larger than MIA—is compromised by a misunderstanding of research and by falsehoods.
Having raised a charge like this, a journalist is duty bound to provide an example that could substantiate it. However, Love did not cite any example given by Jones to back up this charge (and it's unclear whether she ever even asked Jones for an example).
3) What followed might be characterized as a bait and switch. With that "demonstrably untrue" charge hanging in the air, Love cites, as an example of Jones' criticism, a critique raised by someone else, psychiatrist Joseph Pierre. His criticism, in fact, is of a much milder sort, which is that the studies by Harrow and Wunderink don't prove, in a causal manner, that antipsychotics worsen long-term outcomes. It could be that those who stayed on the drugs were more severely ill and that's why they had the worse outcomes.
Now, even on the face of it, this example doesn't support Jones' criticism. Pierre is speculating that this could explain Harrow's results. Love also doesn't present any evidence that I ever wrote that the results were "causal" proof that antipsychotics worsened long-term outcomes.
And indeed, Love then states that this example simply serves to show how a study can be interpreted in different ways!
It's a rather confused few paragraphs, and Love does quote parts of my reply in my email to her about how I reported on the Harrow study. I imagine that, in her mind, this was an example of her being "fair." But here is the journalistic failure: Love made no effort to see if Pierre's mild criticism of me was true. She doesn't present, with any detail, the findings in the Harrow study; she didn't review what I had written about the studies; she didn't see if Pierre's speculation was supported by the evidence; and she didn't interview Harrow or Jobe to find out what they thought.
And so, what will casual readers of the Vice article take from this section? They will surely remember the "demonstrably untrue" claim about Anatomy of an Epidemic, without recognizing that the author's supposed example of that claim doesn't address that charge at all.
As such, she did precisely what I had warned about in my email to her.  She needed to contact Harrow or Jobe and see if Pierre's critique of my reporting on their study was inaccurate. "If you don't do this, and you just let Pierre get away with this criticism," I wrote, "you are letting the 'powerful' trash those who would question their narrative."
4) Love then extended this criticism to MIA's coverage of research findings. While she included a note or two of flattery, that some of it is good, she summed up the collective effect of our coverage with a quote from psychiatrist Awais Aftab: "Readers who rely only on Mad in America will get a very distorted picture of what the state of research looks like . . . Sometimes their coverage of research is surprisingly insightful. But at other times I read the website and I just shake my head with disappointment."
As an example of why our science coverage produces a "distorted picture," Love cited snippets of writings from two blogs (neither of which was about research).
Blogs, of course, are not our articles. They are not reports on science from our science team. They are opinion pieces, and as I noted above, MIA serves as a forum for blogs written by a diverse group of people with lived experience, professionals, family members, lawyers, and so forth.
The day after the piece was published, Aftab wrote on his personal blog that Love had, in fact, taken his quote out of context. "Some felt that my comments were targeted specifically at MIA's research news team, but that is not correct," he explained. "When I said things like I 'shake my head with disappointment,' it is with regards to blogs and articles such as this one."
That link went to a blog by dissident psychiatrist Peter Breggin.
5) In her concluding words about MIA, Love followed the same "flattery first, criticism second" routine. While some of the material on MIA is useful, she wrote, "the extreme anti-psychiatry articles threaten to obscure these [useful] voices with calls for the abolishment of psychiatry altogether, claiming that mental illness does not exist at all, or that all medication is toxic and causes all mental illness."
Once again, a fact check would have been helpful here. There are no articles published by Mad in America staff writers, or freelancers that have written articles for us, that call for the abolishment of psychiatry, or claim that mental illness does not exist, or that all medication is toxic. Zero. And we have been at this for eight years now. There have been a handful of blogs that have advanced the first two sentiments; I am not sure there ever has been a blog on MIA that declared "all medication is toxic."
Where these sentiments can be found frequently on our site is in the comments section. Those voices, of course, are not ours. That aspect of our site is designed to give voice to a community of readers, and given that many in this community had horrible experiences as psychiatric patients (or were forcibly treated in hospitals), you can find such sentiments there.
As a last thought in this section, having attributed the sentiments voiced by some of our readers to Mad in America, Love basically likens us in this regard to Scientology.
Media Watch
Mad in America publishes "Media Watch" reports because this can illuminate how the mainstream media covers psychiatry and its treatments, and how it reports on challenges to that conventional narrative. The Vice piece was a bit like a wolf in sheep's clothing, often sympathetic in tone with some criticisms of psychiatry, yet bent on delegitimizing a critique grounded in a review of the scientific literature (which can be found in Anatomy and on MIA.)
There is, of course, nothing wrong about people criticizing MIA or me personally. The criticism can open the door to further discussions and debate, which you can hope will lead to a greater understanding of important issues.
With that in mind, I did want to speak to Nev Jones about her criticism of MIA, and to learn more about her interview with Vice. Jones is much admired for her research on peer initiatives, which we have covered on MIA. Shortly after the Vice article appeared, she presented a webinar for MIA Continuing Education on the history of peer support and its effectiveness, evidence of how she is admired within MIA. Nev, Sandy Steingard, and I had a three-way phone conversation, and they then engaged in a written dialogue related to this Vice article. Their piece can be found here.
In regard to her criticism that Anatomy of an Epidemic was packed with claims that are "demonstrably untrue," Jones wrote the following:
"In the aftermath of the publication of the Vice article I've done a lot of reflecting on the state of public discourse about psychotropic medications, the tensions involved, and walk away with a renewed sense of the importance of dialogue and engagement between those with diverse (and sometimes conflicting) perspectives on this set of issues. In this context I regret the wording of the excerpts ultimately quoted and feel that it would have been much more effective to focus not on particular people, groups or texts but rather underlying beliefs.  As I explain in my conversation with Sandy Steingard, that is, my concerns are most centrally not with Anatomy or Mad in America but rather with discourse that centers medications (in debates about mental health system reform) in ways that subtly (or not so subtly as the case may be) displace underlying structural determinants and the deeply complex entanglements of poverty, employment, race and disability. I also want to make it clear that none of my comments were meant to criticize the MIA Science Team, which includes a number of very talented graduate students, and has helped increase community access to dozens of important publications otherwise trapped behind pay walls."
I also wrote an email to the Vice editor for this article, Timothy Marchman, asking if I could interview him for a Media Watch report on this article. I provided him with a copy of my email exchanges with Love, and listed a number of questions I wanted to ask:
Given that MIA was going to be identified as central to this "movement against psychiatry," why weren't we interviewed for the article?
Did he think it was fair to air a criticism that Anatomy was packed with misrepresented studies and claims that were demonstrably untrue, and yet not provide a single example to support that criticism?
Why didn't Shayla Love call Martin Harrow or Thomas Jobe to see whether they thought I had misinterpreted their study?
Why did the article cite snippets from two blogs as supposed examples of MIA's distorted coverage of science?
Why did the article quote Aftab in a manner that implied he was talking about MIA's science coverage, when in fact he was talking about opinions expressed in the blogs?
Did he think this article was fair?
Here is how Marchman responded: "You were asked to respond to criticisms, did so—after asking for and receiving clarifications on several points—and now essentially object that the parts of the story dealing with your work weren't written as you would have written them. What you describe is Shayla fairly and accurately laying out criticisms that have been made of your work, incorporating your responses in the story, and adding necessary context to, for example, show readers how, as she wrote, 'the same study can be interpreted in different ways.' All of this strikes me as a credit to her and her reporting."
Marchman, of course, hadn't answered any of the questions I had asked. There really was no way he could—the questions alone told of a journalistic piece that likely met the legal requirement for defamation. And there was nothing in his answer that told of a journalistic search for "truth."
One Step Forward, One Step Back . . .
There is reason to celebrate the publication of this article. The fact that Vice decided to report this story is evidence that critiques of psychiatry are slowly making their way into general societal discussions about the merits of psychiatry and its treatments. This is a sign of progress.
As I said at the beginning of this article, the article also provided MIA an opportunity to explain, in some detail, our mission and why we do what we do.
Finally, I hope that deconstructing this article—and revealing the journalistic standards that are on display—helps reveal the depth of the challenge for those who would like to see "psychiatry reimagined." Unfortunately, this struggle is regularly hindered by the fact that media are often poised to report in ways that protect the conventional narrative, and look askance at those who would challenge it. But as is the case in any struggle, it's always good to know what you are up against.
***
Mad in America hosts blogs by a diverse group of writers. These posts are designed to serve as a public forum for a discussion—broadly speaking—of psychiatry and its treatments. The opinions expressed are the writers' own.
***
Mad in America has made some changes to the commenting process. You no longer need to login or create an account on our site to comment. The only information needed is your name, email and comment text. Comments made with an account prior to this change will remain visible on the site.